A new Drought Index helps agriculture in Oklahoma
Friday, October 4, 2019
A new agricultural drought index has been developed using Oklahoma Mesonet's soil moisture and weather data by Biosystems and Agricultural Engineering Ph.D. student Ali Ajaz and Assistant Professor Dr. Saleh Taghvaeian.
With Oklahoma having an agriculture focused economy, the newly developed drought index can definitely serve the state's need to efficiently monitor drought and reduce risks associated with it. The drought index is intended for growers, policy makers, agricultural extension specialists and irrigation managers, so that they can accurately scale the magnitude of drought and strategize accordingly.
"Since drought is a natural phenomenon, we can't stop it from occurring, but we can reduce the negative impacts it might have on economy. That is why it is important that we keep upgrading our drought monitoring capabilities to ensure better preparedness." Ajaz said.
In comparison to common indicators of drought, i.e. temperature, precipitation, etc., a drought index assimilates the environmental variables using advanced equations to rigorously compute the severity of drought. This not only gives farmers the opportunity to understand how bad the drought is, but they can also compare the intensity of an existing dry spell with ones that occurred over the similar time-window in previous years.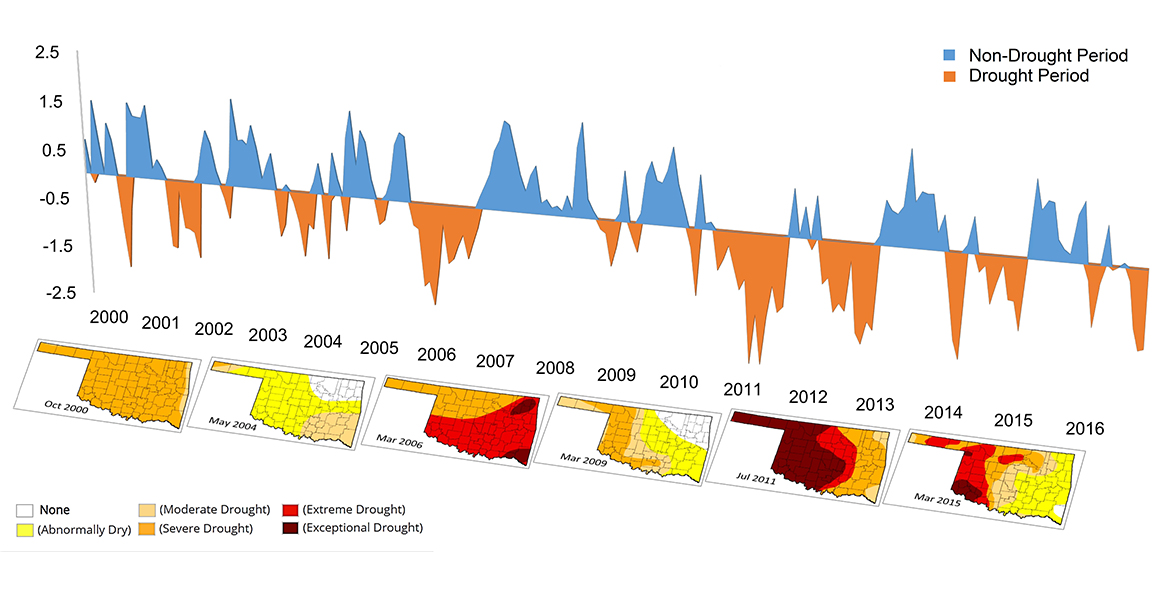 "During the times of drought, groundwater resources in Oklahoma act as a buffer between the lack of precipitation and higher crop water demands" Ajaz said. "However, this abstraction of groundwater puts tremendous pressure on our aquifers. The data shows us that during the drought years, the decline in groundwater could be 2.75 times larger if we compare it with normal or non-drought years. Given that the groundwater recharge is lower than the withdrawals in the aquifers of Oklahoma, it is less likely that the pumping rates would meet the requirements of sustainable water use, and drought pushes it further away."
The new drought index also focuses on the issue of water resources management and can help the Oklahoma agriculture sector save water and use it when it is required the most, in the times of drought. This index consists of two important variables, soil moisture and evapotranspiration (ET). Soil moisture translates the availability of water in soil, whereas ET indicates how much water could potentially evaporate from plants and soil. The Oklahoma Mesonet, a network of environmental monitoring stations, provides these datasets. Combined with OSU research data, the new drought index, Soil Moisture EvapoTranspiration Index (SMEI), was devised.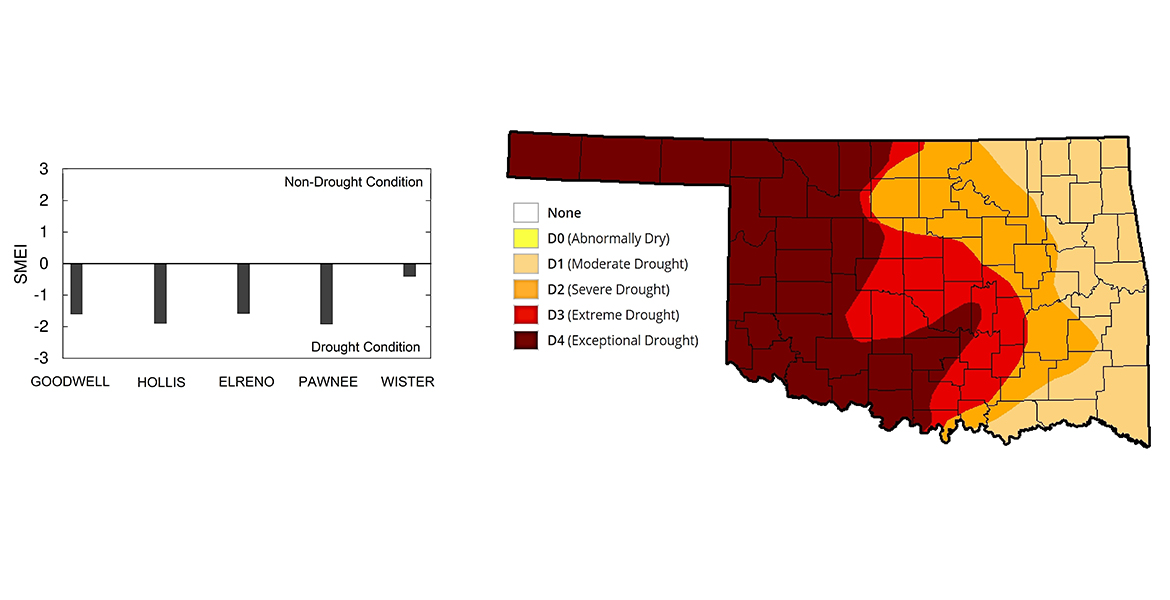 SMEI models monthly drought magnitude and can also be adjusted to get the drought report on a weekly basis. The index's performance has been validated using data from the United States Drought Monitor (USDM), and was also tested to analyze the impacts of drought on wheat crop in Oklahoma by using United States Department of Agriculture (USDA) data. The results give confidence that this index can be effectively used for agricultural drought monitoring. Also, farmers can utilize the drought index for making better choices regarding the dual-use of their wheat crop – graze and grain related decisions. New drought index (SMEI) can be used in other parallel domains as well, such as irrigation planning and crop insurance.
"The drought index is ready for use, the public access to this information, however, can be made possible by pursuing organizations such as Oklahoma Water Resource Board (OWRB) and the Mesonet to integrate the SMEI into their drought portals" Ajaz said. "We definitely see a need of modern indices for grower and extension community in the drought monitoring tools of OWRB and Mesonet. Hopefully, OSU would promote the new drought index so the agriculture sector in Oklahoma can benefit from it. We also plan to use satellite-based soil moisture and evapotranspiration data for spatial analysis of drought, to prepare high-resolution drought maps for agriculture extension purposes."
More information regarding the new drought index can be found at the following link: https://doi.org/10.3390/w11071375
STORY BY: Mark Scalmanini | CEAT Marketing
CONTACT: Kristi Wheeler | CEAT Marketing | 405-744-5831 | kristi.wheeler@okstate.edu