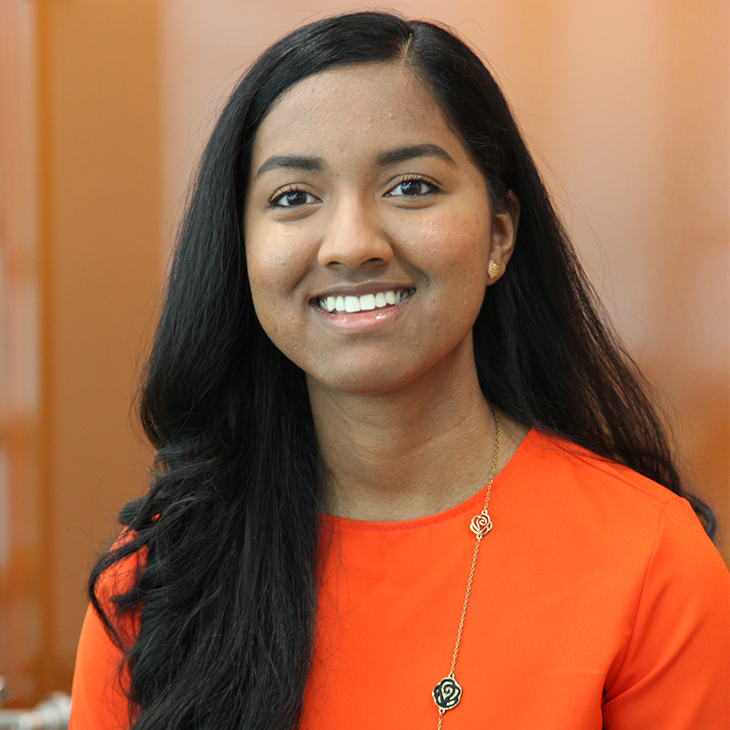 CEAT senior, Angela Peter, goes to London and comes home with the beginnings of a startup
Wednesday, October 23, 2019
Angela Peter, a chemical engineering senior in the College of Engineering, Architecture and Technology, and an OSU Grand Challenges Scholar was recently announced winner at the 2019 Global Grand Challenges Summit in London. Returning home to OSU, she now has the the beginning structure for a startup company.
Peter was part of the Grand Challenges Scholar (GCS) program at Oklahoma State University, which was infused with additional funding from OSU's own Rickie Fowler in 2017. The international program was created to encourage engineers to provide solutions that support the continuation of life on the planet, making our world more sustainable, secure, healthy and joyful.
Peter was part of a team from OSU that was chosen to represent the U.S. in London at the Global Grand Challenges Summit 2019, which brought together over 900 of the world's top engineers, entrepreneurs, innovators and policy makers from the United States, United Kingdom and China, 300 of which were students.
Teams competed as representatives of their nation, and were judged and given awards accordingly. After the national competition, the students were broken up into international teams of six students, two from each country. The teams were given the choice to address one of the Grand Challenges of Engineering or a U.N. Sustainable Development Goal. Peter's team chose the U.N. Sustainable Development Goal of good health and well-being in developing countries.
The specific project that the team came up with, in approximately 12 hours, was a venture called EmPads, which stands for empowering women through feminine hygiene products, specifically sanitary pads. The mission statement for the project reads as such: "Currently, 43 million women in India cannot afford to buy feminine hygiene products at market price. Meanwhile millions of tons of disposed clothing from the fast fashion industry from the United States and other developed countries are sent to developing countries annually for disposal. Our venture aims to lengthen the utility life of these disposed textiles that ends in landfills by manufacturing and repurposing them into sanitary pads."
The venture hits close to home for Peter, as she grew up in New Delhi. "I'm incredibly passionate about this project," Peter said, "and look forward to pursuing this venture." She is back in the U.S. working to garner support from companies and non-governmental organizations for monetary and logistical needs with help and mentorship from the Royal Academy of Engineers and the U.S. National Academy of Engineering. The biggest hurdle Peter now faces is developing the actual production process from idea to reality. Once the engineering aspect of the project is complete, Peter will tackle the logistical questions of where to house a manufacturing plant and how to distribute products across India.
The GCS program has not only provided Peter with this incredible opportunity, but has also had a profound impact on her personally. "The experience has helped me develop my creative problem-solving skills and leadership abilities, working on a cross-cultural and cross-disciplinary team, dealing with different backgrounds and perspectives," Peter said. "It has unveiled one of my greatest passions – entrepreneurship. More than anything, I think I've come away with a network of passionate engineers who will now be my lifelong friends."
The young engineers were in London a total of nine days and yet were able to develop very interesting and detailed solutions to some of the major problems facing the world today. The scope of the project and its accomplishments were not lost on Peter, "it really speaks volumes about how much we can achieve if we all come together and collaborate to conquer the grand challenges of the 21st century."
To read the Royal Academy of Engineering's artical, visit:
https://www.raeng.org.uk/news/news-releases/2019/october/international-team-of-next-generation-innovators-w
RELEASE CONTACT: Jeff Hopper | CEAT Marketing | 405-744-2745 | jeff.hopper@okstate.edu