With a tight budget and an undeveloped city block in the heart of downtown, the City of Stillwater needed help to execute a vision for Block 34. City officials turned to Oklahoma State University's College of Engineering, Architecture and Technology and their interdisciplinary design project.
As part of graduation requirements, each senior in CEAT is assigned to a team to design a project that is featured at the Senior Design Expo each semester. In 2019, three OSU CEAT interdisciplinary senior student design projects were developed to help the City of Stillwater achieve its dream. The projects included the Wind Turbine Sculpture Light Feature, Renewable Energy STEM Education System partnered with Stillwater Public Schools, and the Outdoor Stage project.
On April 10, the Wind Turbine Sculpture Light Feature was installed on Block 34, located from Duck Street to the west, 8th Avenue to the north, 9th Avenue to the south and Husband Street to the east. The installation of the feature was made possible by a grant from the Grand River Dam Authority, large contributions from anonymous donors and the OSU CEAT Senior Interdisciplinary Design Program. Virtually no taxpayer dollars were expended on the project. The wind turbine will produce renewable energy to power a light display and serve as an educational exhibit.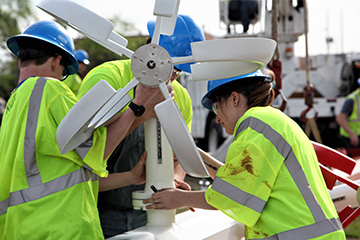 "It's awesome to see something you designed actually be built," said Hannah Lancaster, CEAT student on the design team. "This is a really large-scale senior design project. They don't usually do things like this."
The group began their work the week of January 21 essentially from scratch. In just 12 weeks, they took their project from idea, to design, to implementation. The team learned the value of working with other disciplines of engineering as well as the challenges and rewards of working with city government.
"It has been very rewarding for me to work with this wonderful group of 'budding' engineers," said James Beckstrom, director of interdisciplinary design in CEAT. "I am confident that this challenging and rewarding interdisciplinary, real-world project experience provided learning that will help them in their lives, their careers and community service. It has been a robust learning experience for all, including me!"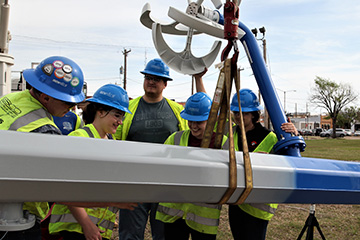 The next phases of development for Block 34 include a stage, market hall, bocce ball courts and open lawn space.
Media Contact: Kylie Moulton | CEAT Marketing | 405-744-2745 | kyliecf@okstate.edu