The College of Engineering, Architecture and Technology hosted their first Engineering weekend, starting with the CEAT Senior Design Expo on Friday, April 26, and concluding with Speedfest on Saturday, April 27.
This year's senior design expo was the first in the college's history to include student participants from all six schools of Engineering, the School of Architecture, and the Division of Engineering Technology.
On Friday, April 26, students presented their capstone projects in ENDEAVOR to fellow students, prospective employers, prospective students, parents, members of the press, Oklahoma State University leadership, Regents, public servants, alumni and advisory board members.
Interdisciplinary senior design teams, the College of Mechanical and Aerospace Engineering, the College of Electrical and Computer Engineering, and the College of Industrial Engineering and Management hosted individual senior design project competitions.
The results are as follows:
Mechanical and Aerospace Engineering Senior Design Team Contest
Competition Criteria: Each team delivers a 25-minute presentation about their project, supported by a poster and video, to MAE faculty and industry representatives, who evaluate each team on their understanding of the project, the technical aspects and execution of the project and the organization of the project and the presentation.
1st Place-Radial Stretch System for Smart Elastomers Team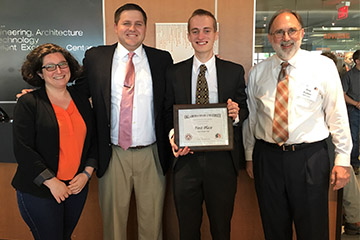 2nd Place-Thermoelectric Cooling Learning Environment Team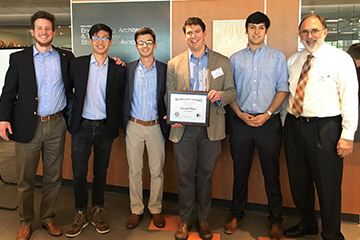 3rd Place-Automated Small Sensor Emplacement Team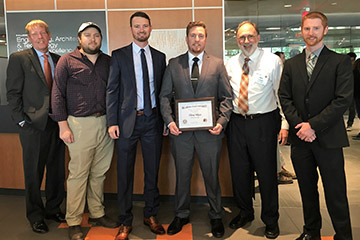 Interdisciplinary Design Team Contest
Competition Criteria: CEAT students and visitors visited with all participating interdisciplinary senior design teams at the expo to determine the CEAT Student Choice Award winner and the Visitor's Choice Award winner via ballot system.
1st Place for both CEAT Student Choice Award and Visitor's Choice Award-Wind Turbine/Sculpture/Light Show Team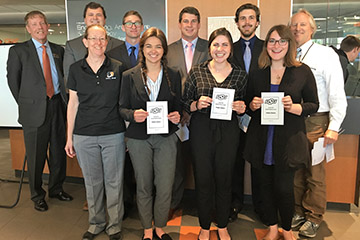 Industrial Engineering and Management Senior Design Team Contest
Competition Criteria: IEM faculty listened to IEM senior design team's poster presentations and scored teams on a 10 criteria rubric evaluation form.
1st Place-(SWEP) Improving Quality Control Operations Team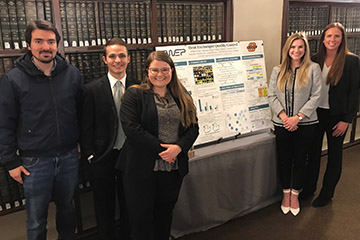 On Saturday, April 27, students involved in CEAT's aerospace program, as well as Division of Engineering Technology students presented their projects at the OSU Unmanned Aircraft Flight Station in the Alpha and Charlie classes to a large crowd of spectators.

The Alpha class is a collegiate jet competition where teams demonstrate their ability to design a fast attack, sensor deployment unmanned aerial vehicle. Teams from universities outside of OSU can participate in this competition. For the flight portion of the competition, participants get a specified time to set up their plane, complete a course and clear the course, and scores are determined based on their successful completion of these tasks. These teams also compete in a marketing video competition that requires participants to create a promotional video of their UAV and upload it to YouTube. Whichever team receives the highest number of YouTube likes on their video is the winner. Additionally, all teams compete for best of show, which is determined by event spectators. Spectators are given tickets upon entering the event and can vote for who they believe is the best of show at competitors static design displays.
The results are as follows:
Collegiate Jet Flight Competition
1st Place- Oklahoma State University Team Orange
Team members include Cole Kelly, Christian Perez, Aaron Goodman, Brandel Panchoo, Colton Barnett, Eric Wamsley, Jackson Murphy, Jordan Muffley, Matthew Mansur, Stephen Wehe, Zach Ortega, Guo Thai, Can Lieu, Christian Myers, Ujjval Patel, Matthew Michie, Roy Wang, Garner Copher, Scott Weekley, Micah Swedberg and CJ Boone.

2nd Place-Oklahoma State University Team Black
Team members include Kirsten Eichelberger, Adam Sherman, Madison Ellis, Emily Hammon, Mason Keesling, Cole Stretcher, Kara Stead, Addison Collins, Jared Wallis, Andrew Parker, Chase Drewski, Hamed Edrees, Alice Montague, Andy Newton, Anthony Palacio, Gabe Perez, Anson Brady, Chrisitina Coletti, Josh Harris, Jeremy Bertels, Muwanika Jdiobe, Michal Kegal.

Numerical tie for 3rd Place-University of Dayton and St. Louis University
Marketing Video Competition
1st Place-Oklahoma State University Team Black
Best of Show Competition
1st Place-Oklahoma State University Team Black
The Charlie class is a collegiate autonomous vehicle competition. Students design a scale-model racing car that can autonomously navigate around a given course while avoiding obstacles in order to complete an assigned mission.
The results are as follows:
Charlie Class Competition
1st Place-Autonomous Vehicle Team 3
Team members include Ansley Cloward, Darla Escota, Kyle Vandenberg, Connor Parish, Collin Sanders, Merek Hodges, Roberto Enriquez, Will Vasil and Matthew Anderson.

2nd Place-Autonomous Vehicle Team 2
Team members include Matt Kline, Sean Casey, Kylene Stevens, Billy Edwards, Kelsey Schoonover, Jordan Diebold, Garrett McCafferty, Zach Wood, Gregory York, Alex Segovia, Dylan Flugge and Micah Smith.
3rd Place-Autonomous Vehicle Team 5
Team members include Michael Tillett, Erick Davis, August Laue, Aaron Yancey, Gregory Hardway, Ryan McLoughlin, Thomas Meadows, Trevor Pigeon, Cater Landrum, Jason Travis, Alex Lee, Kevin Howard and Thacker Thacker.

4th Place-Autonomous Vehicle Team 1
Team members include Sterling Qualkenbush, Bryant Jackson, Logan Shreve, Haley Ritchie, Hussain Alkhamis, Zachary Tomblin, Bradley Ingram, Zachary Dallen, Alex Hromas, Nathan Jackson and Andrew Smith.
5th Place-Autonomous Vehicle Team 4
Team members include Trevor Has, Tom Hathcock, Chance Logston, Jesus Dealatorre, Matthew Idleman, Landen Peeler, Catherine Sheehan, Collin Potter, Evan Alexander, Mitchell Solomon, Will Gibson.