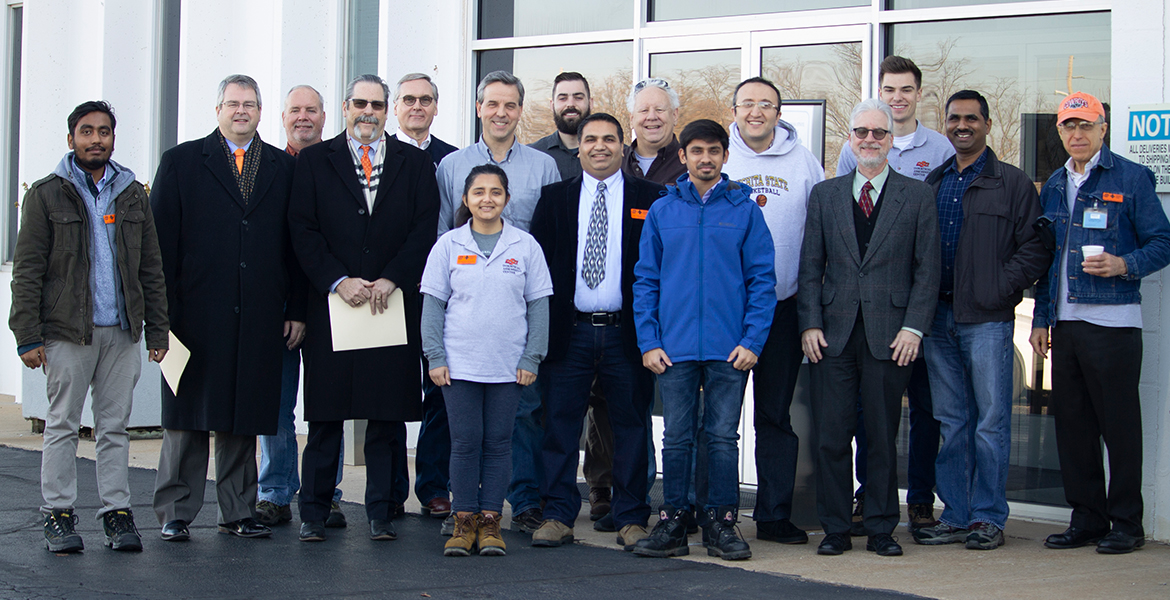 Industrial Assessment Center at Oklahoma State University celebrates 1,000th Industrial Assessment milestone
Monday, February 18, 2019
On Dec. 4, 2018, OSU celebrated its 1,000th industrial assessment/energy audit milestone performed by OSU's Industrial Assessment Center (IAC). IAC team members, acting and retired faculty, OSU administrators, officials from the U.S. Department of Energy (DOE), Rutgers University, and Wichita State University gathered at CEAT's newest undergraduate laboratory, ENDEAVOR, to celebrate. The industrial assessment/energy audit was performed the following day at ASCO Aerospace.
The IAC helps small and medium sized U.S. manufacturers save energy, improve productivity and reduce waste by providing no-cost technical assessments conducted by university-based teams of engineering students and faculty. The program began in 1976, funded by the U.S. Department of Commerce, with four university programs, then called Energy Analysis and Diagnostic Centers (EADC). The program moved to the DOE in 1978. In 1980, the program was expanded to include additional universities. It was at this time Oklahoma State University's School of Industrial Engineering and Management (IEM) joined the list of participating universities.
OSU IAC is home to one of the oldest and most successful industrial energy-efficiency offices in the nation. OSU IAC has been continuously operational since 1982 when Dr. Wayne Turner, Emeritus Regents Professor in IEM founded the chapter. Turner led OSU IAC from 1982-2001, when he retired. Steven Parker, now the Editor-in-Chief of the Journal of Energy Engineering, was one of his first engineering student team members. Dr. William Kolarik, also an Emeritus Regent's Professor of IEM, took over from 2001-2017 until he retired. Currently Dr. Hitesh D. Vora, assistant professor of mechanical engineering technology, is leading this center as the acting director. The current OSU IAC program is funded by the DOE with $1.8M for the years of 2016 to 2021.
"The IAC team continues to support economic development in Oklahoma by helping manufacturers improve their efficiency and lower their energy costs," said Ed Kirtley, assistant dean of the College of Engineering, Architecture and Technology. "I believe this adds to our state's competitiveness in national and international commerce. Consequently, this brings jobs to our state which benefits all Oklahomans."
There are 28 IACs in the United States and OSU IAC is one of the centers serving the small and mid-sized manufacturers from the state of Oklahoma, Kansas, Arkansas and North Texas. OSU IAC is the first to reach the 1000th assessment milestone among the 28 IACs nationwide.
"My first-hand experience with OSU IAC and Dr. Vora has included the 1,000th industrial assessment celebration this past December. What an accomplishment!" said Dr. Kenneth Sewell, OSU vice president for research. "I was impressed to learn that the OSU IAC is the first IAC nationwide to reach this milestone."
Overall, the IAC program has achieved over $4.5 billion of implemented energy cost savings since its inception. Particularly, the OSU IAC program has contributed $308.2 million or 30.28 Tbtu of implemented energy cost savings since 1982, according to the DOE IAC Database.
"This single OSU/DOE energy partnership has saved Oklahoma industries more than three times the State's annual investment in all of the Oklahoma State University and more than 20 times the 37-year total investment OSU pays off to impact the industry of Oklahoma," said Paul Tikalsky, Dean of CEAT.
The structure of IAC program is also unique and innovative and fulfill the land-grant mission of Oklahoma State University to provide good economic impact to the region. The OSU IAC program integrate the three important pillars - teaching, research, and outreach of the land-grant mission. The main mission of IAC is to provide small and mid-sized manufacturers with industrial assessments or energy audits at no cost to help reduce energy and waste and increase productivity, at the same time, educating and training students to make them capable of becoming the next generation of energy, waste, and productivity professionals. The related goal is to provide all the training and education to the students and make them skillful before they graduate and later easily find the job and work as an energy engineer. In addition, the mission of IAC is to work throughout the region to coordinate with utilities, manufacturing extension programs, and manufacturing associates to provide potential clients (in addition to the ones directly served) with relevant information on plant energy conservations and the facilitation of effective and efficient energy management systems. In addition to providing technical support to the small to mid-sized manufacturers through energy assessments, the IAC program offers several other important benefits. Apart from the routine energy audits which cover a broad scope of industrial settings and subsystems, the IACs also provide technical material and workshops promoting energy efficiency. Under the leadership of Dr. Vora, the OSU IAC currently emphasis more efforts in smart manufacturing, cybersecurity for energy efficient manufacturing, productivity improvement, and ISO 50001 along with the existing areas of energy management.
For more information about OSU's IAC, contact Dr. Vora at hitesh.vora@okstate.edu or 405-744-9578, or visit iac.okstate.edu.