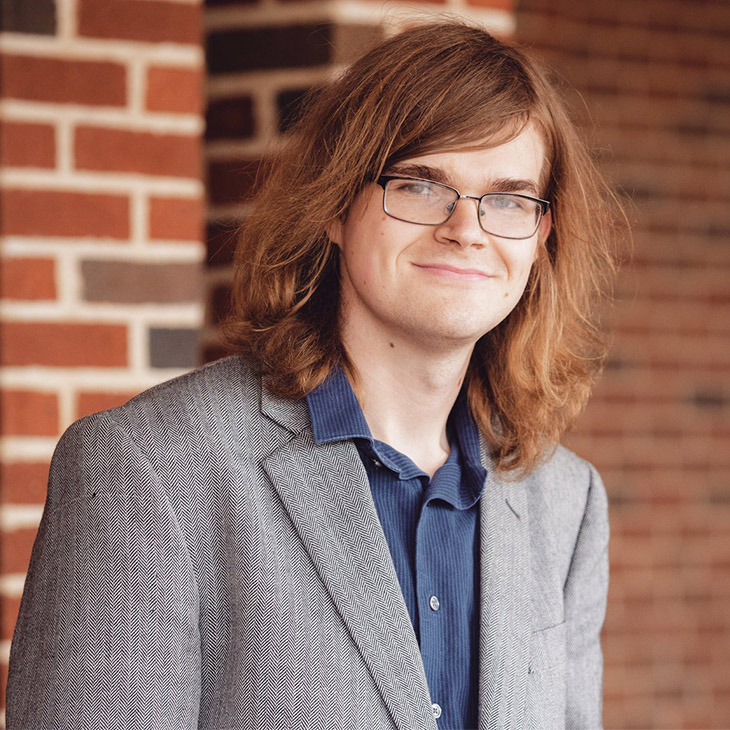 MAE student Cole Replogle awarded Goldwater Scholarship
Monday, May 6, 2019
Cole Replogle, a junior in the College of Engineering, Architecture and Technology (CEAT) is one of Oklahoma State University's 2019 Goldwater Scholars. Replogle is one of three OSU students receiving the Goldwater Scholarship. This is the third year in a row that OSU students were selected to receive the scholarship, and only the second time OSU has had three student recipients in the same year, the first being in 2008.
Replogle is an Honors College student from Broken Arrow, Okla., majoring in mechanical and aerospace engineering with a minor in physics. His research focus is on hybrid gas-electric aircraft propulsion and developing systems that will increase range and endurance of small unmanned aircraft.
The Goldwater Scholarship, which provided scholarships to 496 college students from across the United States this year to cover the cost of tuition, fees, books and room and board, is one of the most prestigious and competitive scholarships for undergraduate sophomores and juniors who intend to pursue careers in mathematics, natural sciences or engineering. These scholarships help to ensure that the U.S. is producing the number of highly qualified professionals the Nation needs in these critical fields.
"Receiving the Goldwater Scholarship is such an incredible seal of approval for me, Dr. Rouser, and Oklahoma State," Replogle said. "One tries to go into everything with confidence, but to receive recognition from the Goldwater Foundation is difficult to process and impossible to expect."
In addition to receiving the Goldwater Scholarship, Replogle's academic and leadership successes have landed him other scholarships including the CEAT Undergraduate Research Scholarship, Richard O. Newman Scholarship, Dolese Scholarship, Project Lead the Way Scholarship, Rule of Law Education Scholarship and the Oklahoma State Regents for Higher Education Academic Scholarship.
"Cole is a highly-motivated, fully-engaged scholar with excellent time management skills and demonstrates success in all aspects of academic and personal life including classroom academics, research, community service and other extracurricular activities," said Kurt Rouser, Replogles' research advisor and an assistant professor in Mechanical and Aerospace Engineering.
Replogle has been on the President's Honor Roll three times, acts as the founding president for CEAT's Solvers Program, is engaged in the CEAT Mentorship Program, and serves as president of the OSU Quiz Bowl Team. He is active in the community, participating in Engineers without Borders, the Free Enterprise Society, and Habitat for Humanity.
"I am incredibly proud of Cole, as he elevates our aerospace propulsion and power research," Rouser said. "Cole is clearly among the top 1% of (600+) students with whom I have ever interacted, including many who have received graduate scholarships to Purdue, the University of Texas at Austin, Rice University, the University of Washington and MIT.
"Due in large part to his efforts, our aerospace propulsion research has attracted the attention of government agencies such as NASA, and industry operations such as Pratt & Whitney, and TSC Environmental, as well as venture capital firms," Rouser said. "I have entrusted him with a $180,000 research project to develop Unmanned Aircraft System turboelectric technology, and have partnered him with one of my top graduate research assistants. The project is funded by the state of Oklahoma and TSC Environmental for a ten-fold increase in UAS endurance to inspect aging oil and gas pipelines."
When asked about his plans for the future, Replogle said he will continue his research with OSU Aerospace Propulsion and Power and will be performing combustion research at Purdue University this summer. Following graduation, he plans to pursue a doctoral program in aerospace propulsion with the hope to develop alternative propulsion for aircraft.
Media Contact: Kristi Wheeler | CEAT Marketing and Communications | 405-744-5831 | kristi.wheeler@okstate.edu