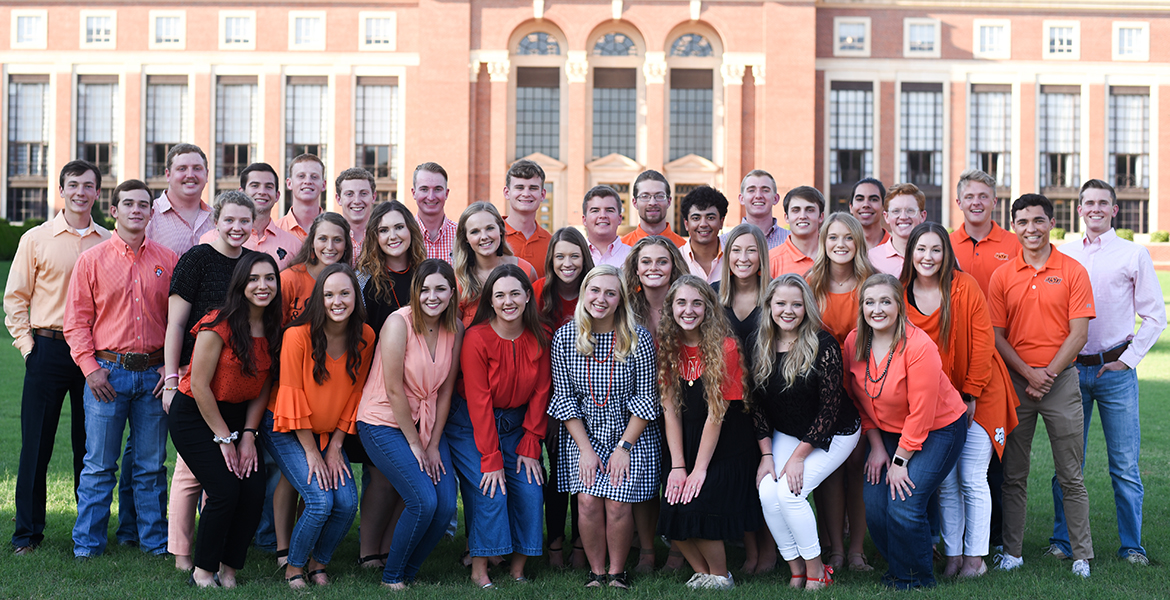 Oklahoma State University Mortar Board awards four CEAT students as Top Freshmen Men and Women
Tuesday, October 15, 2019
Each year members of the Oklahoma State University Mortar Board Honor Society select the top 20 freshmen men and top 20 freshmen women of OSU. This year, nine of those students are representing the College of Engineering, Architecture and Technology (CEAT).
This honor is based on scholarship, campus involvement, community service and outstanding leadership they displayed throughout their first year at OSU. They were also judged on their individual performance during extensive interviews. There were over 200 applicants this year.
On Oct. 7, of the 40 freshmen men and women, four students from CEAT were selected to represent the top 10 men and women freshmen of OSU.
"From the moment I arrived on campus, I found an abundance of student role models," said Craig Odom, a Top 10 Freshman Man and a mechanical and aerospace engineering sophomore. "CEAT helped me develop into a well-rounded college student, and I am excited to see how the program will help me continue on that path."
"The community in CEAT is not competitive, but more collaborative in the way everyone pushes each other to be better," said Klaire Irwin, a Top 10 Freshman Woman and a chemical engineering sophomore. "It is really encouraging to be recognized for all of the ways I was involved [my] freshman year; it also further solidified my love and passion for Oklahoma State. OSU does an amazing job of recognizing and celebrating their students' accomplishments and passions, whatever they may look like."
Students will be recognized during OSU's home football game on November 2nd against TCU. A reception will be held for the students and their families.
Top 20 CEAT Freshmen Women:
*Klaire Irwin, Chemical Engineering - Gruver, Texas
Meredith Wichman, Mechanical and Aerospace Engineering – Omaha, Nebraska
Top 20 Freshmen Men:
Gabriel Webb, Mechanical and Aerospace Engineering – Elk City, Okla.
Ben Burchard, Industrial Engineering and Management – Tulsa, Okla.
Carson Elmore, Electrical Engineering – Stillwater, Okla.
*Beau Henneha, Architecture - Stillwater, Okla.
*Craig Odom, Mechanical and Aerospace Engineering - Happy, Texas
Karsten Boudreau, Biosystems and Agricultural Engineering - Broken Arrow, Okla.
*Ryne Garrison, Industrial Engineering and Management - Burns Flat, Okla.


*Indicates individual also as a top 10 winner


BY: Mark Scalmanini | CEAT Marketing
CONTACT: Kristi Wheeler | CEAT Marketing | 405-744-5831 | kristi.wheeler@okstate.edu