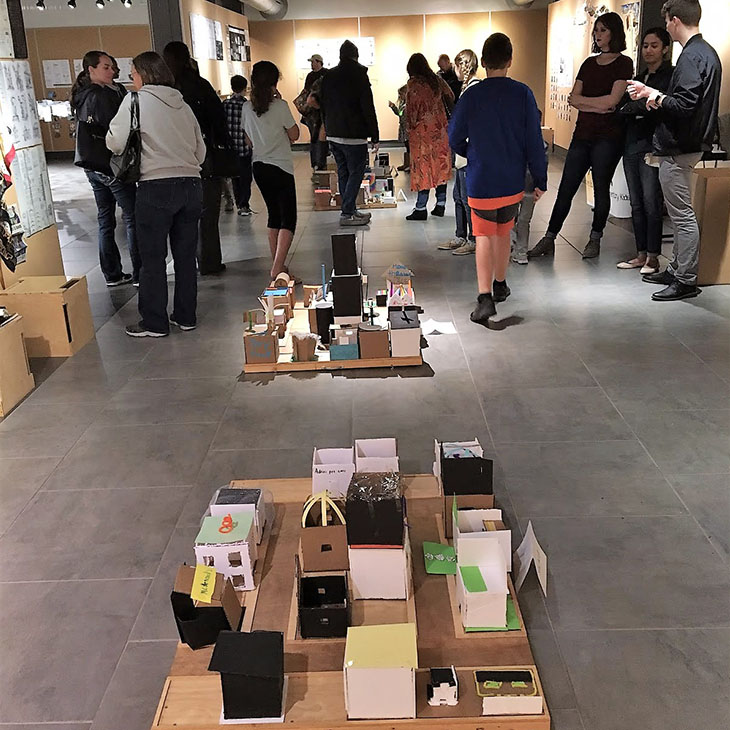 OSU Architecture students teach elementary concepts
Tuesday, April 2, 2019
College students in the School of Architecture at Oklahoma State University are taking it back to grade school.
Architecture Students Teaching Elementary Kids, or ASTEK, takes groups of architecture and architectural engineering students into fifth grade classrooms around Stillwater to teach a 10-week curriculum on basic design principals. At the end of the curriculum, students design their own town - each student assigned to a building within the town - and a gallery showcase of all of the classroom's towns is held at the end of each semester at the School of Architecture. The program has been active since 1999.
"The purpose of teaching elementary students is to introduce them early to basic design concepts," said Erin Yen, ASTEK president and architecture junior. "Most children this age do not know what an architect is or does, and so are less likely to consider it as a career option later in life. This program opens the profession up to them. We actually have a few students currently in the School of Architecture who were introduced to the profession through ASTEK."
Architecture is a subject which helps develop spatial reasoning and problem-solving skills, all things that are helpful in all aspects of life. Teaching these skills also proves competence.
"The program helps Architecture students gain a much more in-depth knowledge of design basics," Yen said. "It is very different to teach something than to learn it. You have to consider what aspects of it would be confusing to a child, and then find a way to explain it sufficiently to them, all while maintaining their interest - something which requires a lot of creativity!"
The OSU students also get the opportunities to interact with one another as well as to gain confidence in their public speaking and presentation skills.
The next showcase is schedule for April 24 from 7:00-9:00 p.m. at the School of Architecture Gallery.
Story by: Kylie Moulton