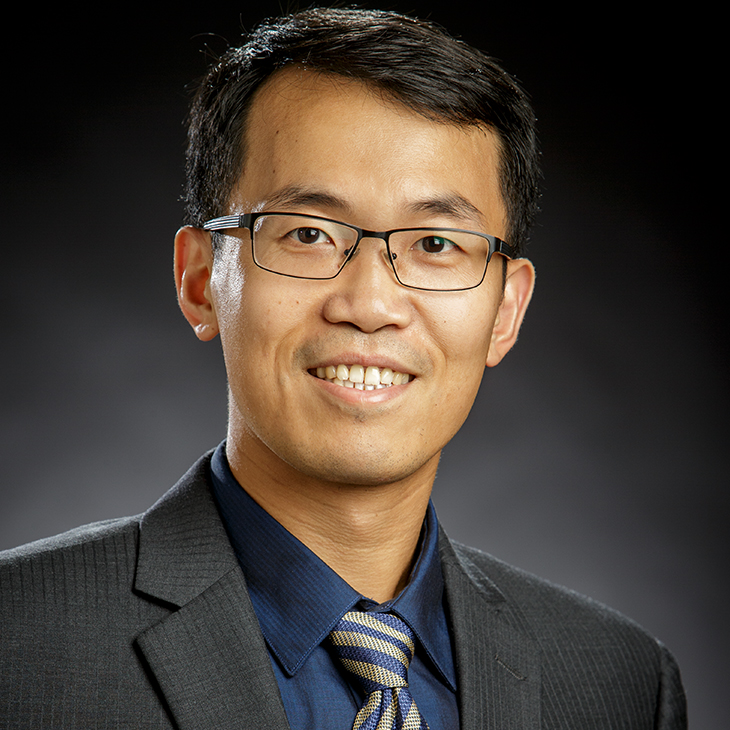 OSU Research wins Hall of Fame Competition
Tuesday, January 29, 2019
A group of OSU researchers in the school of chemical engineering (ChE) were recently named winners of the 10th annual ANSYS Hall of Fame competition for their work in Transient Airflow and Particle Transport Dynamics in an Elastic Lung Model. They were one of three academic winners from across the world.
"Personalized healthcare, medical digital twin and AI-assisted medicine are not concepts anymore, but realities saving lives and improving living qualities in the near future," said Yu Feng, assistant professor in ChE. "This is a global multiscale simulation competition from the world's top CFD/FEA software company, ANSYS. Only six winners in total from more than 100 finalists were selected this year."
Dr. Feng, and Ahmadreza Haghnegahdar and Jianan Zhao, graduate assistants in ChE, led the research and applied classical computational fluid-particle dynamics and solid mechanics on pulmonary healthcare.
"We are very happy to have OSU's name officially announced for this win, and it is our honor to have this chance to boost our university's global reputation in in-silico healthcare," said Feng. "It is a great recognition of our lab's long-term goal, to build a digital human twin system for personalized pulmonary healthcare. Additionally, this award will let more people know our lab's research, and potentially increase the possibility of collaborations worldwide."
Together, the OSU researchers used ANSYS solutions to develop a unique CFD-based elastic lung model that accurately simulated the human respiratory system. Using human digital twins that can be made patient-specific by incorporating real geometry of patients' lungs, researchers tracked the inhalation and flow of aerosol drug particles to the lungs and targeted lung tumors with significantly higher precision than conventional aerosol treatment methods.
"We are a lot closer to Medical Digital Twin and therefore closer to solutions that will change the lives of millions of people," Feng said.
Working closely with Thierry Marchal, the Global Industry Director of Healthcare, Construction & Consumer Products of ANSYS, Dr. Feng's research group formed the academic partnership with ANSYS in 2016. Together with other world-class respiratory academic partners, Feng's group strives to extend lung aerosol dynamics modeling to the cellular level to make contributions to the medical world and human life by providing well-posed solutions.



Founded in 1970, ANSYS is the global leader in Pervasive Engineering Simulation, according to their website. They assist the world's most innovative companies in delivering radically better products to their customers. Headquartered south of Pittsburgh, Pennsylvania, ANSYS has more than 75 strategic sales locations throughout the world with a network of channel partners in more than 40 countries. Visit ansys.com for more information.
RELEASE CONTACT: Kylie Moulton | CEAT Marketing | 405-744-2745 | kyliecf@okstate.edu