The list of environmental issues facing the world's population is seemingly never-ending. However, Oklahoma State University, as part of the Environmental Protection Agency's (EPA) People, Prosperity and the Planet (P3) grant program, is developing a system that will improve the quality of life for all people, economic prosperity and protection of the planet.
A team of OSU students, led by civil and environmental engineering professor, Dr. David Lampert, is one of six, out of 30 Phase I teams, that has been selected to move on to the second phase of the EPA's P3 grant program. The second phase will task the team with coming up with a larger scale version of their project and have it tested in a real-world application.
The interdisciplinary team is comprised of graduate students Rabecca Wiseman, environmental engineering, Brooks Robison, entrepreneurship, Rachana Erra, electrical engineering, and undergraduate students Madelyn Shaw and Dominique Barnes, both civil engineering students. Also, Dr. James Stine, from the School of Electrical and Computer Engineering, and David Thomison, from the Spears School of Business, are assisting the team.
The team's project is focusing on optimizing the energy use in wastewater treatment processes. According to previous estimates, wastewater treatment plants use between 1-3% of all electricity in the United States. Treatment plants use an aeration process to aid in "cleaning" the water, however many plants use excess oxygen to ensure water quality. This leads to unnecessary costs to provide the oxygen itself and excess energy costs to conduct the aeration process.
The OSU team is addressing the efficiency of the process by developing a system to control the aeration process using sensors to monitor the water quality, thus using the optimum amount of oxygen and energy to process wastewater, thus cutting costs.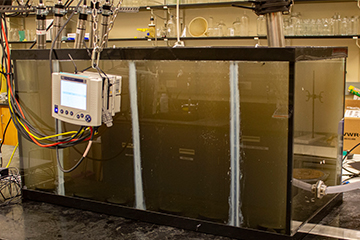 EPA's P3 program is a competition for college/university students that challenges them to use the knowledge and skills they've learned in the classroom and apply those to addressing a real world environmental challenge.
The P3 grant program runs in two phases. The first phase serves as a preliminary stage in which teams are given up to $25,000 to develop their concept and then present their research at the EPA's National Student Design Expo. Those teams deemed to have a plausible solution are then awarded additional funds, up to $100,000, and given a two-year time frame in which to implement their concept in a real-world environment.
The opportunity for students to participate in this type of project is priceless. It provides them, not only the opportunity to work on a real-world problem, but also work on a team comprised of people from different disciplines who provide different perspectives on a subject. "Students like the idea of being able to get up and try to solve real problems," Lampert said.
Robinson and Wiseman also won first place in the TigerLaunch pitch competition hosted by Princeton University for their startup business plan for Contraire, a predictive analysis control system designed to provide near real-time wastewater test measurements.

RELEASE CONTACT: Jeff Hopper | CEAT Marketing | 405-744-2745 | jeff.hopper@okstate.edu