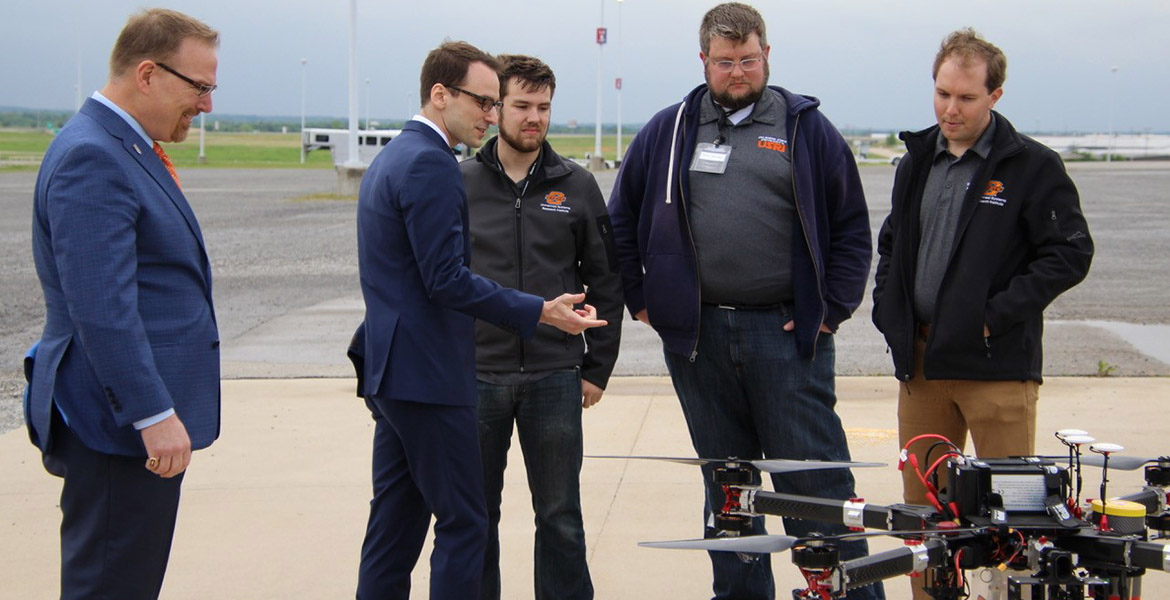 OSU UAS team presents to White House officials
Monday, April 29, 2019
Oklahoma State University's Unmanned Aircraft Systems (UAS) team conducted flight demonstrations for the White House Office of Science and Technology Policy Deputy Director at the Choctaw Nation Emerging Aviation Technology Conference in Durant on April 18.
OSU is a core member of the Choctaw Nation's FAA UAS IPP (Integration Pilot Program) test site and was a partner for the conference. The White House was involved since the IPP's are a result of a direct White House directive.
The all-day conference also consisted of keynote addresses by Dr. Jaiwon Shin, NASA Associate Administrator; Michael Kratsios, U.S. Chief Technology Officer and Deputy Assistant to the President at the White House Office of Science and Technology and Jay Merkle, Executive Director for FAA's Unmanned Aircraft Systems Integration Office. Attendees learned about the future of aviation and the progress on the Unmanned Aircraft Systems Integration Pilot Program.
The OSU UAS specialization is a multi-disciplinary research and education program in the College of Engineering, Architecture and Technology on the campus of OSU. The UAS program provides students with a recognized emphasis in instruction and research in the area of Unmanned Aircraft Systems and supplies students with hands-on analysis, design, construction and flight testing of UAS platforms.
Media Contact: Kristi Wheeler | CEAT Marketing and Communications | 405-744-5831 | kristi.wheeler@okstate.edu