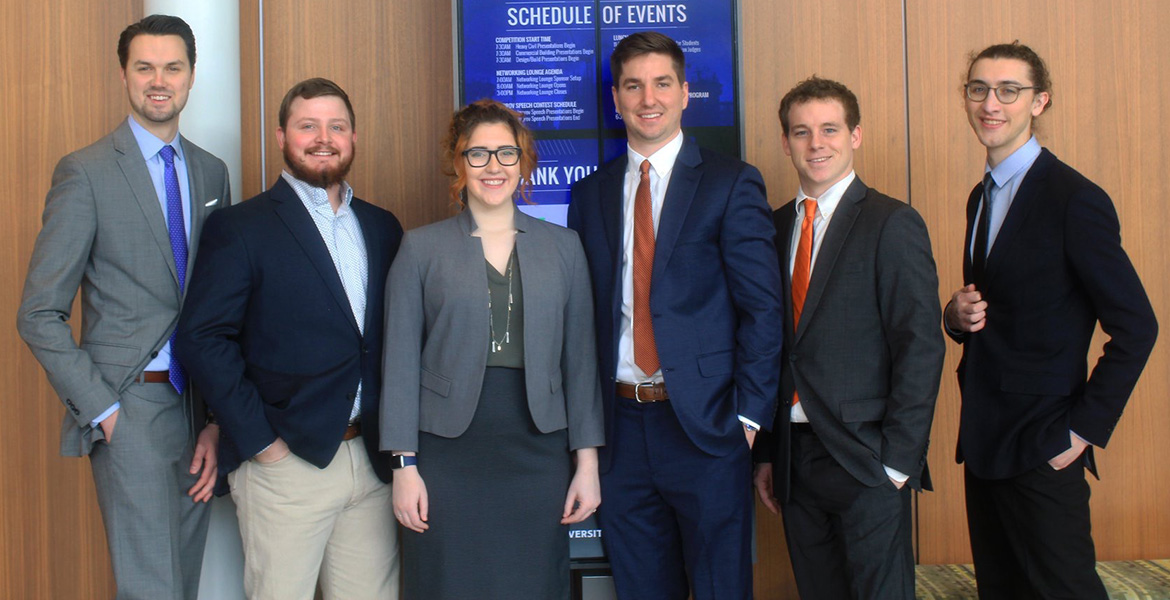 OSU's Construction Engineering Technology wins big at regional competition
Friday, March 8, 2019
Oklahoma State University's Construction Engineering Technology (CET) had an exciting night on February 25 as the TEXO Education Foundation handed out scholarships, grants and student competition awards.
OSU had four teams competing in the Region 5 Associated Schools of Construction Student Competition in the categories of Commercial Building, Design Build, International Design Build, and Heavy Civil. Each team consisted of six students. Overall there were 27 teams that entered the competition. Both Design Build teams had construction students along with architecture students. The International Design Build team had two OSU CET students and one OSU architecture student teamed up with three students from the University of Salford in Manchester, England.
The Design Build Team won first place, with Thomas Nees, CET student, winning the third best speaker award. The Heavy Civil team won third place with Jackson Adelman, CET student, being awarded the top speaker in the Heavy Civil category. The competition also offered an impromptu speaking contest where Marcus Watts, CET, won the award for the second best presentation out of 40 competitors. Two CET students received TEXO Scholarships, Luis Perez ($7,000) and Aaron Huckins ($1000). The OSU CET program also brought home a $6,500 grant, which was the largest grant awarded.
"It was a big win for the college, Construction Engineering Technology, and the students," said Heather Yates, program coordinator and associate professor of CET.
TEXO Foundation is a charity organization supporting the construction members of TEXO, a joint chapter of the Associated General Contractors and the Associated Builders and Contractors. In 2017, the TEXO Foundation established a board of directors to help set their vision to begin tackling the current construction labor shortage and encouraging the best and brightest students to pursue careers in construction. The organization has two main focus areas- high school outreach and college outreach.
Members of each team were: Design Build: Chris Rear, Joel Ford, Thomas Nees, Christian Stemm, Stevie Glew, Josh Coppick and coach Mark Pruitt. Heavy Civil: Jackson Adelman, Alex McDonald, Kale Neufeld, Iaan Hernandez, Tanner Fialkowski, Wade McGee and coach Jonghoon Kim. Commercial: Asa Gower, Gus Rodriguez, Clint Dawson, Greyson Chandler, Janelle Struble, Jake Neil, Marcus Watts and coach Lantz Holtzhower. International Design Build: from OSU, Sarah Sargent, Carson Lile, Trent Loomis and coach Rachel Mosier; from the University of Salford, Samuel Wilson, Samuel Arkwright, Jack Mitchell, coach Mark Shelbourn.