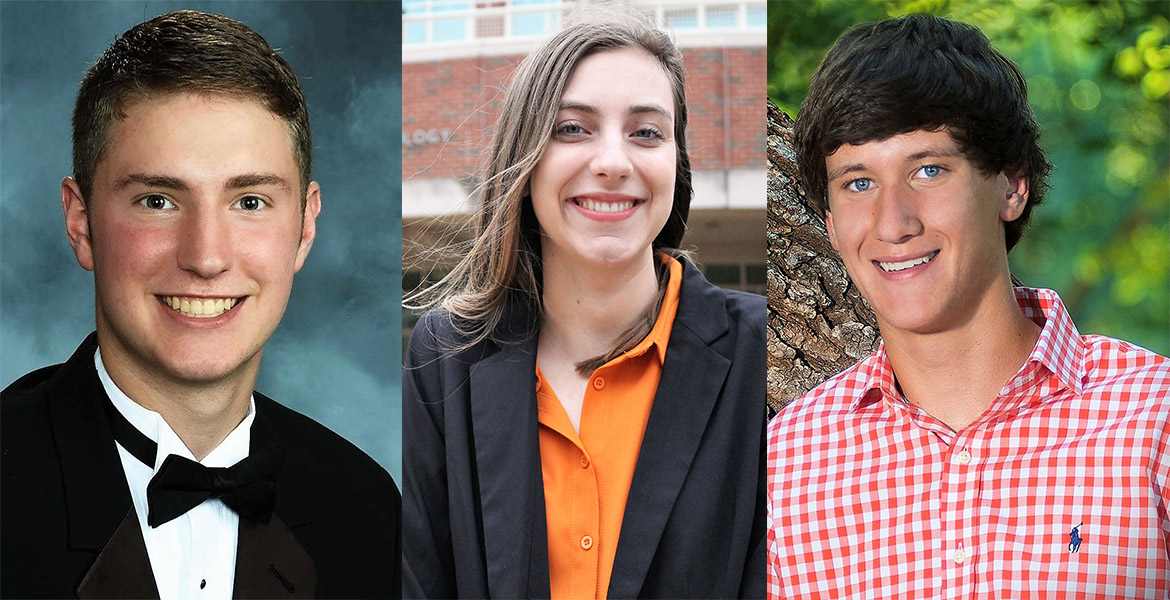 Student excellence in Industrial Engineering and Management
Thursday, March 14, 2019
Many students who enter the College of Engineering, Architecture and Technology's School of Industrial Engineering and Management (IEM) at Oklahoma State University have excelled in prior educational experiences, allowing them to enter college with the prestige of being named National Merit and CEAT Scholars. Three of which, Ryne Garrison, Kylie Dowers and Jay Eischen, are OSU CEAT students who have taken advantage of what IEM has to offer within their first year in college.
"We clearly want students who've done well in high school and have an interest in IEM," said Dr. Sunderesh Heragu, department head of IEM. "Having two National Merit Scholars was pleasantly surprising, due to the fact that we have only had maybe five in total in our department, and none in the past eight years."
OSU CEAT's IEM provides opportunities for students from diverse backgrounds with an interest in science, engineering and management to become successful leaders, entrepreneurs and professionals of tomorrow. IEM provides each graduate with the exciting and endless opportunities the industrial engineering discipline has to offer.
In the beginning, only about three students would enter the freshmen IEM class. This year, more than 40 freshmen were enrolled as IEM students. "I am excited and proud of the incoming class of new and incoming students," Heragu said. "These three students especially exemplify the qualities we seek here at IEM."
Garrison graduated high school alongside 30 other students in Burns Flat, Oklahoma. With a close relationship with the teacher who taught all STEM subjects, Garrison had a well-versed background in math and science coming into CEAT. Before college, he was always drawn towards business and science, which led him to find the perfect combination in IEM.
He is eager to explore new courses as he continues into his upper division courses. Looking forward to hands-on experiences in class, he enjoys projects with multiple pieces so he can make things work the best they can.
Garrison achieved a composite score of 35 on the ACT and a 1490 on his PSAT, qualifying him to be a National Merit Scholar. The National Merit Scholarship Program is an academic competition where the top one percent of best scoring students on the PSAT receive recognition and scholarships. Approximately 1.6 million students throughout the United States take the PSAT in hopes to score in the high qualifying bracket.
Garrison thinks that OSU CEAT and IEM have prepared him, even with his short time on campus, to find a future career with his undergraduate major. He is seeking to find a career in project optimization. "CEAT staff provide us with great resources and make sure we have what we need to achieve," Garrison said. "I want to see where my major will take me."
After attending a STEM camp in middle school, Dowers formed a passion for engineering at a young age. She attended St. Mary's high school in Edmond, Oklahoma, and always knew she wanted to advance her education to be in the field of engineering. When it came time to choose a university to attend, OSU was an obvious decision for her because she knew what opportunities she could get from CEAT.
"I believe that IEM is the most unique type of engineering due to it being more people oriented," Dowers said.
Throughout her first semester, her favorite courses were AutoCAD and an honors section of Introduction to Engineering. There, she was able to gain hands-on experience and put her knowledge to the test in a group project by creating a Vann de Graaff generator with a water feature on the side that made the water bend. A Vann de Graaff generator is an electrostatic machine that can generate high voltages. Typically, it consists of an insulating belt that transports electrical charge to a terminal.
Outside of the classroom, Dowers is involved in multiple organizations and clubs such as CEAT Freshman Student Council, Student Government Association CEAT Senate, the Institute of Industrial System Engineers, the Society of Women Engineers and CEAT Scholars. Being a part of these organizations allowed her to diminish the fear of entering college and to meet new people. These avenues give her the opportunity to network with student-engineers her age that have the same passion for STEM as herself.
"Networking is key to your future, and organizations like these have helped thus far, creating relationships with other IEM students and professionals," said Dowers.
High scholastics are required in order to be a CEAT Scholar. A score of 31 or higher on the ACT, a minimum 3.75 unweighted GPA and an ability to demonstrate leadership abilities with active involvement in student and community organizations while in high school are all expected. Dowers was able to achieve a 33 ACT score in high school.
"CEAT Scholars gave me a place to find a group of people to be able to connect with and adjust to the difficult transition into my major," Dowers said.
Dowers hopes to work in manufacturing after college, specifically for the healthcare industry. With her passion for engineering and selfless service, she wants to be able to help people while doing a job she enjoys.
Eischen went to high school in Fairview, Oklahoma, graduating with 38 other students. Always having an interest in math and science, he attended an event facilitated by OSU CEAT where Dr. Heragu, department head of IEM, spoke about the different opportunities in industrial engineering. In high school, Eischen had a research project where he was able to find out more about IEM, certifying why he wanted to come to OSU.
"As a third generation Cowboy, it was a clear choice for me to choose the IEM program at OSU," Eischen said.
As a CEAT and National Merit Scholar with an ACT score of 35 and PSAT score of 1460, scholastics have been an important facet of Eischen's pathway. He knew that if he entered college with a strong foundation, he could set his mind to anything.
"I am grateful for the scholarship opportunities given to me by OSU CEAT and how faculty has reached out to help me to do the best I can," Eischen said.
In his first semester of college, he enrolled in an Introduction to Engineering course, AutoCAD and Entrepreneurship. Also being interested in business, he has been able to intertwine his passions of STEM and business and apply it to IEM.
"IEM is unique because I am able to take engineering classes and also take business courses such as entrepreneurship," said Eischen.
Eischen has been able to get involved in student organizations on campus such as the Institute of Industrial and System Engineers. He looks forward to get more involved on campus by doing research in the future.
After he obtains his undergraduate degree, Eischen plans to continue his education even further by acquiring his master's degree in industrial engineering.
"Typically, students from IEM graduate to become senior managers, turnaround businesses, or even start their own business," Heragu said. IEM is known for mentoring students starting from the day they set foot on campus and equipping them with the knowledge they need to be well prepared to excel in the industry.
Story by: Mark Scalmanini