Wu named Outstanding Emerging Scholar
Thursday, February 14, 2019
Tristan Wu, assistant professor of fire and emergency management administration at Oklahoma State University, was named a 2018 Outstanding Emerging Scholar by the Western Social Science Association (WSSA) in San Antonio, Texas.
Each year, the immediate past-president of the WSSA, the president, and the president-elect choose to honor a junior faculty member who has been active in his or her discipline for less than six years. The award recognizes cutting edge research and substantial contributions to the social sciences, and the strong promise of future contributions. The recipients receive a $2,000 cash award, are honored at the Presidential Luncheon, and have an opportunity to present at the conference.
"The conference had about 700 attendants. It gives OSU and disaster research a chance to be recognized in social science disciplines," Wu said. "I delivered a talk on Oklahoma earthquake preparedness. The audience included some well-known disaster researchers in the field as well as students and practitioners. The research presentation gave me an opportunity to speak for Oklahoma residents and let the research and industry communities to understand how these earthquakes affect Oklahoman."
According to their website, WSSA advances scholarship, teaching, service and professional exchange across the social science disciplines. The Association's mission is to foster professional study, to advance research, and to promote the teaching of the social sciences, as well as to promote social justice, equitable treatment and the application of due process for all peoples. Founded in 1958 as the Rocky Mountain Social Science Association, WSSA now draws on scholars and others in over 30 disciplines, or "sections," from all over the world. WSSA convenes an annual conference, publishes the Social Science Journal, a juried quarterly research journal, and the WSSA News, the association's newsletters.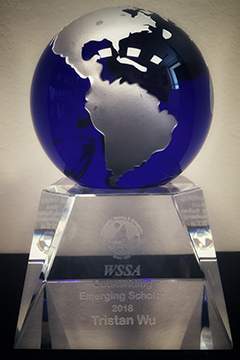 RELEASE CONTACT: Kylie Moulton | CEAT Marketing | 405-744-2745 | kyliecf@okstate.edu