Hybrid Lunar Communication Architecture (LunarCom)-Connecting the earth and moon
Thursday, July 30, 2020
NASA has awarded Oklahoma State University a $1,132,492 grant to develop next generation, space-based communication systems with a team from Oklahoma's three largest research universities.
Titled "Robust and High-Data-Rate Hybrid RF/Optical Communications for Lunar Missions," the research effort tackles problems with current radio frequency (RF) communication systems, namely low data rate and reliability, by utilizing a hybrid approach that incorporates both RF and optical communication elements within a smart networking framework. The theoretical and experimental project will integrate the RF and optical communication systems with an encompassing network architecture that leverages this combination for Earth orbiting satellites (such as SpaceX Starlink) as well as NASA's next generation activities, such as the Artemis lunar platforms as part of NASA's return to the moon.
The Hybrid Lunar Communication (LunarCom) Architecture project is led by Oklahoma State University and includes investigators from the University of Oklahoma and the University of Tulsa. The Science PI Prof. Sabit Ekin of OSU's School of Electrical and Computer Engineering (ECE) and Prof. Andrew Arena, Director of the Oklahoma Space Grant Consortium and NASA EPSCoR. Additional OSU investigators include Profs. John O'Hara, Ickhyun Song, and Wooyeol Choi of ECE and Prof. Jamey Jacob of the Unmanned Systems Research Institute. Co-investigators from partner universities include Dr. Ali Imran from University of Oklahoma and Dr. Peter LoPresti from the University of Tulsa. NASA collaborators are from the Goddard Space Flight Center (GSFC).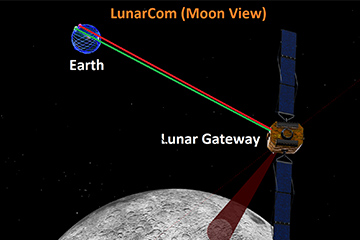 "After studying the critical requirements of NASA's communications systems, we proposed the best of two communication worlds – RF and optical – to develop a new communication architectural paradigm that enables NASA's space network to support the ever-increasing scientific data in future lunar missions," said Ekin. "A new LunarCom Architecture for NASA's lunar missions will combine the reliability of RF links with the high capacity and low cost of optical links for communication between Earth stations and Moon explorers."
The primary thrust of this project will be conducted by ECE's TWISTER (Transformative Wireless Innovative Science and Technology and Engineering Research) Laboratory. TWISTER has core expertise in areas of electromagnetic waves, communication theory and devices and signal processing.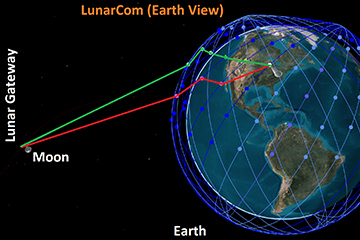 There are only nine states, including Oklahoma, that remain without a CubeSat initiative. This interdisciplinary research team plans to initiate the first CubeSat/SmallSat program in Oklahoma to generate massive STEM interest and participation.
"The interdisciplinary nature of this project leverages USRI's expertise in autonomy, avionics, and communications and will support the researchers across the partner universities," said Jacob. "It also provides unique opportunities for STEM engagement across various engineering disciplines for those students interested in NASA and space related careers, where communication will play an ever increasing role."
The goal of EPSCoR is to provide seed funding that will enable jurisdictions to develop an academic research enterprise directed toward long-term, self-sustaining, nationally-competitive capabilities in aerospace and aerospace-related research. Specific NASA EPSCoR objectives include developing partnerships between NASA research assets, industry, and Oklahoma's academic institutions and contributing to the overall research infrastructure, science and technology capabilities, higher education, and economic development of Oklahoma.
"This NASA EPSCoR grant secured by Ekin and his Co-PI's is fully aligned with the strategic investments that ECE has made in DC-to-Light science, technology and engineering," said OSU's ECE department head, Jeff Young. "The proposed project will capitalize and grow ECE's world-class experimentation, fabrication and measurement capabilities of microwave, millimeter-wave, THz and optical devices, components and systems. The system that Ekin and his team will build will be a game-changer for space-based, highly reliable, high-throughput communication systems."
MEDIA CONTACT: Rylee Kohn | CEAT | 405-744-5900 | ryleemk@okstate.edu