Dr. Afshin J. Ghajar was selected as a Fellow of American Society of Thermal and Fluids Engineers (ASTFE) for his outstanding contributions to the field of Thermal and Fluids Engineering. Due to the unexpected outburst of Covid-19 pandemics, the presentation of the 2020 new Fellow certificates has been postponed and will be conducted at the next ASTFE Conference in New Orleans in March 2021.
Dr. Ghajar's new book is entitled "Two-Phase Gas-Liquid Flow in Pipes with Different Orientations," published by Springer, in April of this year. The book is published as Springer Briefs in Applied Sciences and Technology which presents concise summaries of cutting-edge research and applications across a wide spectrum of fields.
The book summarizes the pioneering research conducted by Dr. Ghajar and his students in two-phase flow over a span of twenty years.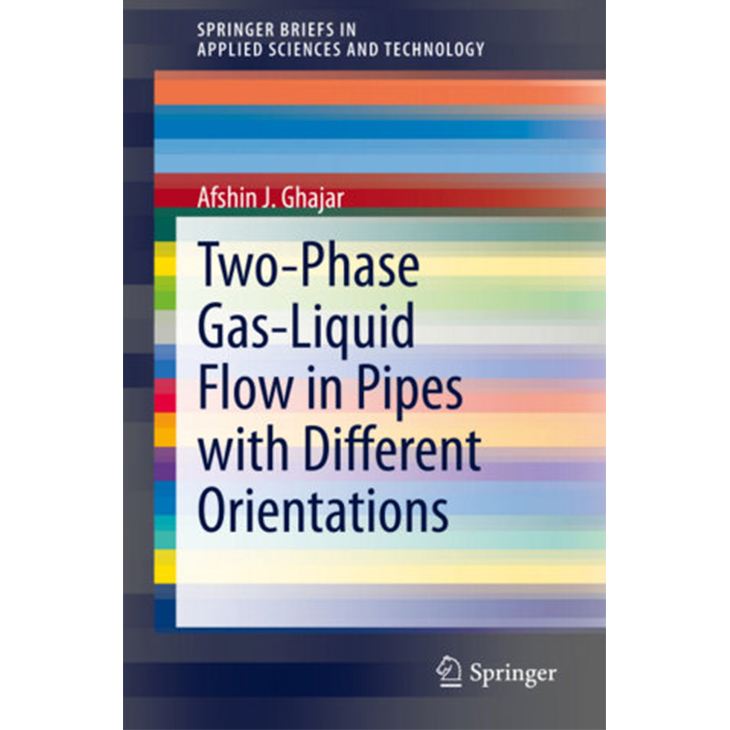 The research was carried out at the OSU/MAE Two-Phase Flow Laboratory. The experiments were carried out in a unique and one of a kind experimental setup that can be rotated to any inclination between +90 and -90 degrees including the horizontal orientation and is capable of flow visualization, and simultaneous measurements of void fraction, pressure drop, and heat transfer. The results of these studies are important in several industrial applications such as, oil and gas and chemical engineering.
The results published in the book is based on the work of 4 PhD students and 17 MS students and culminated in 5 book chapters, 22 journal papers, and 35 conference proceedings publications.
Dr. Ghajar is a Regents and John Brammer Endowed Professor of Mechanical and Aerospace Engineering at Oklahoma State University. He received his BS, MS and PhD in mechanical engineering from OSU. He is a renowned expert in the thermal and fluids field, focusing on experimental heat transfer/fluid mechanics and development of practical engineering correlations.
He has received countless teaching/service awards, such as the Regents Distinguished Teaching Award and the Halliburton Excellent Teaching Award, the 75th Anniversary Medal of the ASME Heat Transfer Division and the Donald Q. Kern Award, among others. Also, Dr. Ghajar, along with co-workers, has published over 200 reviewed research papers, nine book chapters, and delivered numerous keynote speeches at major technical conferences and institutions.
Dr. Ghajar is a Fellow of the American Society of Mechanical Engineers (ASME), Heat Transfer Series Editor for CRC Press/Taylor and Francis and editor-in-chief of Heat Transfer Engineering, an international journal published 22 times per year by Taylor and Francis. Heat Transfer Engineering is aimed at practicing engineers and specialists in heat transfer.
Dr. Ghajar is also the co-author of the 4th (2011), 5th (2016), and 6th (2020) editions of Heat and Mass Transfer – Fundamentals and Applications, published by McGraw-Hill Education.
MEDIA CONTACT: Kristi Wheeler | kristi.wheeler@okstate.edu | 405-744-9227