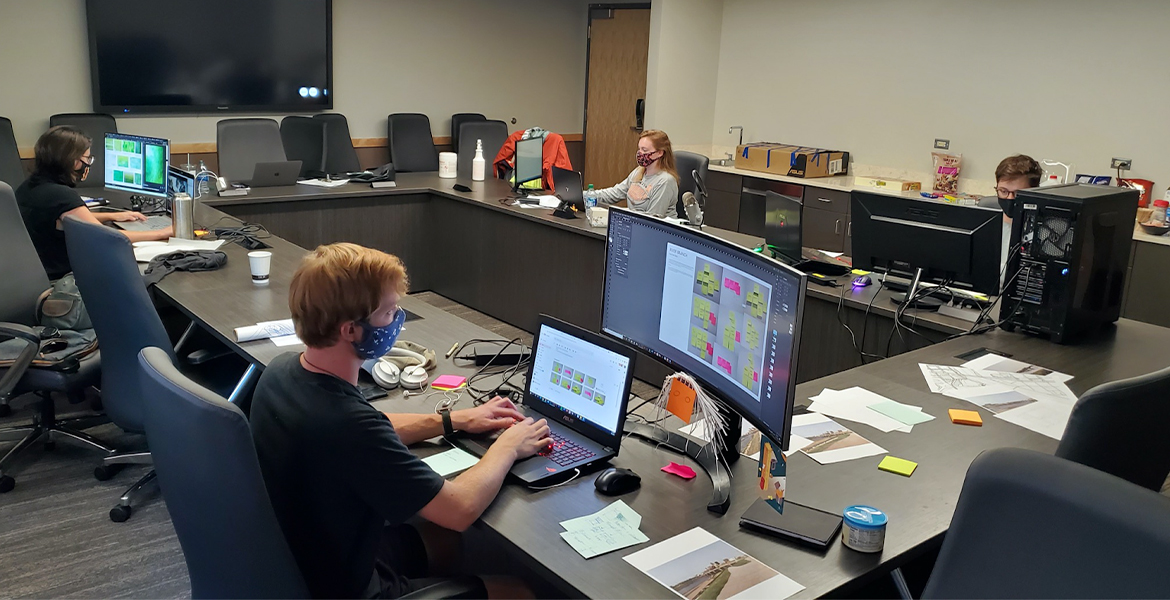 OSU Places at the AIA Central States Region Student Design Competition
Wednesday, December 2, 2020
Oklahoma State University placed in two of the top three places at the American Institute of Architects Central States Region Student Design Competition held this fall.
This year's competition sought proposals for a section of the riverfront in downtown Des Moines, Iowa. Twelve teams representing all Architecture programs in the Central States Region, two OSU teams participated in the annual event and seeking architectural design solutions.
Seung Ra was the adviser of Team Nine, which placed second overall in the competition. "We don't know where or what the project is before the start," Ra said. "We joined at 8 a.m., the organizer explained the project and objectives, and we had 12 hours to finish the project. It is a very intense design competition." The competition was held virtually due to COVID-19, however, the OSU teams were still successful.
Each team had a different design plan for the riverfront. "The importance of our design was to bring together the river and city in a symbiotic relationship," Ra said. "Our design focus was sociability, access, linkage, comfort, and activities. The proposal had to combine the importance of education, conservation and recreation. Those three were the vision for our design."
Nathan Richardson was the adviser for Team 11, which placed third overall in the competition. "Our team specifically was interested in creating public, flexible space," Richardson said. "They programmed the building for education and gathering space. They also designed the building in a way that the community could participate in gardening and eco-education." Richardson's team was especially concerned about the environment and social justice, and by placing the building on the river the community could have public discourses.
The competition this year was held virtually at each team's respective schools. Although this was a major change for the teams, both advisers agree that the hardest part of the competition was completing the assignment within the 12-hour time limit. "The hardest part about it is taking a team of four students and working on a project from start to finish in 12 hours," Richardson said. "Even though you know you are only going to have 12 hours to develop a proposal, it is very difficult to continue to move forward and develop a design that is presentable."
Both Richardson and Ra are proud of their team's accomplishments. "Our students are very creative, hardworking, and humble," Ra said. "I really can't express how proud I am of them. "
OSU CEAT congratulates both teams on their success at the AIA Central States Region Student Design Competition.
MEDIA CONTACT: Kaitlyn Mires | CEAT Marketing | kamires@okstate.edu