OSU's Pistol Pete's Propulsion Posse moves on to final phase of C3 Challenge
Thursday, April 9, 2020
The FirePoint Innovations Center at Wichita State University selected Oklahoma State University's Pistol Pete's Propulsion Posse team from the College of Engineering, Architecture and Technology to advance to the final phases of the C3 (Converge, Collaborate and Create) Challenge.
FirePoint started the C3 Challenge last September, inviting university students from around the U.S. to submit their designs for the Army's future unmanned aerial vehicles (UAV) intended for next-generation combat and defense. Sponsored by the U.S. Army Combat Capabilities Development Command Aviation and Missile Center (CCDC AvMC), FirePoint C3 Challenge is supported by Dassault Systems and America Makes.
In February, the Pistol Pete's Propulsion Posse team was chosen as one of six teams to receive $10,000 to build out their proof of concepts to move on to the next phase.
Pistol Pete's Propulsion Posse will receive up to an additional $25,000 in team funding to continue the fabrication process and will be competing against two other teams, Buhler Science Club and Vol Air, who also advanced to the final phase.
During this fabrication phase and future phases, Pistol Pete's Propulsion Posse is incorporating turboelectric power technology developed with the support from the Oklahoma Center for the Advancement of Science and Technology (OCAST) for integration into an unmanned aircraft. Additionally, they are tasked to converge, collaborate, and create a fully integrated system consisting of the other final two team's sub-systems utilizing Dassalt Systemes' 3D Experience platform for CAD modeling and their 3DSWYM, using long distance communication between teams.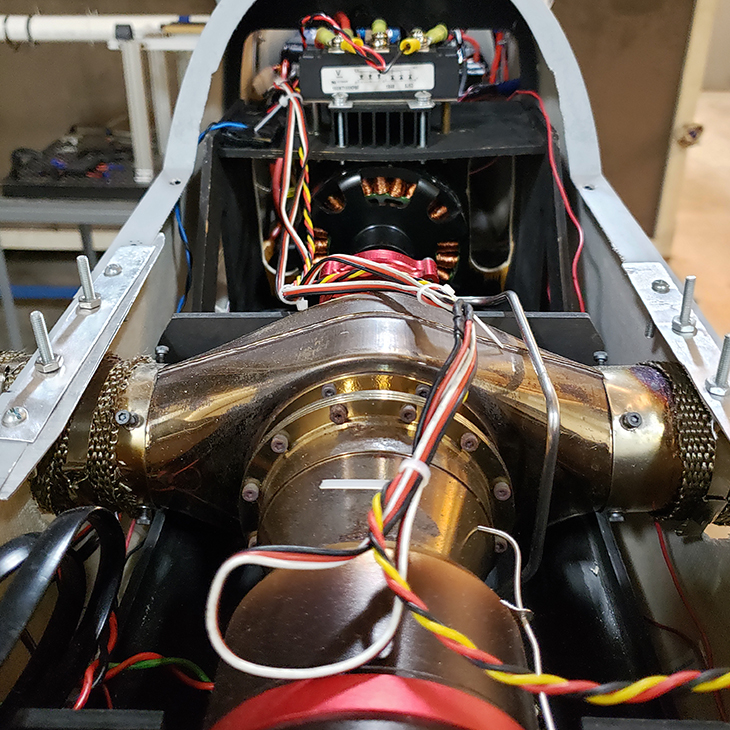 The Pistol Pete's Propulsion Posse team consists of students from the School of Mechanical and Aerospace Engineering (MAE) and the School of Electrical and Computer Engineering (ECE) including Ross Brumley, Johnathan Burgess, Andrew Cobb, Joshua Johnson, Max Lewis, Abdalrahman Mansy, Gustavo Ravello, Cole Replogle, Cooper Tiderman and Malorie Travis. The team's project advisor is MAE's assistant professor Kurt Rouser.
"I am very proud that our team is comprised of very diverse students in terms of gender, ethnicity, age and engineering disciplines, not to mention graduate and undergraduate students from different class years," said Rouser. "This team draws on all their collective perspectives, skills, knowledge and experiences."
This competition spans over a two-year period, thus allowing those students who are graduating to be replaced by new students coming in. In the final stage of the competition to take place in February 2021, the teams will unite to physically assemble the final UAV. At that time, they will be asked to present their project to the Department of Defense and other industry experts and discuss their experiences and progress throughout the competition.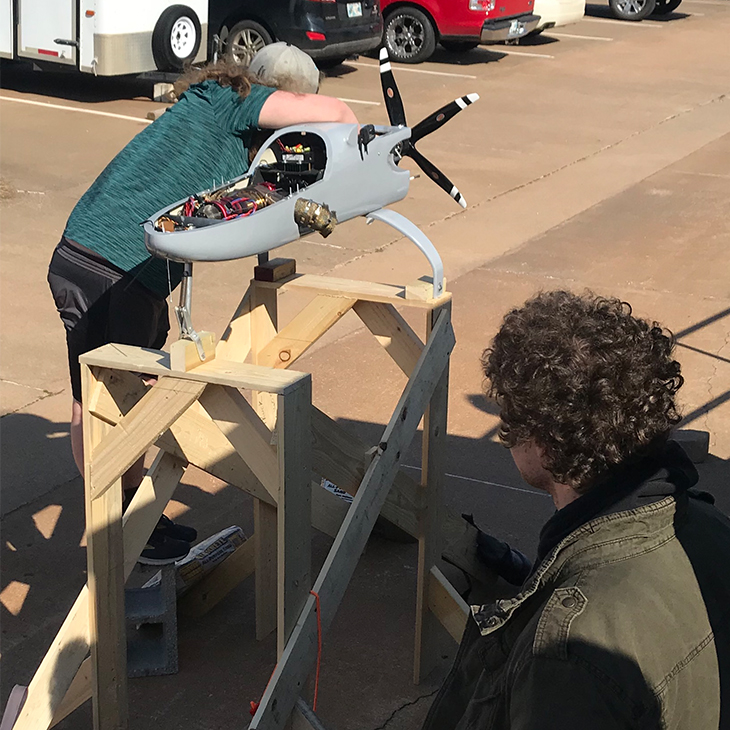 "These students rapidly produced and tested prototype turboelectric power systems, ranging from five to 13 kW, that included automated throttle control and are very versatile for integration into just about any type of unmanned aircraft," said Rouser. "To the aircraft system, it will simply appear to be like a battery, which should enable easy integration with the other two teams in the future phases."
FirePoint and CCDC AvMC aims to increase efficiency and quality of their end products. This competition looks to expose the bright minds of tomorrow to these concepts early in their careers, so that they can assist in developing the next generation workforce.
MEDIA CONTACT: Kristi Wheeler | CEAT Marketing | 405-744-5831 | Kristi.wheeler@okstate.edu