Ten tips to save energy while working from home
Wednesday, April 29, 2020
Everyone in the world has been affected by the novel coronavirus (COVID-19) pandemic that has caused unprecedented global disruption. As the coronavirus continues to spread across the U.S. the Center for Disease Control and Prevention (CDC) is instructing individuals to work from home, if possible, as a social distancing technique to help contain the spread of the virus. Staying home is expensive particularly in terms of energy consumption since, in most cases, the entire family is staying home more and utilizing electronic devices, appliances, and storing more food and cooking more often than normal.
Because of this the Industrial Assessment Center at Oklahoma State University wants to help people save money at home by following simple tips to reduce their energy consumption.
1. Don't leave water running while washing your hands
The CDC recommends people practice hand washing with soap, at regular intervals, by scrubbing hands for 20 seconds to kill germs. A quick tip is to not allow the tap water to continue to flow for these 20 second intervals. In 20 seconds approximately 2 liters (0.528 gallons) of water consumption could be saved. An average family of 4 who each washes their hands 5 times per day could save approximately 316 gallons of water each month by turning the tap off while scrubbing their hands. This could lead to a significant cost reduction in the monthly water bill.
2. Operate your thermostat efficiently
Set your thermostat as high as comfortably possible in the summer. The smaller the difference between the indoor and outdoor temperatures, the lower your overall cooling bill will be. Keep your house warmer than normal when you are away, and lower the thermostat setting to 78°F (26°C) only when you are at home and need cooling. A programmable thermostat can make it easy to reset your temperature. Avoid setting your thermostat at a colder setting than normal when you turn on your air conditioner. It will not cool your home any faster and could result in excessive cooling and unnecessary expense.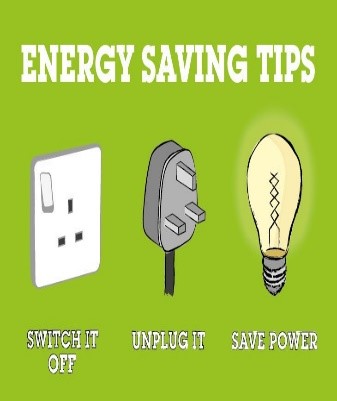 3. Unplug devices
Small appliances and electronic devices, including chargers for laptops and phones, use energy even when the devices are not in use. When powered on, game consoles, televisions, and similar electronic devices are responsible for up to 12 % of energy use. Thus, it is recommended to unplug appliances and electronic devices when they are idle.
4. Use the dishwasher efficiently in three easy ways
Three easy steps to save energy and water in your kitchen are: (1) only run the dishwasher when it is full (not overloaded); (2) scrape your dishes and load them in the dishwasher instead of rinsing or hand washing dishes; and (3) let dishes air dry instead of using your dishwasher's heated dry setting. These steps will help you to spend less time and use less water (nearly 5,000 gallons per year) at the sink.
5. Maintain refrigerator and freezer temperatures
The refrigerator and freezer are important household items that have multiple energy saving opportunities. Simply making sure to keep the doors closed will yield significant energy savings as less electricity will be used to maintain low temperatures. The best optimum temperature for a refrigerator is between 35 to 38°F and for a freezer is 0°F. In addition to this, regularly cleaning the coils in the back of the fridge to ensure enough airflow across the condenser will optimize the energy usage of the fridge.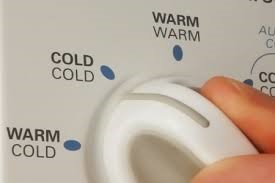 6. Defrost naturally
Using microwaves and ovens to defrost food is not an energy efficient idea. If possible, allow food to defrost naturally as this saves you from the energy wastage of using ovens and microwaves.
7. Use the washer and dryer with a full load
Washing a small load consumes as much energy as a full load. Try to wash full loads and use an appropriate water setting if you must wash a small load. Use the high-speed or extended spin cycle to remove as much moisture as possible before drying. The drying function on the dryer is very energy intensive. Air dry or hang laundry outside on a drying rack whenever possible.
8. Wash clothes in cold water
Warm or cold water is generally sufficient to clean your laundry. Almost 75% of the energy used by washing machines goes to heating water. Using warm water instead of hot can cut a load's energy use in half. In addition, using the cold water will save even more and upholds the quality of the clothes as well.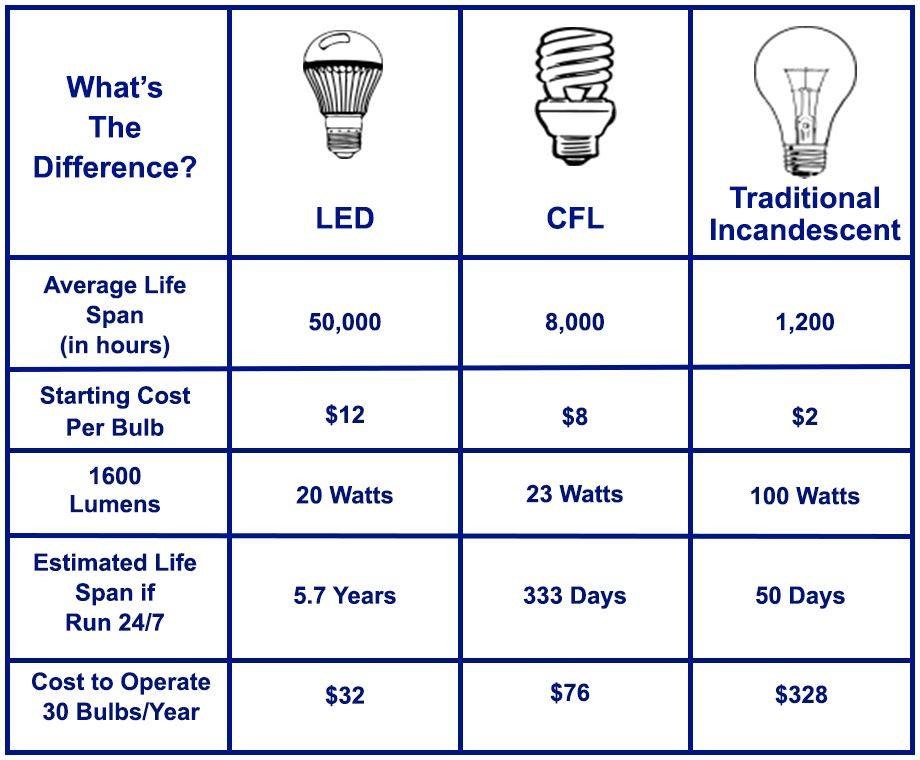 9. Switch your lights to LED
Illuminate your home using the same amount of light for less money. An average household dedicates about 5% of its energy budget to lighting. Switching to energy efficient lighting is one of the fastest ways to cut your energy bills. For high quality products with the greatest energy savings, choose bulbs that have earned the ENERGY STAR. The difference between types of lightbulbs are shown below:
10. Insulate your water heater tank
If you have an older water heater tank that doesn't have built-in insulation with an R-value of at least 24, then it's probably a good idea to insulate your water tank. If you are not sure what R-value is, then touch your water heater tank with your hand. If it is warm, it needs additional insulation. Proper insulation can reduce standby heat loss by up to 45% and save up to 16% in water heating costs. This process usually takes between 1-2 hours. For an electric water heater, consider insulating underneath the tank as well. This prevents heat loss into the floor and could save an additional 9% on water heating energy.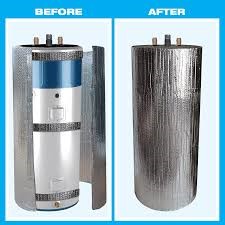 Overview of OSU IAC:
The Industrial Assessment Center (IAC) located at Oklahoma State University, is funded by the U.S. Department of Energy and has a history that reaches back more than 35 years. The OSU IAC is one of 31 Industrial Assessment Centers in the US and serves small and medium-sized manufacturers in Oklahoma, Kansas, Arkansas, north Texas, and the TX Panhandle. We have successfully performed over 1,000 industrial assessments since 1982, all at no cost to our clients. The stated mission of the OSU IAC is to provide clients with industrial assessments at no cost that will help reduce energy and waste and increase productivity.
Over the past five years, the OSU IAC has averaged recommended savings of over $110,000 per client (over 14% of total utility bills) as well as significant savings in relation to CO2 and pollutants in the energy chain. Along with the mission above, an associated goal of this organization is to produce graduates who are technically competent and able to handle all facets of client relations and communications, so that they will be prepared to serve as energy engineers and be in demand by employers.
In 2018, the OSU IAC was the first IAC office to reach the 1,000th assessment milestone among the 31 IACs nationwide. As of 2020, this national IAC program has achieved over $4.5 billion of implemented energy cost savings since its inception. Moreover, since 1982 the OSU IAC program has contributed $317 million or 31.19 Tbtu of implemented energy cost savings and has obtained the reduction of 1.91 million metric tons of CO2 emissions.
OSU IAC Webpage: https://iac.okstate.edu/ DOE IAC Webpage: https://iac.university/
MEDIA CONTACT: Dr. Hitesh D. Vora | Director of the Industrial Assessment Center and Assistant Professor of Mechanical Engineering 405.744.9578 | hitesh.vora@okstate.edu