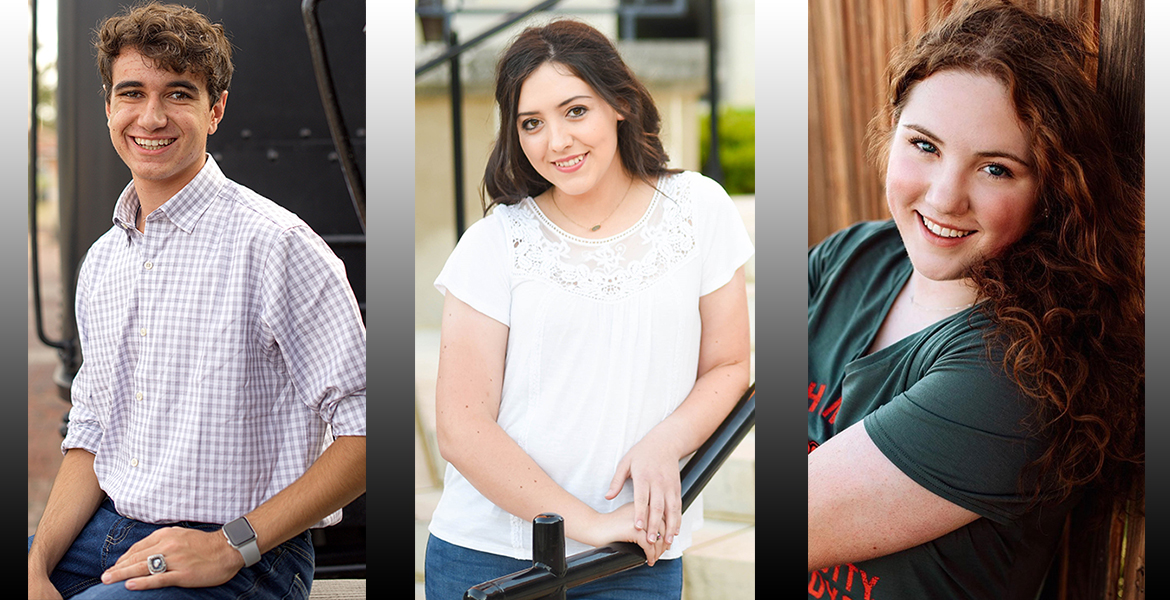 2020 Allen Scholars Announced
Wednesday, August 12, 2020
W.W. Allen Scholarship awarded to Kaylee Rolph and Rae-anne Williamson
Each year, the W.W. Allen Scholars Program in the College of Engineering, Architecture and Technology (CEAT) awards more than $135,000 in scholarships, enrichment activities, professional development and national and/or international travel, followed by full tuition and housing for a master's degree at the University of Cambridge in the United Kingdom. Up to two new awards are made each year.
This year, Kaylee Rolph and Rae-anne Williamson were selected as the 2020 W.W. Allen Scholars.
Kaylee Rolph grew up on a farm and ranch in Dewey, Okla. Her love for agriculture and understanding of mechanical objects began long before now. During high school, she developed her skills in agriculture by getting involved in the National FFA Organization (FFA), but gravitated more toward her STEM based classes. Biosystems engineering is a unique combination of agriculture and engineering and she felt this was a natural fit for her.
Rolph attended Tri County Tech's pre-engineering program, giving her the opportunity to confirm her interest in engineering and allowing for hands on experience with CAD Systems, 3-D printing, and design principles. Additionally, she had an internship with ConocoPhillips in the facilities engineering group which provided her with work experience in the engineering field. As a result, this provided her with a great foundation for pursuing a degree in engineering.
Rolph will begin her freshman year this fall, majoring in biosystems engineering. She currently serves as president of both her FFA chapter and her county's 4H Teen Leaders which has given her opportunities for participating in community service and building leadership skills.
Rolph plans to be active in student government, engineering professionals club and other clubs while at Oklahoma State University.
"It is important to me that I continue to grow as a leader by being involved in service focused organizations," Rolph said. "I will seek opportunities to network with students and professionals from across the country."
"In a material world, education is a gift that once received can never be taken away," Rolph said. "I believe that my education is one of my most valuable assets and making the most of my studies will grant me numerous opportunities after graduating."
Rolph plans to travel abroad for international research and study, collaborate with professionals, and identify solutions for the societal problems our world is facing today.
"Networking and sharing challenges as well as potential resolutions on an international basis will prepare me for a lifetime of positively impacting the lives of others," Rolph said. "By going above and beyond in my studies, I will be equipped to make a difference."
After completing her education, Rolph plans to pursue a leadership position in a corporation, and eventually own her own business.
"Combining studies in agriculture and engineering will provide a solid foundation for capitalizing on emerging technologies to address the unfortunate fact that there are many citizens of our country that do not have the proper nourishment," Rolph said.
She added that her company will focus on creating new ways to reduce wasted and unused food in our country.
Rae-anne Williamson grew up in Fort Sumner, N.M., a rural farming and ranching community. Having opportunities to help her community and to travel around the United States and neighboring countries, Williamson saw how many people in the world weren't as fortunate as her, and how many people needed help, which is what sparked her interest in engineering.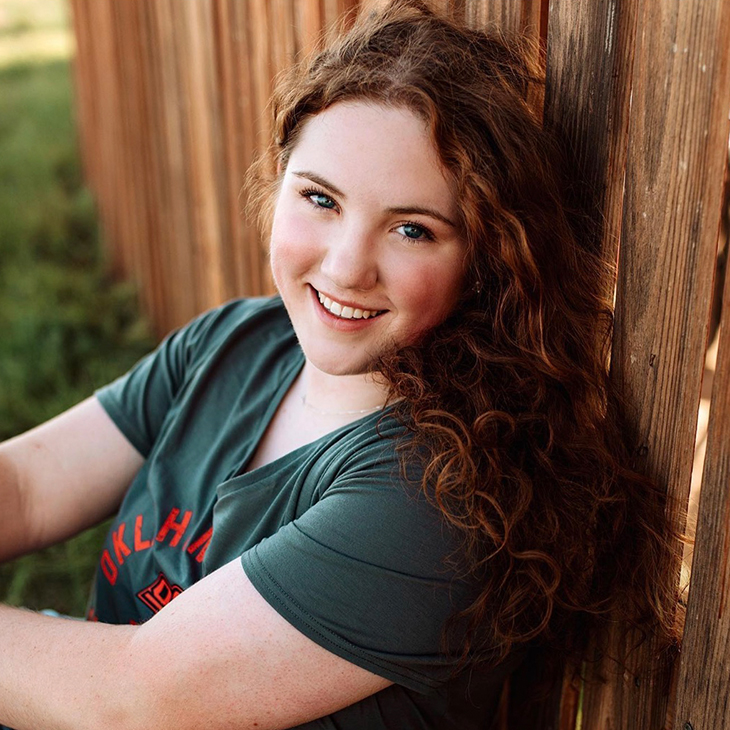 From birth, her parents instilled in her that she could do anything she set her mind to.
"Like most little kids, I had no true idea of what I wanted to be, but I had ambition," Williamson said. "From being a world-renowned chef, to a paleontologist who discovers the newest dinosaur, or being a lawyer known for never losing a case, to becoming the President of the United States, my future 'careers' were as endless as my imagination.
"Williamson may not have known exactly what she wanted to do, but one thing remained constant in her life, she always knew she wanted to help people in any way she could.
"With the encouragement of two math and science minded female teachers during my freshman year of high school, I really started to hone in on engineering. But, I still had no idea what type of engineering I was going to pursue," said Williamson. "Then in the summer between my sophomore and junior years, I had the opportunity to go to the National Student Leadership Conference for Engineering in Washington D.C."
While attending the conference, she participated in many different projects that required her to build, create, or draw up many different products in order to solve problems that were given to her by her advisors. One of the tasks that was given to her was to solve a major world issue, such as world hunger. She and her team had to design and present their solutions to a panel of judges to be critiqued.
"I automatically took a chemical and biological approach to the issue. It was natural to think about the world around me in a series of biological and chemical components," Williamson said. "From then on I became passionate and fell in love with the process, the critical thinking involved, and all of the elements found within chemical engineering."
Williamson stated that she plans to take full advantage of all the opportunities that CEAT and OSU offers to grow both personally and socially.
In fall, she will pursue a degree in chemical engineering with a pre-med option while also studying humanities.
"Although it may seem to contradict the principles and requirements of a chemical engineering degree, studying humanities, specifically world religion, world history, and world languages and cultures is something that I am very passionate about and I find it holds great value towards my future career," Williamson said.
Through the study of humanities, Williamson hopes to gain the knowledge and understanding she needs in order to become more proficient in communicating with people globally about the topics of chemical engineering and the medical field.
Williamson hopes to one day lead a group of scientists, doctors, engineers and other research technicians to discover better treatments, medicines and potential cures for various conditions.
"Specifically, I hope to be working on unveiling a new treatment for addiction and other diseases of the mind," Williamson said.
W.W. Allen Boys and Girls Club Scholarship awarded to James Boudreaux
The W.W. Allen Boys and Girls Club Scholarship is awarded to an incoming freshman who was a member of a Boys and Girls Club in high school. The scholar receives more than $65,000 toward a bachelor's degree in engineering which includes a four-year cash scholarship, enrichment activities, national and/or international travel and peer & faculty mentorship.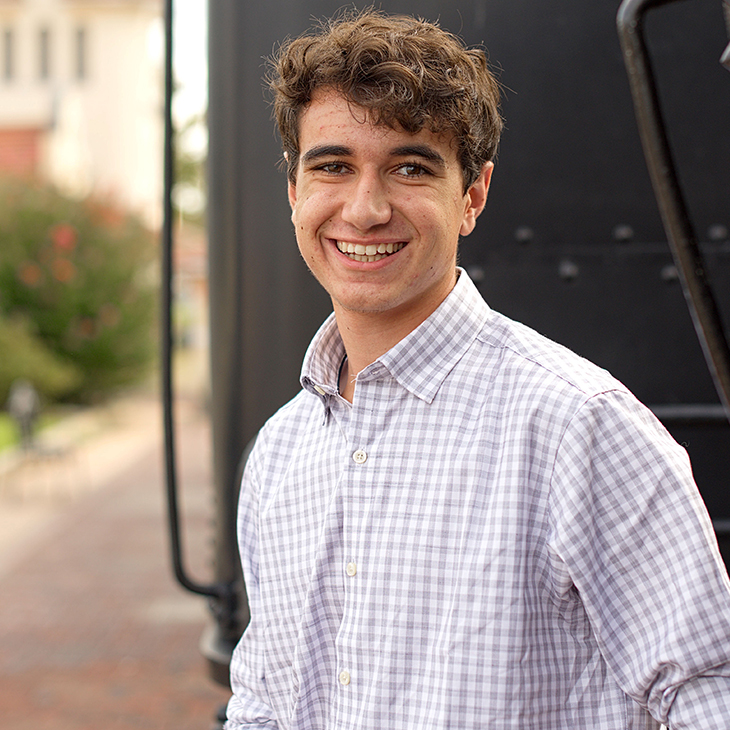 James Boudreaux grew up in Bartlesville, Okla. and as a child spent time in the Bartlesville Boys and Girls Club. This past year he returned as a volunteer to work with students from his childhood elementary school with a unique new program called Academic Therapeutic Learning Alternative School (ATLAS). The kids in this program, some as young as kindergarten, have been identified as having certain trauma that affects them in such a way that they are not always able to function correctly within a traditional classroom setting.
Boudreaux's role as a volunteer was to exemplify positive boundaries and act as a positive role model in their afternoon sessions.
"In my time at the Boys and Girls Club this year with these unique young minds, I truly believe that I have helped them to learn about what it means to grow as young leaders within our community." Boudreaux said. "They have also taught me a lot about what that means in my own life moving forward into college and beyond. Each of the children have taught me important lessons on what real leadership looks like."
Boudreaux hopes to apply the lessons he learned in his time serving at the Boys and Girls Club in various ways throughout his time in college by continuing to plug into the lives of youth in the community, and to act as a strong male role model for those who may not have one.
"I am a firm believer that the greatest way to impact the world and the community around me is to lead strong youth with an example of humble strength," Boudreau said.
While the Boys and Girls Club developed his leadership skills, it wasn't until Boudreaux attended the Intel International Science and Engineering Fair in Pittsburgh, Pa., that he really gained interest in electrical engineering. At the conference, he was assigned a project about building and optimizing a wireless power transmission unit.
"I soon found that every person I interacted with was just as passionate about tackling big problems in the global energy crisis," Boudreaux said. "In being able to see all the possibilities in this field and what it could provide for me to make large and impactful changes in areas that I am passionate about, I decided right there that I was called to become an electrical engineer."
Starting this fall, Boudreaux plans to be an active member of the Cowboy family, taking advantage of potential leadership skills through various campus clubs and student organizations, as well as participating in service opportunities.
"Oklahoma State provides the opportunities to not only pursue my educational goals, but also to equip me with the tools to change the world," Boudreaux said. "The classes I take will help to refine my education. The relationships formed here and the internship possibilities will be invaluable as I look to become the best version of me that I can be."
This upcoming year the College of Engineering, Architecture and Technology will award over $3M in scholarships to more than 1,400 students. Only a few of the outstanding CEAT scholarship recipients were highlighted here but CEAT is proud to have every one of them as part of the Cowboy Family. Amanda Williams, CEAT Manager of Undergraduate Recruitment and Scholarship Programs stated "CEAT students are smart, unique, driven, innovative and all-encompassing and we have our donors like Mr. Wayne Allen to thank for our ability to recognize and award these outstanding students."
MEDIA CONTACT: Kristi Wheeler | CEAT Marketing and Communications | 405-744-5831| kristi.wheeler@okstate.edu