CEAT student recognized as a Top 10 Freshman
Wednesday, November 10, 2021
Media Contact: Jeff Hopper | Marketing Media Specialist | 405-744-2745 | jeff.hopper@okstate.edu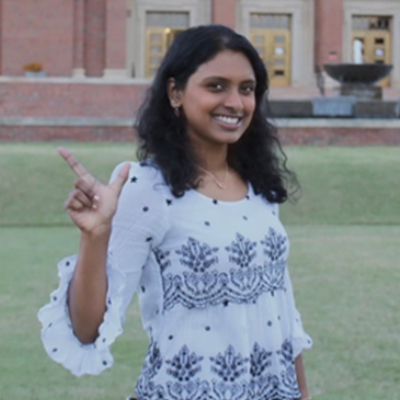 Oklahoma State College of Engineering, Architecture and Technology Chemical Engineering Pre-Med student Mejalaa Jayaseelan was recently awarded as a Top 10 Freshman for the 2020-2021 school year by the OSU Mortar Board.
Mortar Board is an honor society that values excellence in scholarship, leadership and service. Jayaseelan was selected for the honor based on scholarship, outstanding leadership, and community service. She was recognized at the OSU-Baylor football game on Oct. 2, 2021.
"When I found out I was chosen as one of the top ten in the 2024 graduating class, I felt a mixture of utter shock and excitement," Jayaseelan said. "It was an awesome honor to be awarded and I am so grateful for all my mentors/instructors who invested in my growth during freshman year. I am also thankful for my parents who have always instilled their confidence within me! I think this honor will have a huge impact on my future academic career at Oklahoma State University because it will demonstrate my dedication to leadership and service at OSU and be an overall awesome award that only 0.001% of the entire student body here can boast about.
"Receiving this honor means to me, not only that my hard work is being recognized, but it also amplifies women, just like me, in the STEM field. As aforementioned, I was the sole CEAT student to be chosen for the award, and I know it may not be on the scale of a Nobel Prize or a presidential honor, but to me, it feels like I am paving my own way to shatter the glass ceilings that have stowed away women in the background of science for far too long."
Story By: Kaitlyn Mires | kamires@okstate.edu