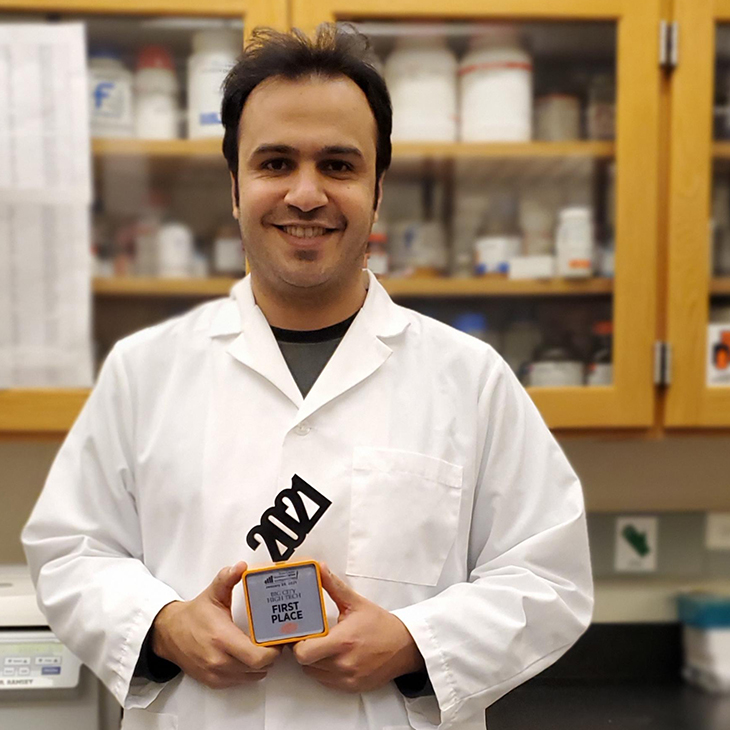 CHE student wins first place in the Riata Center Business Plan Competition
Thursday, March 25, 2021
Doctoral chemical engineering student Saeed Manouchehri was awarded first place in the Riata Center Business Plan Competition on Jan. 29.
The Riata Center Business Plan Competition promotes entrepreneurship and small business development by focusing on student ventures. The competition is open to all students at Oklahoma State University. There are three categories: Main Street Lifestyles, High Tech Business and Social Enterprise.
Manouchehri's teammates were Kevin Heupel, a graduate student in the Spears School of Business; Sugandhi Akula, a graduate student in the Spears School of Business; and Parna Ghosh, a graduate student in the College of Veterinary Medicine.
The High Tech winning team project was BioSeal XE.
"Our business plan is based on an innovative wound bioadhesive, BioSeal XE, which provides extreme healing for horses," Manouchehri said. "BioSeal XE immediately stops bleeding and accelerates wound healing for emergency situations involving cuts, tears, or punctures to the skin. Preventing infection and easy application are other major features of BioSeal XE."
Manouchehri had always been interested in establishing a startup to commercialize the bioadhesive. Because of that, he took the Creativity, Innovation, and Entrepreneurship (CIE) course in business school. Manouchehri explained that he was first interested in the competition after he worked with Heupel, Akula and Ghosh to develop a business plan for the product.
"We noticed a gap in the wound care market for horses that we can fulfill with our product," Manouchehri said. "Hence, we decide to continue working on our business plan by attending different business plan competitions. We attended the Riata Center Business Plan Competition competition and fortunately won first place in the High Tech Track."
Manouchehri's business plan is unique to its field.
"The thing that I like the most about our business plan is that we are the first-mover in the market, which means there is currently no other product on the market comparable to BioSeal XE," Manouchehri said.
Manouchehri explained he is proud of his team for their successful teamwork and ability to help each other understand different aspects of their business. He is grateful for the support of the advisory board and for the support from David Thomison and Dr. Joshua D. Ramsey.
OSU CEAT congratulates Manouchehri and the rest of the team for their accomplishments.
MEDIA CONTACT: Kaitlyn Mires | CEAT Marketing | kamires@okstate.edu