Neal A. McCaleb named Tau Beta Pi Distinguished Alumni
Friday, September 24, 2021
Media Contact: Kristi Wheeler | Manager, CEAT Marketing and Communications | 405-744-5831 | kristi.wheeler@okstate.edu
Neal A. McCaleb, P.E, was named one of five Tau Beta Pi 2021 Distinguished Alumni for his service as an engineer and leader to his tribe, state, and country in business and politics.
McCaleb earned a B.S. in civil engineering from Oklahoma State University (OSU) in 1957. He is a professional engineer and political leader with proud Native American Heritage.
McCaleb was initiated into Tau Beta Pi, The Engineering Honor Society, in 1976 as an alumnus. His career in politics began in 1974 after being elected to the House of Representatives and he served as House Minority Leader until his retirement from Legislature. He was also appointed as the state's first secretary of Transportation in 1986 by the Governor of Oklahoma and served as Director of the Oklahoma Department of Transportation.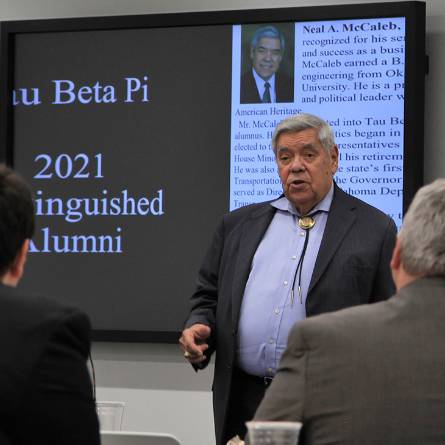 He was appointed to key positions by three U.S. presidents and four Oklahoma governors, including President George W. Bush, who in 2001 appointed him as Assistant Secretary of the Interior for Indian Affairs. After leaving government service, McCaleb was appointed the chairman of the board of Chickasaw Nation Industries and now serves as an Ambassador at Large for the Chickasaw Nation. McCaleb was appointed chairman of the board of Chickasaw Nation Industries, responsible for promoting the economic development of the tribe.
McCaleb was inducted to OSU's Hall of Fame in 2005, and the College of Engineering, Architecture and Technology's Hall of Fame in 1989.
The Distinguished Alumnus Award recognizes alumni who have demonstrated adherence to the ideals of Tau Beta Pi and foster a spirit of liberal culture on local, national and international scales.
"My father was Tau Beta Pi at Arkansas University, class of 1921, and was influential on my career choice," said McCaleb. "I was inducted into Tau Beta Pi in 1976, 19 years after my graduation. I was Sigma Tau, Chi Epsilon and Phi Kappa Phi as an undergraduate student. It is very meaningful for me to receive this recognition."
McCaleb was nominated by the students of the Oklahoma Gamma Student Chapter at OSU with the alumni of the Pioneer Alumni Chapter.
Along with McCaleb, four additional recipients were recognized including James A Momoh, Ph.D., Edward Kaplan, Richard J. Spontak, Ph.D., and Martin C. Jischke, Ph.D.
Each will receive a commemorative plaque and a $2,000 scholarship will be given in the name of each alumnus to a deserving student member of TBII.