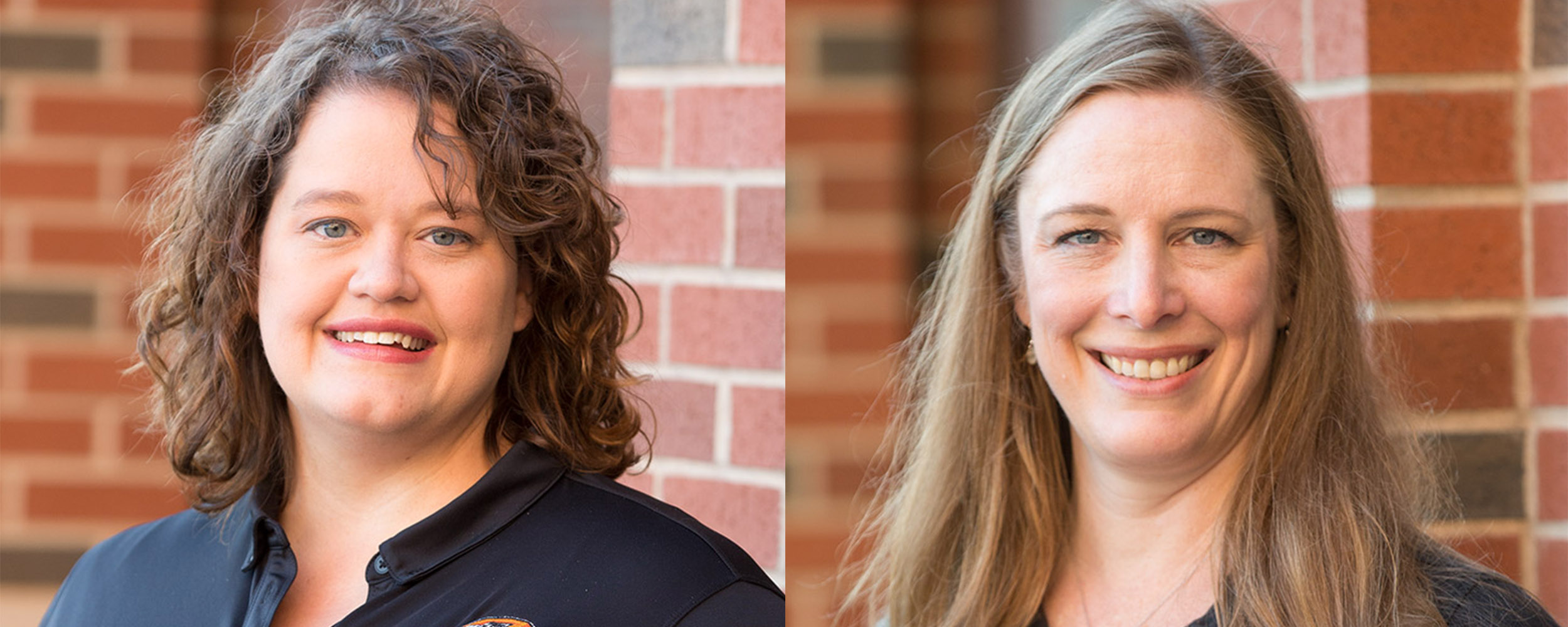 Two CEAT academic advisors recognized by NACADA
Friday, April 9, 2021
Two academic advisors for the College of Engineering, Architecture and Technology were recently recognized within NACADA: The Global Community for Academic Advising.
Sarah Ayres, assistant director for advising, received the Region 7 Excellence in Advising: Advising Administrator award.
The regional award recognizes individuals who provide direct academic advising services to students, but also are administrators or directors of an advising program for a minimum of three years.
Ayres has excelled at her position and created a comfortable environment for students for advising. She believes that her supportive and positive environment has helped her.
"I think that having such a dedicated and stellar staff makes my job as an administrator easier," Ayres said. "Having a supportive and positive environment within CEAT, as well as at OSU overall, has given me the tools and opportunities to excel in my position.
"I am extremely grateful to all of the advisors in CEAT Mary, David, Rachel, Madeline, Ryan, Kristal, Lori, Matt, Kendall, and Shannon. In my opinion, we have the best advising team on campus. I am also extremely grateful to CEAT Students Services Director Lance Millis for helping me become the best version of myself as a supervisor possible. The CEAT Dean's Office as well as the other leaders in CEAT Student Services Jordan, Andrea, and Yoko give me the tools to help our advisors become better."
Kristal Soderstrom Junkens, senior academic advisor for electrical and computer engineering, was elected to the Leadership Position of South Central Region 7 Chair.
NACADA Region 7 consists of Oklahoma, Texas, Kansas, Arkansas, Missouri and Louisiana. It is one of the 10 NACADA Regions that encompass the United States and Canada with each region only consisting of one elected chair.
"To have been nominated and elected is a great honor," Soderstrom Junkens said. "I am extremely proud to not only represent OSU but also Oklahoma to NACADA."
Soderstrom Junkens said it has been quite some time since someone from Oklahoma has held the Region 7 Chair position and is blessed to have been elected.
"I'm proud to be a part of this amazing group of advisors and advising administrators," Soderstrom Junkens said.
The mission of NACADA is to promote student success by advancing the field of advising. NACADA provides opportunities for professional development, networking, and leadership for its diverse membership.
"Being elected to this NACADA leadership position is not only a fine tribute by one's peers, but is also recognition of significant professional contributions to and excellence in the field of academic advising," said Cecilia Olivares, president of NACADA.
OSU CEAT congratulates Ayres and Soderstrom Junkens on their recognitions and is excited to see them continue to excel in their positions.
MEDIA CONTACT: Kaitlyn Mires | CEAT Marketing | 405-744-5831| kamires@ostatemail.okstate.edu