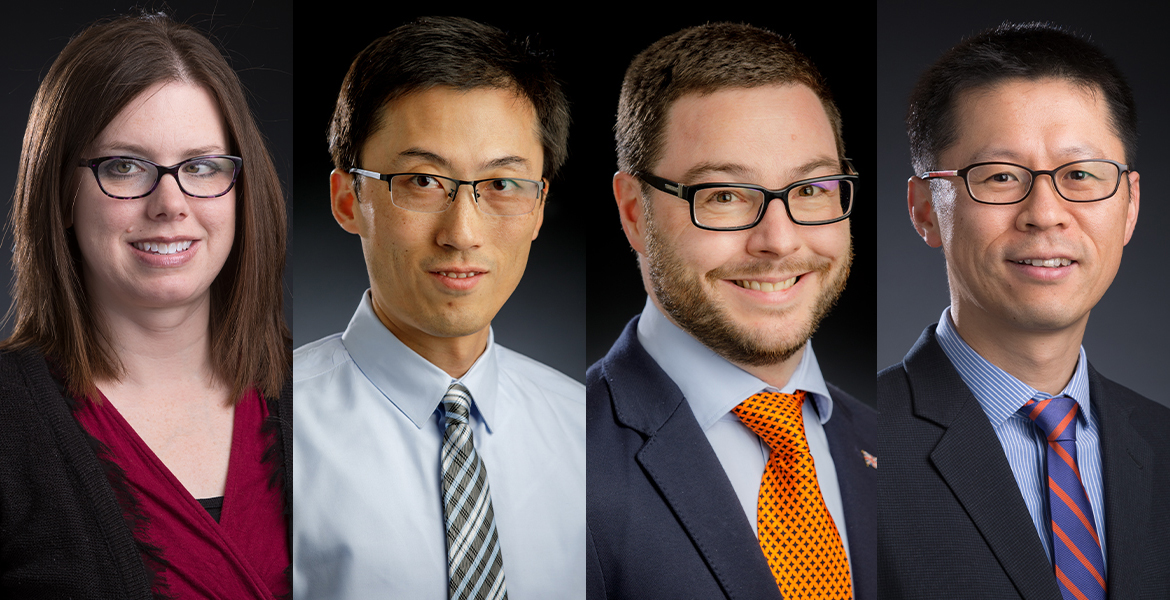 Two Engineering Technology units provided funding to examine impacts of COVID-19
Friday, February 19, 2021
Four faculty members from the Fire and Emergency Administration Program (FEMP) and the Fire Protection and Safety Engineering Technology (FPSET) Program in the Division of Engineering Technology of the College of Engineering, Architecture and Technology have been awarded two Rapid Response Research grants by the National Science Foundation (NSF) to conduct research on the impacts COVID-19 has had on emergency management situations and the importance of proper messaging during pandemic response.
Dr. Haley Murphy, associate professor and program coordinator for FEMP, is part of a team of researchers from different institutions examining how a pandemic affects emergency management situations. For example, how would a pandemic impact hurricane evacuation or tornado relief efforts.
"During Hurricane Laura, a lot of people chose to evacuate to family or friends' houses," Murphy said. "But how do you make that decision during a pandemic? Are there fears of spreading or coming into contact with a virus that otherwise were taking precautions to avoid?"
The researchers plan on sending questionnaires to homes in Texas and Louisiana that were impacted by Hurricanes Laura and Delta to gather feedback on their decision-making processes during both an evacuation and a pandemic. They also want to speak with emergency managers and get the perspective of those trying to implement plans to keep people safe, both from disaster phenomena and from an ongoing pandemic. Murphy hopes that the teams research can positively impact and possibly change, if necessary, the decision-making paradigms that both individuals and emergency management personnel use to keep people as safe as possible.
The team of Drs. Xiangyu (Dale) Li (principal investigator) and Tony McAleavy from FEMP and Dr. Haejun Park from FPSET, is examining how a population forms its responses to emergency situations from the balance of cues from the social environment and official information provided by key governmental or health entities.
"We hope to learn how official and unofficial messages interact to affect peoples' protective behaviors," Li said. "This information can then be used by decision makers to craft more effective messages and public policies to keep communities safer."
However, the way in which pandemic response was handled varied drastically, not only from country to country, but community to community, as well.
"Despite a lot of information on COVID-19 available publicly, its consistency was very poor initially," Park said. "My native country, South Korea, had a different pandemic response than Dr. Li's home country, China, and Dr. McAleavy's native United Kingdom."
The team hopes that by examining the different responses by the South Korean and Chinese governments and the social climate in each country, they can determine what cues those populations deemed more relevant and use that information to shape how future disaster or pandemic communication is handled. The ultimate goal being a more efficient and "trustworthy" messaging process that will increase adoptability of the message and decrease misinformation and volume of information deemed "relevant."
"We hope to learn the cultural factors that impacted the decisions in these two countries," McAleavy said. "Once we understand those, we will explore how to enhance emergency response and management in countries as culturally diverse as here in the U.S."
As with researchers around the globe, those here in CEAT are discovering how big an impact COVID-19 has had on, not only our daily lives, but on these situations where the balance between safety from disasters and the pandemic, and how effective and accurate communication are of the utmost importance.
---
MEDIA CONTACT: Jeff Hopper | CEAT Marketing | 405-744-2745 | jeff.hopper@okstate.edu