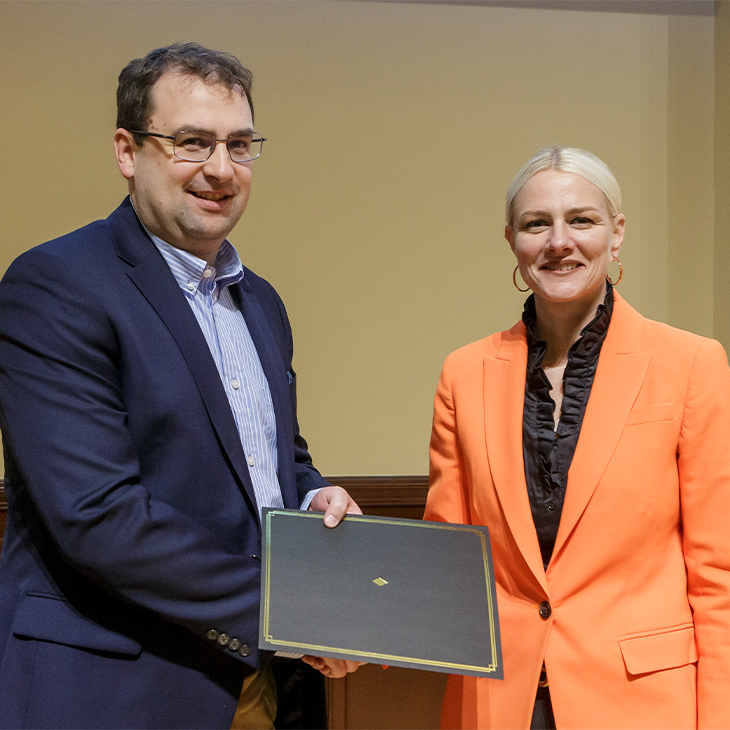 Elbing recipient of 2022 President's Fellows Faculty Research Award
Thursday, March 24, 2022
Media Contact: Jeff Hopper | Marketing Media Specialist | 405-744-2745 | jeff.hopper@okstate.edu
Dr. Brian Elbing, associate professor in the School of Mechanical and Aerospace Engineering at Oklahoma State University, has been named a recipient of the 2022 President's Fellows Faculty Research Award.
Each year, college deans are asked to nominate one faculty member to be awarded funding that will help conduct their research. Elbing is one of two awardees and will receive $20,000 as part of the award.
"There are so many deserving people that could be chosen for this award," Elbing said. "So, to be the one chosen and recognized is truly an honor."
The College of Engineering, Architecture and Technology faculty member will use the funding to further develop his research on infrasound monitoring of severe weather. Elbing and his team are attempting to use weather balloons — affixed with infrasound (frequencies lower than human perception) monitoring equipment — to create a sound profile for severe weather, specifically tornadoes.
Elbing's belief is that the infrasound output of tornadic storms could act as an acoustic signature for these storms and possibly be used as a form of early detection and warning. Hypothetically, if there were a network of infrasound monitoring stations, the sound waves a tornadic storm would create could be measured by this network and could reveal crucial details about the storm, such as the location, intensity, etc.
"Radar is very efficient in monitoring severe weather in flat terrain," Elbing said. "However, if severe weather occurs in hilly terrain, such as the southeastern portion of the U.S., radar can have some limitations. Infrasound data could be a separate, more efficient way of detecting these storms in terrain where radar isn't as effective."
Elbing has been able to monitor one such storm from a ground monitoring system, but with this award funding will be one step closer to being able to realizing the goal of infrasound monitoring of severe weather on a larger scale.
The President's Fellow Faculty Research Award program is part of the President's Fellows program created to help meet the university's most pressing needs through support towards students, faculty and campus beautification. Qualifying gifts are donations of $10,000 or more annually to the President's Fellows Priorities Fund.