OSU hosts largest crowd for annual 9/11 Memorial Stair Climb
Wednesday, September 21, 2022
Media Contact: Jeff Hopper | Marketing Media Specialist | 405-744-2745 | jeff.hopper@okstate.edu
One hundred and ten flights. Two thousand, two hundred steps. The climb first responders made on Sept. 11, 2001, inside the Twin Towers of the World Trade Center in New York City is hard to imagine for most, that is until you've seen someone do it.
On Sept. 11, 2022, over 150 participants from around the country did just that inside Boone Pickens Stadium as part of the OSU Fire Protection Society's and OSU Firefighter Challenge Team's annual 9/11 Memorial Stair Climb. Participants included faculty, staff and students from OSU, as well as full-time firefighters from around the region and other community members.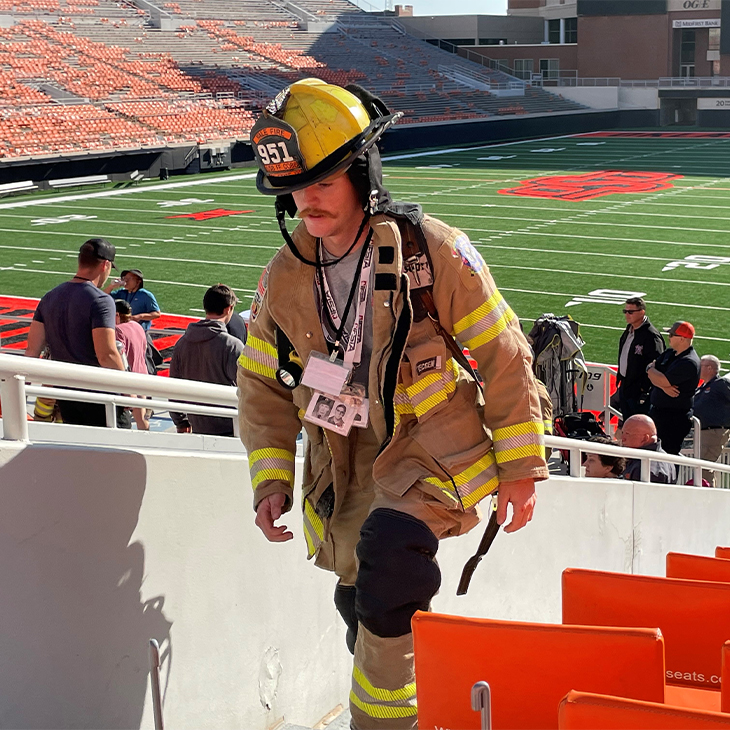 "To be a part of something like this is truly fulfilling," said Baylor Cobb, fire protection and safety engineering technology senior.
Cobb is also a member of the Fire Protection Society and Firefighter Combat Challenge Team as well as head of the Stair Climb Organization Committee for the past two years.
"The amount of climbers this year, from faculty to staff to students to community members, speaks volumes to everyone's willingness to come out and memorialize and pay respects to those first responders," Cobb said.
The event provides the opportunity to earn a better understanding of what first responders went through on that day 21 years ago. It is a way to honor the courage and heroism exhibited on that day and to honor those that gave the ultimate sacrifice during rescue efforts.
"To have this kind of memorial here is important for OSU and our fire protection programs and our history," said Dr. Rob Agnew, an associate professor in fire protection and safety and an academic advisor for the Fire Protection Society. "This event is the kind of outreach we should be doing and it's great to see it grow to this point."
OSU has hosted the memorial stair climb for approximately seven years, but this year's event marked the first time climbers were able to traverse the inside of Boone Pickens Stadium. The new location not only provided a more unique experience for climbers, but also allowed for a more efficient route than in years past.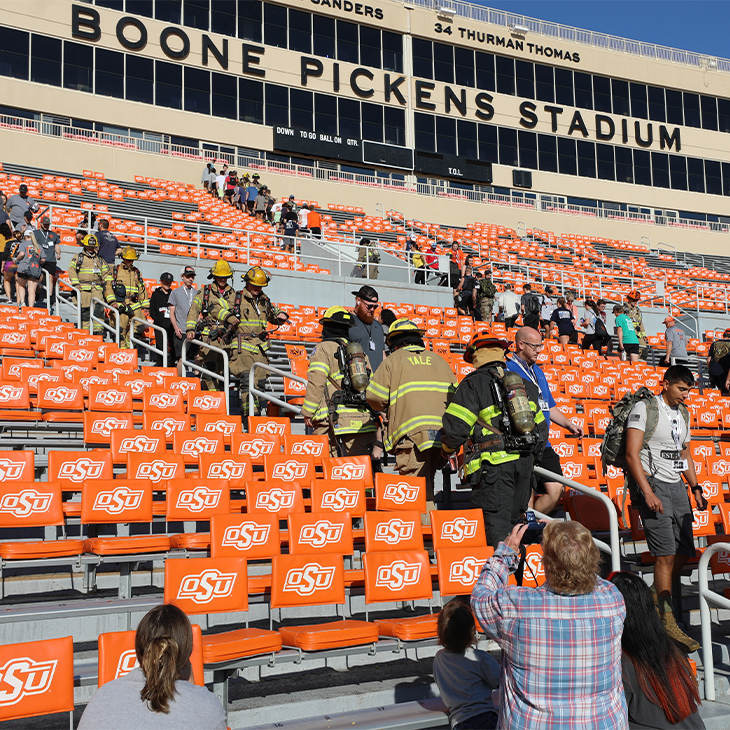 "The last couple of years we had climbers make 22 circuits inside Engineering North," Cobb said. "It's an intimidating number of laps and an environment that isn't very appealing for participants, which is why this year I really wanted to get permission to use Boone Pickens Stadium."
Whether completed in shorts and a T-shirt or in full firefighter gear, the physical and mental fatigue that first responders endured on 9/11 is not something lost on anyone that participates in the climb.
"We did it once and we're tired, and they did it numerous times that day," Cobb said. "It puts into perspective the courage and sacrifice those first responders demonstrated."
The Fire Protection Society was founded in 1937 and is the oldest student organization on campus. It provides students with opportunities in public service; academic and professional development; leadership development; and social interaction with other students in the Fire Protection and Safety Engineering Technology program.
The OSU Firefighter Challenge Team is the only four-year collegiate team participating in the 3M Scott Firefighter Challenge. The team's mission is to provide insight into how physically demanding a firefighter's job is, to encourage members to live healthy lifestyles and instill high professional standards of conduct.
Fire protection has been a staple at OSU since the 1930s and its programs continue to be recognized as some of the premier programs in fire protection and safety engineering in the world. This annual event also pays homage to the history of OSU and to those that have graduated from these programs.
"This is something that promotes our emergency responders and is in the DNA of OSU," Agnew said. "I hope we continue to support the emergency services community and continue to grow awareness for those that are dedicated to helping our communities every day."