Speedfest 2022 brought in unrivaled number of spectators with record breaking flights
Friday, April 29, 2022
Media Contact: Kristi Wheeler | Manager, CEAT Marketing and Communications | 405-744-5831 | kristi.wheeler@okstate.edu
The College of Engineering, Architecture and Technology (CEAT) held its 11th annual Speedfest on Saturday, April 23. Speedfest is a competition where engineering students from Oklahoma State University, other universities and high schools come together to demonstrate their knowledge and enthusiasm for multiple facets of engineering.
Speedfest consists of an exciting, high-speed aircraft design, build and fly competition. The contest has proven to be extremely challenging and prepares aerospace engineering graduates to work in the aerospace industry and creates opportunities for high school students and K-12 teachers to participate in exciting hands-on STEM aerospace projects.
In spite of the very strong winds, Speedfest carried on and gave approximately 2,000 spectators quite an amazing show that included 21 competitive teams among three classes, six capstone design displays, rocket displays as well as sponsor tents and food vendors.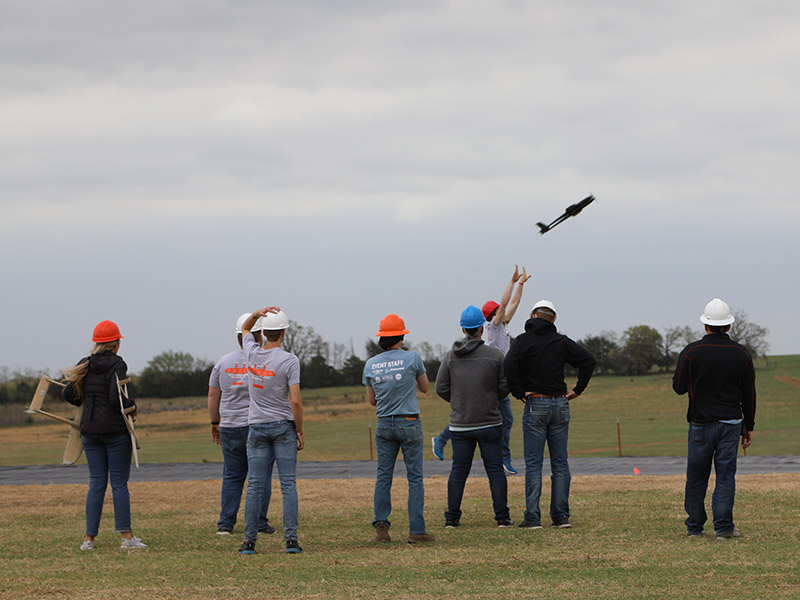 There are two flight competition classes: the Alpha Class and the India Class.
The Alpha Class challenges collegiate-level teams to design a high-speed, unmanned aircraft capable of sustaining a four-minute endurance flight; competing in a horizontal drag race to determine top speeds; and a vertical drag race which timed the teams from launch to 500 feet and back down to a full stop, controlled landing.
The India Class is the invitational class consisting of high school student teams and K-12 teacher teams across Oklahoma competing to design and build pylon racing aircrafts based on a 2-stroke OS.46 AXII glow fuel engine.
Newer to the competition is the Charlie Class, a collegiate-level competition where teams design high-speed autonomous firefighting vehicles that are able to navigate a specific course independently, and detect and extinguish a fire moving at a faster speed.
This year, there were two Alpha-Class teams competing — both from OSU — the Orange Team and the Black Team. The Orange Team took first place in the competition, with their plane reaching a height of 500 feet and landed in an incredible 11 seconds. The Black Team's plane reached a top speed of 189 miles per hour, and took first place for Best Video.
"I was proud to see how hard the students worked all semester right until the end of the competition, and how competitive the planes were," said Andy Arena, mechanical and aerospace engineering professor and director of Speedfest. "The competition was back and forth, and in the end it was very close. The airplanes this year were optimized to be "drag racers" and were the fastest, lightest, and smallest aircraft ever built at OSU. They were capable of speeds over 200 mph, and accelerations of 0 to 100 mph in under 1.5 seconds! Both teams represented OSU very well, and served as inspirations to the high school and middle school students that were in the India class."
There were 15 India-Class teams competing, including teacher teams. The motivation for creating teacher teams is to give teachers hands-on experience and knowledge they can take back to their classrooms.
India-Class teams included two teams from Moore Norman Technology Center, two teams from NASA OKSG STEM Engagement Center,
two teams from Hinton Middle School, two teams from El Reno, as well as one team each from Valliant Middle School, Meridian Technology Center, Union City Intermediate School, Cushing High School, Francis Tuttle Technology Center, Will Rogers Junior High School and Oklahoma Christian School.
Oklahoma Christian School out of Edmond won the Speedfest Cup and placed first in the Modified category. NASA OKSC STELLAR took first place in the Stock category, Hinton Junior High Comets B took second place and El Reno Ladies of Athena took third place.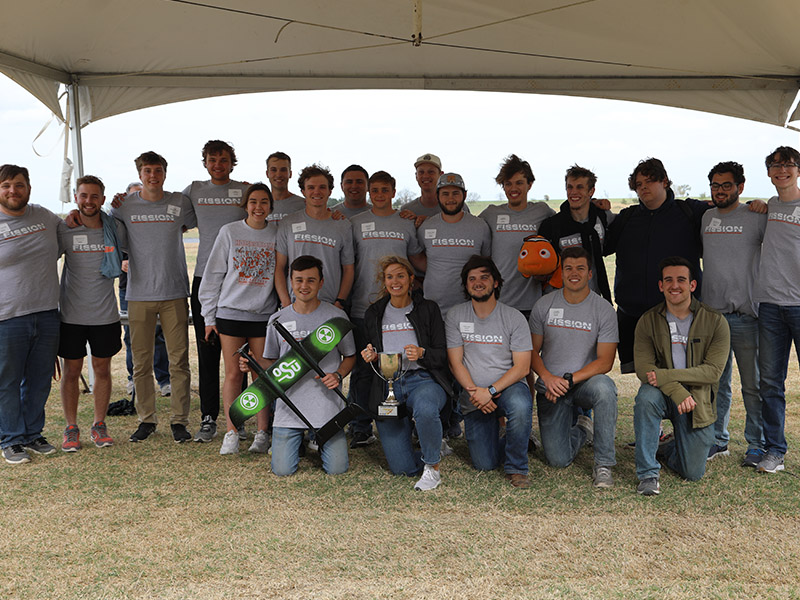 Meridian Technology Center received the award for Best Build, Oklahoma Christian School received the award for Best Video, Moore Norman Technology Center Shockwave received the award for Best Graphics, Valliant Middle School Bulldogs received the Team Spirit award, and El Reno Ladies of Athena received the award for Best Helmets.
"We made a big change this year and Dorinda Risenhoover, our NASA Space Grant Education Coordinator, took the lead to coordinate all of the teams into a year-long interactive and comprehensive experience," Arena said. "She coordinated professional development experiences related to Speedfest for the teachers, as well as integrated a Speedfest-based aeronautics curriculum that the teachers could use with their students. This made the experience for the teachers and their students much more interactive and enjoyable and you could feel the enthusiasm in the India tent.
"The conditions were very challenging with wind gusts early in the morning of over 40 mph, but even so, all of the planes survived, and every team was able to get multiple flights in and score. Many teams had to repair their aircraft during the day, but Dorinda had the teams prepared with spares and tools and it just made the day more exciting and challenging for the students.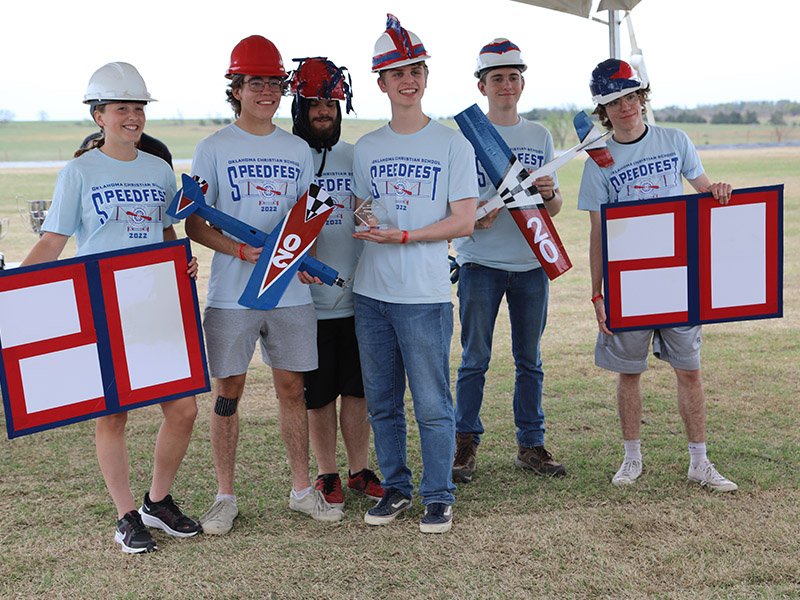 Arena expects that the India class will grow next year and will also involve teams from the DoD STEM program. Risenhoover said she loved working directly with 14 STEM educators all around Oklahoma over the past eight months. Those educators collectively led 16 teams of middle school and high school students.
"This year, six of those teams were new to Speedfest and had never competed nor built an RC plane," Risenhoover said. "The NASA OKSG STEM Engagement Center worked diligently to provide all of these teams (educators and students) with plane build support around the clock, all materials needed to complete their plane build, replacement parts, regular virtual meetings covering all aspects of Speedfest, all resources needed to complete all 12 hands-on inquiry-based lessons leading up to the plane build for up to 150 students, and so much more. We showed up at school board meetings to help get approval for team travel and linked the educators and their teams to the experts when we didn't know the answer.
"All of this hard work and due diligence paid off on the day of competition as the students' and educators' passion, enthusiasm and excitement shined through in their actions, words and competitive spirit. Through meeting the team's needs in a variety of ways over eight months-time, 15 of the 16 teams plan to return next year in hopes of bringing two teams! Students left pumped and were already plotting changes for next year."
The Charlie Class consisted of three teams, including two from OSU; Team 1 OSU (Pink Prowler) and Team 2 OSU, as well as one team from Southwestern Oklahoma State (Fire Dawgs).
For the Best Complete Design, Team 1 OSU (Pink Prowler) took first, SWOSU (Fire Dawgs) took second, and Team 2 OSU took third. SWOSU (Fire Dawgs) had the fastest time for navigation and Team 1 OSU (Pink Prowler) had the best promotional video.
"We couldn't hold a unique event like Speedfest without all the sponsors like Oklahoma Aeronautics Commission, NASA, Boeing, Pratt and Whitney, and the Noble Foundation, as well as the dozens of volunteers including Stillwater RC Flyers, MAE students and CEAT faculty and staff," Arena said. "I sincerely thank them all."