Teaching that engineering is everywhere; 2022 STEM summer camps
Tuesday, April 19, 2022
Media Contact: Kristi Wheeler | Manager, CEAT Marketing and Communications | 405-744-5831 | kristi.wheeler@okstate.edu
Kindergarten through 12th-grade students can begin their journey with science, technology, engineering and mathematics (STEM) through the College of Engineering, Architecture and Technology's (CEAT) STEM Summer Camps beginning in June.
The Office of CEAT Professional Development and CEAT Undergraduate Recruitment and Scholarship Programs have collaborated to host more than 30 camps across Oklahoma.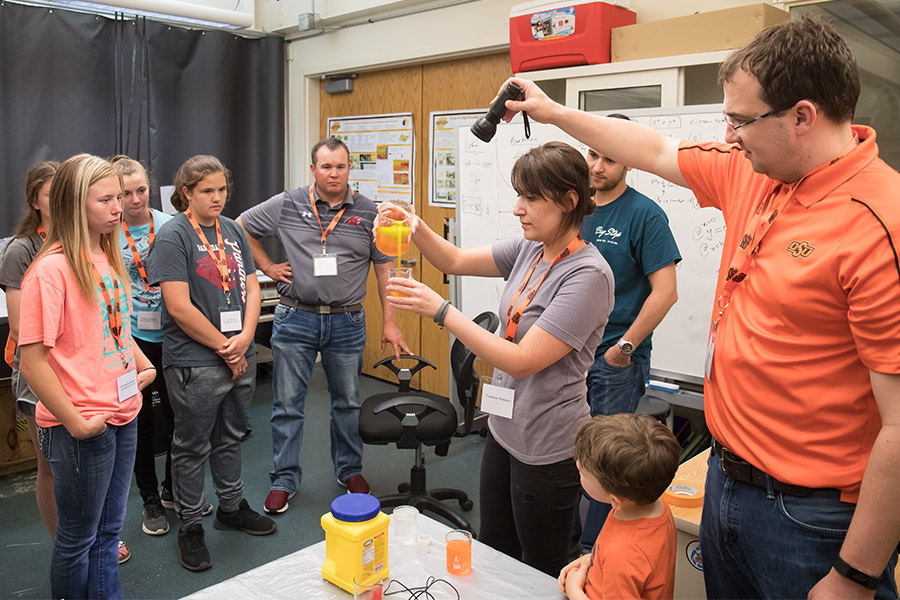 The camps and programs are led and developed by CEAT undergraduates. Manager of CEAT professional development Brandy Mays said the undergraduates being involved is an important factor of what makes the camps beneficial for attendees.
"The kids can see these young men and women doing all these things and it will program their minds that they can do this as well," Mays said. "If they are seeing young men and women just like them working toward STEM careers and goals, it becomes a reality and not far-fetched of what they can actually achieve."
CEAT was recently awarded the largest university grant in the National Defense Education Program from the U.S. Department of Defense.
The $6 million grant, which will be administered over the next four years by the United States Department of Defense (DOD), is for the development and implementation of additional STEM education programs for schools with economically disadvantaged or underrepresented students. The goal is to create a pathway for successful careers in engineering and innovation.

CEAT has held STEM camps for many years, but due to this funding, are able to increase the number of camps being offered, as well as broaden the locations which include the OKC area, Tulsa, Broken Bow, Bartlesville, Durant, Wilson, Ardmore, Lawton and Stillwater.
Dr. Jovette Dew, director of the K-12 STEM program in CEAT, said that this grant will allow the university to elevate its STEM initiatives and inspire more young people to pursue STEM careers.
"Some of these initiatives include increasing our summer camps, partnering with community leaders for after-school programs, increasing our teacher training programs, partnering with our industry leaders and mentoring with engineering professionals and teachers," Dew said. "We want to make sure that students can see themselves in STEM careers when they grow up. We want them to know that good jobs are right here in Oklahoma and in our own backyard."
Each camp will last three to five days with the goal of inspiring innovators, designers and makers by practice through project-based activities focused on science, art and engineering.
Summer 2022 camps include:
Engineering Adventure: Ages K-5th
Engineering Exploration: Ages 6th-8th
Robotics Adventure: Ages 6th-8th
Automation and Robotics Discovery: Ages 9th-12th
CEAT Discovery Days: Ages 9th-12th
Engineering Discovery for Girls: Ages 9th-12
Fire Protection Discovery: Ages 9th-12th
The program customizes activities and projects that meet the needs of surrounding Oklahoma communities and industries; such as oil and gas, energy, medical and manufacturing.
"The activities progress as the age level increases," Mays said. "All the activities have learning opportunities and have impactful teaching elements that reflect back to the state of Oklahoma, math, science and engineering standards."
Circuits, bottle rockets, building challenges, robotics, fire protection, aerospace, mechanics, chemical, electrical and computer engineering are a few of the hands-on activities that have been practiced in past camps.
"Every camp is different," Mays said. "We strive to teach and present hands-on activities that are fun and memorable, but also impactful to capture the kids' minds and imaginations."
The 2022 STEM summer camps begin June 6 in Stillwater. The camps should reach around 2,000 students, including out-of-state kids that will be in attendance for CEAT's high-school residential camps.
"We want the kids to have fun, but also learn that engineering is everywhere and it touches so many people and careers," Mays said. "Especially the available careers here in Oklahoma."
To learn more out our STEM program in CEAT, visit: https://ceat.okstate.edu/stem/
Story By: Bailey Sisk | basisk@okstate.edu