Three Space Cowboys teams from CEAT were selected for Phase II of the NASA Micro-g NExT challenge
Monday, December 19, 2022
Media Contact: Kristi Wheeler | Manager, CEAT marketing and Communications | 405-744-5831 | kristi.wheeler@okstate.edu
Three teams of undergraduate students in the College of Engineering, Architecture and Technology (CEAT) were selected to participate in Phase II of the 2023 cohort of the NASA Micro-g NExT challenge, marking CEAT's largest number of teams selected in a single year ever.
Micro-g Neutral Buoyancy Experiment Design Teams (Micro-g NExT) challenges undergraduate students to design, build and test a tool or device that addresses an authentic, current space exploration challenge. The overall experience includes hands-on engineering design, test operations and public outreach. Test operations are conducted in the simulated microgravity environment at the NASA Johnson Space Center Neutral Buoyancy Laboratory (NBL). Teams will propose design and prototyping of a tool or simulant identified by NASA engineers as necessary in space exploration missions. Professional NBL divers will test the tools and students will direct the divers from the Test Conductor Room of the NBL facility.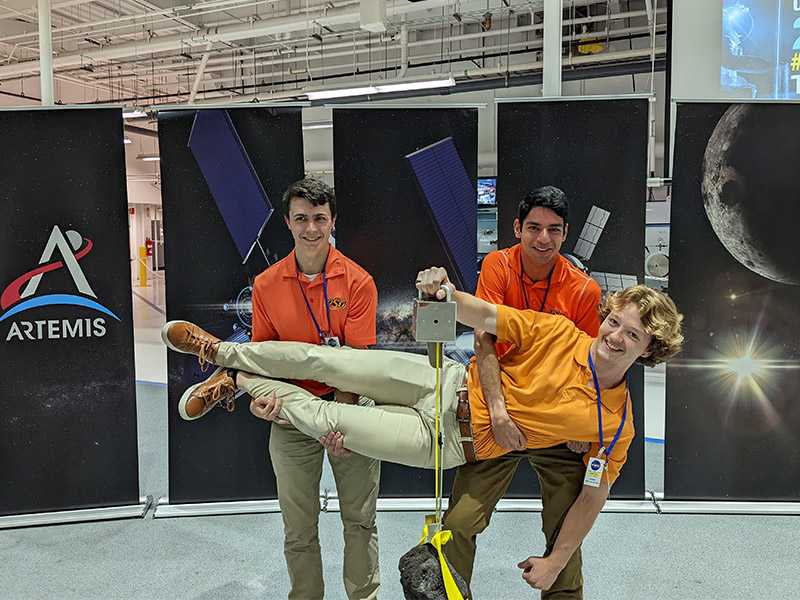 Micro-g NExT provides a unique opportunity to contribute to NASA's missions. The 2023 Micro-g NExT challenges focus on astronaut training, Orion crew safety, extravehicular activities (EVA) operations for missions to the International Space Station, and lunar EVA operations during the Artemis missions.
The students on Team APUS are Chase Allensworth, Leo Fagge, Emily Goodart and Trent Upshaw. The students on Team HYDRUS are Daniel Aanerud, Daniel Kinard, Colby Wilson and Hector Zeigler. Students on team Co.R.V.U.S are Ella Higgins, Samuel Hiltz, Tommy Hosty, Jack Massar, Robert Paddack, Mario Pando, Elam Pebworth, John Pippin, Will Reynolds, Alissa Rojas, Daniel Toll and Chauncey Wagner. Dr. Alyssa Avery, a research assistant professor of mechanical and aerospace engineering is the acting advisor and mentor for all three teams.
"The students worked diligently and enthusiastically to complete their proposals," Avery said. "In addition to working towards their own designs, they also came together as a large group to discuss and improve the other teams' ideas. This kind of teamwork and passion is exactly what is needed for success, and I am excited to continue to work with this exceptional group."
Team APUS is working on solving the challenge to design a tool attachment mechanism for an extension handle for use during lunar surface sampling operations. Having tools that allow the astronaut to remain standing while doing lunar surface operations is important because bending down and getting back up in a pressurized space suit can be difficult and may pose potential hazards.
Artemis III astronauts will collect geological lunar samples during EVAs using a suite of tools. Some tools, like scoops, have short handles allowing astronauts to use them by bending down. In other scenarios, these tools attach to an extension handle via a tool attachment mechanism to allow sampling from a standing position. NASA needs an extension handle with a tool attachment mechanism to secure tools. The attachment mechanism must be dust-tolerant to remain usable in the dusty lunar environment, and it must secure a tool such that the tool does not wobble. The extension handle tool attachment mechanism should be easy to use in EVA gloved hands and with the limited mobility of a spacesuit.
"I was on one of the space cowboy teams that made it last year," said Leo Fagge, a sophomore majoring in mechanical and aerospace engineering. "I learned a lot from my team lead last year, Colby Wilson about designing EVA tools and leading a team. Being able to design tools for the Artemis missions is an excellent experience as an upcoming engineer and being able to go to Houston last summer was really amazing. We got to go to the NBL to test our tools in the pool and meet with OSU Alumni working at the Johnson Space Center. I can't wait to bring my team there and give them the same experience."
Team Co.R.V.U.S' challenge is a zip tie installer for extravehicular activity (spacewalks, etc.) since installing zip ties is incredibly difficult for astronauts because of their bulky gloves.
Routing cables and bundling items together is a common task during EVAs on the International Space Station. One method currently used to secure items during EVAs is to wrap a wire tie (like a large metal twist-tie) around the items, but this can be time consuming and fatiguing in EVA gloved hands. A handheld device functioning as a zip tie installer would make this task easier and more efficient. The zip ties may need to be installed in a variety of diverse locations on a payload, including small spaces that are hard to reach. In addition to EVAs, this tool may also be useful inside the International Space Station for similar maintenance tasks, but it should be designed to be operable on a spacewalk.
"This is my second year competing in the Micro-g competition, but my first year as a team lead," said Tommy Hosty, a junior majoring in mechanical and aerospace engineering. "Last year seeing our project from start to finish and how we performed when testing at the Neutral Buoyancy Lab in Houston, inspired me with ideas and improvements that I could bring to the table on this year's challenge working as a team lead. Being a team lead has been a lot more work than I expected with ensuring that everyone on the team is properly utilized. This is also in part to having a much larger team than past teams, with a roster of 12 members this year. Working at NASA as an engineer has been a dream of mine ever since I realized I wanted to become an engineer. This challenge gives me a taste of what that could be like and it's a truly amazing experience I'm so grateful I get to participate in!"
Team HYDRUS focused their challenge on a standalone space suit cooling system that makes use of thermoelectric coolers used for underwater astronaut training in the Neutral Buoyancy Lab.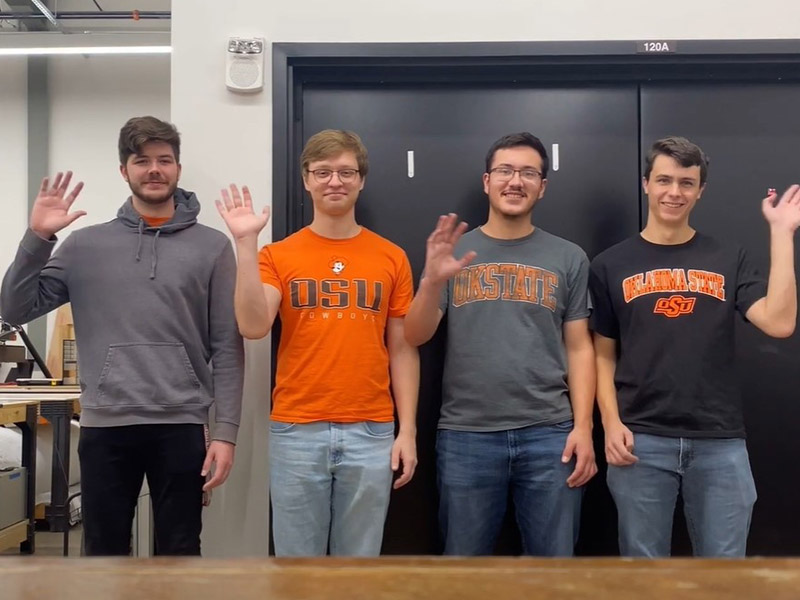 Due to the rigorous physical requirements during training operations for EVAs, crewmembers create a large metabolic heat load. Currently, this is managed by a constant temperature, adjustable flow rate, water tube-suit which conductively cools the skin. While conducting operations in the NBL, this requires large umbilical cables attached to the diver to provide them with cooled water. Umbilical cables have historically been used to supply breathing air, cooling liquid, communications, and suit and human data to space suits used in underwater training. The umbilical essentially replaces the Portable Life Support System that is present on an actual spaceflight EVA suit. With advancements in commercial re-rebreather technology, the possibility of a training suit with no umbilical seems likely. A self-contained suit would enhance the current training on the International Space Station and facilitate the development of a lunar surface simulation area underneath the current space station mockups at the NBL. Currently, umbilical routing and management are seen as impediments to training for Lunar terrestrial EVAs because of the space station mockup support stands on the pool floor. Umbilical cables are also impediments in close spaces, as well as during ingress, egress, and sitting in a Lunar Terrain Vehicle. This challenge seeks to address the need to supply chilled water to cool the human in the suit and replace what is being supplied currently by the umbilical.
"With this being my second year as a team lead in this challenge, it is always great knowing that the hard work put into the projects can be recognized and possibly influence the future of space exploration," said Colby Wilson, a junior majoring in mechanical and aerospace engineering, and recipient of an internship at the Marshal Spaceflight Center. "During these challenges, I learn so much about design and working on a team, but my favorite part is being able to work with NASA, to hear their compliments and criticisms and know that one day our idea might influence space exploration."
To qualify for the challenge, students must be enrolled as undergraduate students in an accredited U.S. institution of higher learning, 16 years or older, and must be a U.S. citizen or legal permanent resident. Additionally each team must be mentored by a faculty member from an accredited U.S. institution or higher learning and attend the orientation, preliminary design review, test readiness review, and prototype test week events. Primary team members may only participate with one team in the same challenge, and may not have more than two former Micro-g NExT team members per team.
To read more about the NASA Micro-g NExT challenge, visit Microgravity University (nasa.gov)