School of Global Studies announces the Dambach Peacebuilder Endowed Fellowship
Monday, November 21, 2022
Media Contact: Kelli Norton | Communication Specialist | 405-744-5496 | kelli.norton@okstate.edu
The School of Global Studies at Oklahoma State University has announced a prestigious fellowship program for students with a career interest in global peace.
The Fellowship, named after OSU alumnus Charles "Chic" Dambach, will provide funding for students in the graduate program of Global Studies and enable a new generation of peacemakers to graduate from OSU.
Dambach began his academic career at OSU in 1962, when he came to OSU on a football scholarship. After a shoulder injury rendered him unable to continue playing football, Dambach had the opportunity to explore other interests beyond the classroom, and engage in social, cultural and political issues. He worked with other students at OSU to bring issues of political and cultural significance to campus, often putting them at odds with OSU administrators.

Inspired by the activism he experienced during college, Dambach joined the Peace Corps after graduating from OSU in 1967. His first volunteer location was at a small fishing village in Colombia, where Dambach stayed from 1967 to 1969, helping the locals form a worker's co-op, obtain loans, build a school and acquire gear needed for fishing. He leveraged this position to later become president of the Peace Corps Association, where he worked to build an organization of returned Peace Corps volunteers that could be leveraged to further the interests of global peace and development.

He later became a national competition kayak official in the 1986, 1992 and 1995 Olympic Games for the USA kayak and canoe racing teams. After a long career in sports diplomacy and management, nonprofit management and other areas, Dambach began to use his skillset in peacebuilding by negotiating peace between Ethiopia and Eritrea to end the border war. By the time the war ended, Dambach had saved hundreds of lives by facilitating peaceful negotiations and discussions between the two countries. Later, Dambach served in a similar role in the internal conflicts in Mali and the Democratic Republic of the Congo.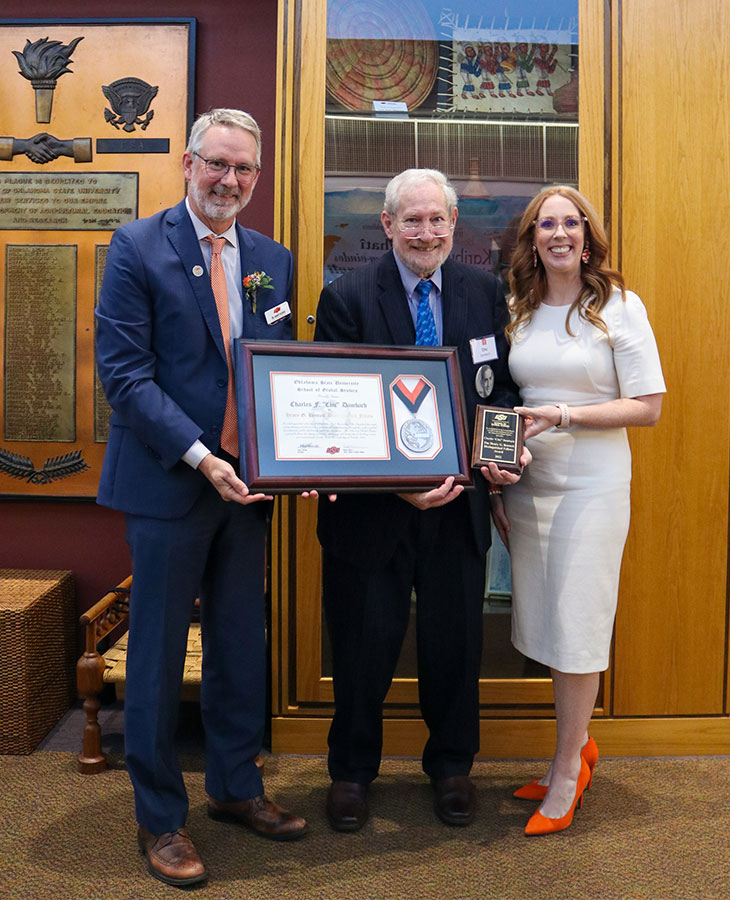 Dambach's efforts in peacebuilding have been recognized by a multitude of organizations, groups, governments and individuals. Most notably, Dambach was nominated in 2017 for the Nobel Peace Prize. In October 2022, the School of Global Studies awarded Dambach the Henry G. Bennett Distinguished Fellowship in recognition of his life of serve to peace and international understanding.

The Dambach Fellowship was created by fellow OSU alumni to honor Dambach's legacy at OSU and around the world.

"We are so honored that Chic and his friends and classmates are endowing a scholarship for Global Studies students who are interested in pursuing careers in peacebuilding," said Dr. Jami Fullerton, director of academic programs in the School of Global Studies.
Students obtaining a master's degree from the School of Global Studies and Partnerships at OSU can apply for the Dambach Peacebuilder Endowed Fellowship. The award will go toward students who plan to have careers focused on global peace. Students interested in applying for the Dambach Fellowship should contact the School of Global Studies at i-study@okstate.edu.

The legacy Dambach has left at OSU, and the world, will carry on thanks to the kind donations from the members of the Dambach Fellowship Founder's Council.
If you wish to donate to the fund, please visit https://dambachpeacebuilderfellowships.org.
Members of the Dambach Fellowship Founders' Council
*Doug Caves, Middleton, Wisconsin
*Sherry Caves, Middleton, Wisconsin
*Hank Hankla, Durham, North Carolina
*Connie Kantzer, Stanwood, Washington
*Keith McGlamery, Charlottesville, Virginia
*Gene Reid, Powell, Ohio
*Ron Stevens, Chicago, Illinois
*Jim Troxel, Chicago, Illinois
Kay Dambach, Crownsville, Maryland
*Denotes founding member​