Foreign Exchange Student Returns to OSU to Complete Masters Degree
Friday, April 7, 2023
Media Contact: Kelli Norton | Communication Specialist | 405-744-5496 | kelli.norton@okstate.edu
Jemima Oshunniyi enjoyed the experience and time she spent at Oklahoma State University and Stillwater so much during a foreign exchange trip she decided to come back to the university full time to get her master's degree.

Oshunniyi is a second-semester graduate student in the School of Global Studies (SGS). She didn't take a conventional route to become an OSU Cowboy. Oshunniyi is from the United Kingdom, where she received her bachelor's degree in sports psychology.

In 2021, as an undergraduate student, she attended OSU for one semester as an foreign exchange student. After the spring semester ended, she and the other exchange students had two months on their visas to travel around the U.S. before returning to the U.K.

"If you're an exchange student, you're automatically part of the Global Scholars LLC," Oshunniyi said. "That was nice because I was a bit scared about making friends. But I met a lot of nice people from other places, like Germany and France. We went to lots of games at OSU, which was really cool. We also did a lot of activities and events like climbing mountains and bowling. I took classes as well, so I had a really good time."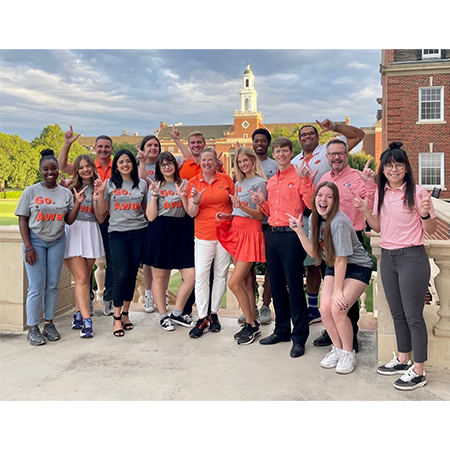 Oshunniyi pointed to the sense of community and authenticity of OSU and Stillwater as prominent reasons she returned as a full-time student.

"I really enjoyed Stillwater, and I think there's a sense of community," Oshunniyi said. "It is a nice little town, very friendly and sweet. It feels more like the authentic American experience than big cities. I got to experience big cities when I traveled around, but it was nice to be somewhere smaller and more authentic. Everyone was really friendly, nice and genuinely cared. I felt like I made a lot of bonds with people and lots of friends as well. I wanted to come back and see them."

The OSU Global staff also made an impression on Oshunniyi. She thought the Study Abroad Department (now called the Center for Global Learning) was friendly and welcoming. SPS staff answered questions about the graduate program when she expressed interest, and friends already in the program helped her fill out the application paperwork.

Oshunniyi is taking the global communication and public diplomacy track within the global studies master's program. After learning about crisis management in the program, she'd like to do something that helps as many people as possible after she graduates, maybe abroad. She would like to pursue a career in some type of research with an international link because she'd like to be able to travel.

When asked what advice she has for students who are considering studying internationally, she says not to be afraid to ask questions.

"Expect you'll be out of your comfort zone but make the most of the experience, and don't be afraid to ask questions if you're confused — because you will have times when you're going to be confused," Oshunniyi said. "Even if you go somewhere that you don't speak the native language, people will always help you out and will be friendly. Enjoy the experience. You may have homesickness, so definitely call your family and friends back home. But you'll have a great time."

Two events stand out to Oshunniyi during her time in Stillwater: football games and Calf Fry.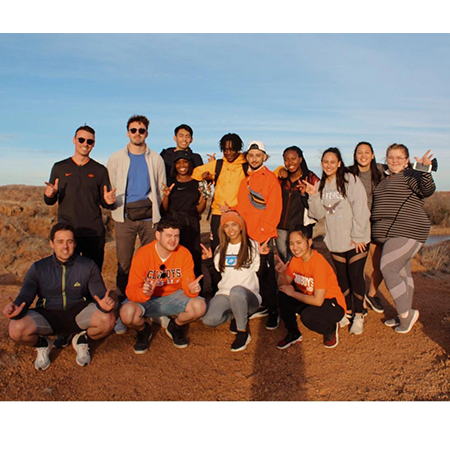 "The first one was going to a football game, the spring game, and it was crazy to see people wearing cowboy boots and hats," Oshunniyi said. "I was like this can't be real. It feels like you're in a really cool film. And it makes you feel proud to when you're in your orange. It's a nice community. Everyone comes together to support everyone.
"Then I went to the Calf Fry festival at the end of the semester, which was crazy cause you don't really hear country music in England. So it was a nice Oklahoma experience. And a very Southern experience."
Story By: Kelli Leech, OSU Global graduate assistant | kelli.leech@okstate.edu