OSU opens office in Puebla, Mexico, to facilitate student, faculty exchange
Thursday, May 18, 2023
Media Contact: Kelli Norton | Communication Specialist | 405-744-5496 | kelli.norton@okstate.edu
In late April, a delegation of faculty and administrators from Oklahoma State University traveled to Puebla, Mexico, to deepen opportunities for OSU students and staff by opening an OSU-Mexico office, the university's only international office.
The office, located on the Universidad Popular Autónoma del Estado de Puebla [rk1] (UPAEP) campus, will serve as a hub for students, faculty and staff to engage in exchange programs, student recruitment, study abroad programming and partnership development.
Thirty years ago, OSU and UPAEP formed a partnership to provide international learning experiences to their students. Since 2006, the two universities have collaborated on several innovative educational efforts, including dual graduate degrees, study abroad programs and activities designed to increase the recruitment of students from Mexico to OSU.
"Oklahoma State's presence on the UPAEP campus is an important part of deepening our ties in respect to our missions of teaching, research, collaboration and service," OSU President Kayse Shrum said in a video prepared for the occasion. "The new office will be a catalyst for student and faculty participation in these programs. I have no doubt it will become a critical hub for student recruitment, study abroad programming and partnership development. We are proud to be a top partner with UPAEP for more than 30 years, as both institutions share a commitment to extending university education to all our citizens and serving the greater social good.
The office is intended to support and reinforce OSU's strategic plan to become the nation's preeminent land-grant institution by creating opportunities for OSU students to develop critical intercultural and international perspectives so that they can better serve their communities and to bring research and expertise to meet society's most pressing issues.
"The opportunities that this office will create for OSU students to better understand Mexico, our nearest neighbor, are unprecedented," said Dr. Randy Kluver, associate provost and dean of OSU Global. "We have a goal to dramatically expand the number of OSU students with experience in Mexico, which will not only make them better international leaders, but also leaders within their communities in the U.S."
The main celebration of the office and the university partnership was held in the public esplanade at UPAEP, where students heard about the importance of education in international ties from Roberto Quiroz II, cultural affairs officer for the U.S. Embassy in Mexico City. Quiroz noted that the U.S. Ambassador to Mexico, Ken Salazar, has set a goal of 200,000 students traveling to each other's countries per year. Currently, the number of students is approximately a 10th of that.
"OSU's efforts to deepen its ties in Mexico are absolutely vital to U.S./Mexican relations," Quiroz said. "We at the embassy will do everything we can to support this partnership."
The partnership also strengthens the relationship between the U.S. and Mexico, which share borders and important geopolitical ties. By creating avenues for American and Mexican students, a deeper understanding of who each other are as people, neighbors and friends will emerge and a new chapter of understanding each other will begin.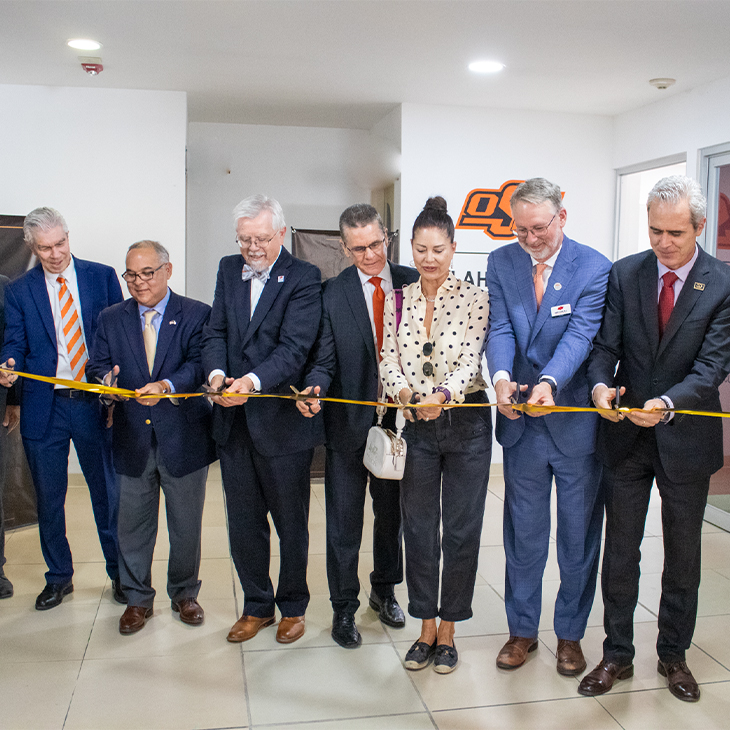 The planning for the office started in the summer of 2022 when a group of OSU administrators visited UPAEP to explore the feasibility of an office in Mexico and to determine the likely impact of such an office. The visit came after an invitation from OSU alumnus Dr. José Pablo Nuño De la Parra, vice president of International Affairs at UPAEP. UPAEP has long maintained an office on the OSU campus in Stillwater, which assists OSU faculty in developing programming in Mexico and supports UPAEP students who have come to study at OSU.
The OSU office in Puebla will be managed by Monica Ramos, executive director of OSU-Mexico. Ramos has a long history of involvement in international education, as she was involved in starting UPAEP's study abroad office. Ramos is excited to help students find their place in Stillwater and Puebla.
"Having the opportunity to welcome the OSU community to experience the warmth, creativity, effort and brightness of Mexican talent will be a game-changing factor for our institutions and our nations," Ramos said. "I am honored to be part of such an innovative and forward-looking institution."
Members of the OSU delegation — led by Kluver; Dr. Jon Pedersen, dean of the College of Education and Human Sciences; and Dr. Ken Eastman, dean of the Spears School of Business — met with Dr. Emilio José Baños Ardavín, UPAEP Rector/President[LK4], for an introductory meeting to discuss future programs, how to increase enrollment through dual degree programs and ways to enhance alumni relations in Mexico.
"The daylong celebration was a testament to the strength of the partnership between OSU and UPAEP," said OSU Global assistant dean Jeff Simpson. "Seeing folks from across the UPAEP campus sporting orange gear was energizing and confirmation of how deep this relationship runs. The future is bright for OSU in Mexico!"
OSU and UPAEP students can obtain a dual master's degree in a number of fields, including global studies, business administration (MBA), hospitality and tourism management (HTM), international agriculture (MIAP), engineering and technology management, educational leadership studies, educational technology and nutritional science; a dual Ph.D. degree in agricultural education, educational leadership and policies studies or education. In addition, students have the opportunity to participate in a bridge program in global studies, business administration or hospitality and tourism management.