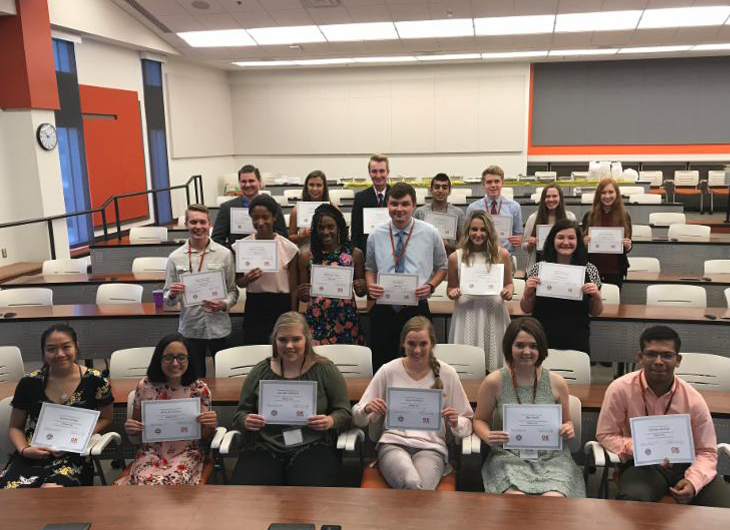 OKstars and Native OKstars wrap up summer research internships
Friday, July 13, 2018
Six weeks after beginning their summer research internships, 19 Oklahoma high school students gave their last presentations as participants in the 2018 Oklahoma Science Training and Research Students (OKstars) programs on July 12.
The students' projects ranged from the study of cranial arteries and anatomy in large flightless birds to analyzing the effect of novel drugs on inflammatory chemokines to concussion research.
The summer programs are aimed at high school students interested in medical or science careers.
"You walk into the medical school all you see are smiling faces, that's what made me feel so comfortable here," said Union High School student, Priscilla Chatman. "I liked how the internship was hands-on, the professors allowed me to have input on the project and ask questions without feeling like just a high school student."
The interns spent 20-25 hours each week participating in the programs, including conducting research side-by-side with faculty mentors in biology, anatomy, forensics, athletic training and other disciplines.
"My favorite part of OKstars has been the exposure to all of the programs offered at OSU-CHS. From recruiting human subjects and administering the concussion testing, I have gained so much knowledge of athletic training through hands-on research," said Mackenzie Tolliver, a student at Booker T. Washington High School. "I have truly enjoyed reading, researching, and discussing with Dr. Volberding the reasons why concussion research is important and its broader implications on sports. This has truly been the experience of my dreams, and I'm so incredibly grateful for the opportunity."
2018 OkStars and Native OkStars participants:
Marta Almazovaite
Priscilla Chatman
Shwetanshu Das
Gabriel Ecklar
Mary Erdmann
Alexa Hernandez
Katelyn Hoang
Abby Hogan
Emily Milton
Ishan Pashricha
Liddy Patterson
Hannah Pauling
Riley Pritzlaff
Daniel Reed
Mac Sanders
Ryan Sloan
Ellie Smith
MacKenzie Toliver
Jourdan Wilbourn
Learn more about OKstars or Native OKstars on the OSU-CHS website.