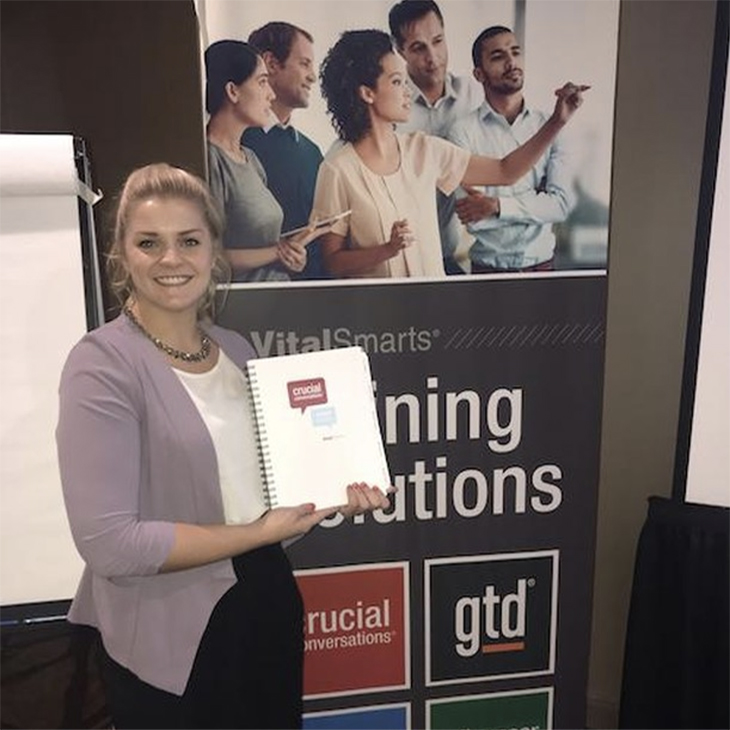 Book club gives voice to Women in Recovery
Wednesday, May 6, 2020
Life is shared through conversations. From mundane "what's for dinner" chats to disagreements laden with words left unsaid, the art of effective communication is not an inherent ability. As a second year OSU medical student, Angela Clifton prepared for high-stakes conversations with her future patients by reading the book "Crucial Conversations: Tools for Talking When Stakes Are High," and as a 2019 Albert Schweitzer Fellow, Clifton thought to extend the conversation to clients at Women in Recovery (WIR).
The Schweizer Fellowship is a 12-month leadership and service program for Tulsa-area graduate students who are passionate about addressing unmet health needs in Tulsa. Clifton had not considered applying for this prestigious program until she attended a graduation at WIR. "I got to experience the heart behind Women in Recovery, and I knew I wanted to work with them in some way," Clifton said.
With lives often shaped by difficult conversations, WIR is an intensive outpatient alternative for eligible women facing long prison sentences for non-violent drug-related offenses.
"Crucial Conversations" authors Joseph Grenny, Al Switzler and Ron McMillan walk the readers through how to adroitly navigate these crucial conversations. Using the book, Clifton led weekly book clubs with WIR patients.
"Usually when conversations are tough, we either shut down or we blow up. It's hard to find that middle ground when emotions are high," Clifton said. Whether they learned how to explain motives or emphasize facts over emotions, the book club became an outlet for personal and professional growth.
The Program Director of Self-Sufficiency at WIR Dianne Hughes explained, "The Women in Recovery population by and large have been silent observers in their lives. Their opinions haven't been heard or mattered. Growing up with trauma, poverty and substance abuse doesn't lend itself to a rational life with safe expression."
With Clifton's help, the participants became confident advocates for themselves during tough conversations. "Angela brings a non-threatening approach to managing how a person would like to come across with a clear specific message," Hughes added.
First year medical students are required to read the "Crucial Conversations" book. "When you are going into medical school, you feel on top of the world. Then they give you this book, and you realize you're not as brave as you thought you were," Clifton chuckled.
As Clifton heeded the book's advice, she enjoyed more in-depth and enjoyable relationships. Her family has a long history of substance abuse, and instead of those struggles acting as conversation barriers, she learned from WIR how to maintain those connections.
"A little selfishly, I wanted to get to know the women in Women in Recovery better so I could get to know my family members better too."
- Angela Clifton
Through role play, the participants practiced discussing topics such as dual parenting, concerns with coworkers and even how to address a judge. Real life examples of failed communication became learning opportunities.
After raising $10,000 for books and leading discussions for a year, Clifton will finish her fellowship. But, she is providing her class schedule to WIR, and they will keep the crucial conversations going for at least five more years.
MEDIA CONTACT: Kate Robertson | Digital & Social Media Coordinator | 918-561-1166 | kathekr@okstate.edu