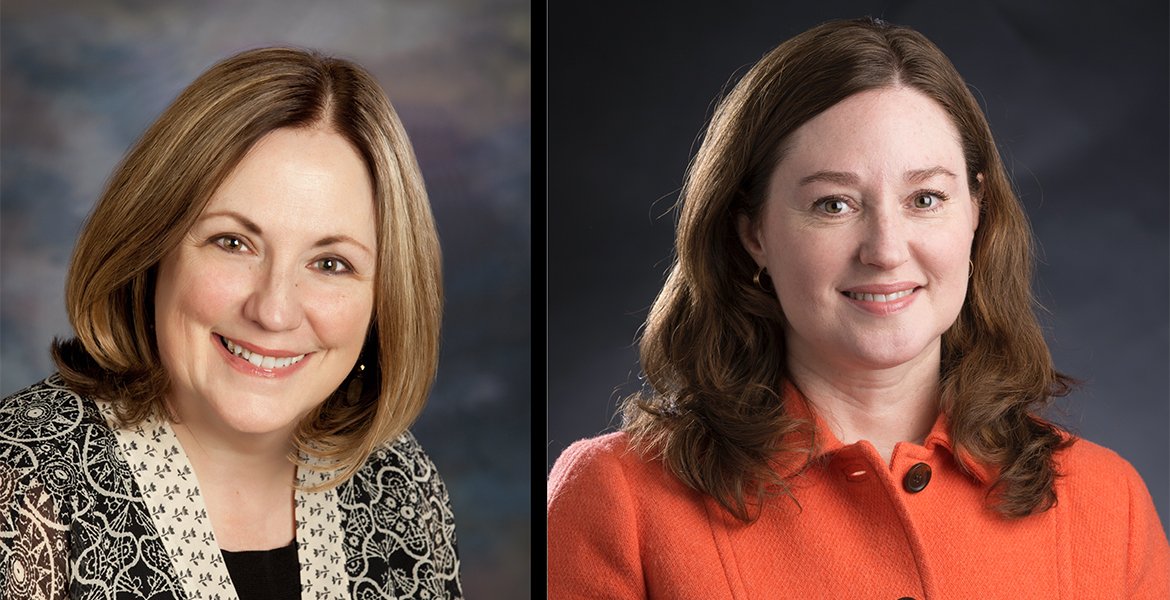 CIRCA director, OSU professor write book on ACEs and PACEs
Friday, May 1, 2020
Jennifer Hays-Grudo, Ph.D., Regents professor of psychiatry and behavioral sciences at OSU Center for Health Sciences and director of the Center for Integrative Research on Childhood Adversity (CIRCA), co-authored the recently released book "Adverse and Protective Childhood Experiences: A Developmental Perspective."
Her co-author is Amanda Sheffield Morris, Ph.D., a Regents professor and George Kaiser Foundation Endowed Chair in Child Development at OSU-Tulsa and an adjunct professor in psychiatry and behavioral sciences.
The book came about following more than a decade of research in Tulsa with children and families struggling with health and economic problems. Before coming to OSU-CHS, Hays-Grudo was at the University of Oklahoma-Tulsa working with the George Kaiser Family Foundation and Tulsa Educare when she began observing patterns among children and parents that led her to understand the importance of ACEs, adverse childhood experiences.
"Not only were ACEs causing the parents to have health problems, which other researchers had found, but ACEs were also causing them to find it difficult to learn new information and solve problems. No one had really looked at the psychological effects and the cognitive effects and the emotional effects of ACEs," she said.
"When we started looking at all the research on adverse childhood experiences, we saw how powerfully predictive ACEs are. There isn't another 10-item questionnaire that can predict with this much accuracy a population's risk for cancer, heart disease, stroke, diabetes, teen pregnancy, school dropout rates and smoking," Hays-Grudo said. "I thought to myself, if this one thing has so many downstream consequences--and I can identify the protective factors that help buffer children from those devastating effects, then that's what I want to spend my time studying."
The literature and research available at the time was primarily focused on health, but Hays-Grudo, Morris, and others working in childhood development found that ACEs didn't just affect health, but also development, ultimately influencing many ways that people function.
After moving to Oklahoma State University in 2013, she and Morris began working together and the pair began looking at the research related to resilience and the conditions that help protect children from the harmful effects of ACEs. They focused on those qualities found in the child's home, school and community environments. These protective experiences they called PACEs, Protective and Compensatory Experiences.
About three years ago Hays-Grudo and Morris began working on a scientific, academic book that would pull all this information about ACEs and PACEs together.
"We focused on the whole picture— how both adverse experiences and protective experiences balance the scales for children and promote better long-term health and development."
- Dr. Jennifer Hays-Grudo, Ph.D.
"We feel like this is a whole new way of understanding early life experiences and it provides a template for the way your body and mind respond to stress and to trauma in the future. And how we can protect all those children that are out there going through ACEs right now and how we can help adults recover from ACEs," Hays-Grudo said.
The book "Adverse and Protective Childhood Experiences: A Developmental Perspective," which was released in March, is aimed at professionals such as psychiatrists, psychologists, counselors, pediatricians, and those studying mental health, but Hays-Grudo and Morris are already at work on a second book, which will cover the same topic but will be written for parents.
"Everyone wants to live their best life. People say 'Isn't that depressing to think about how your childhood can have these long tendrils that reach into your adulthood?' Well it can be depressing, but at the same time, knowledge is powerful," she said. "Once we identify what the source of our struggles are, whether that's mental health or physical health, we've already gone a long way toward solving our problem."
ACEs is a hot topic right now among mental health and childhood development professionals, and it gets media attention, but Hays-Grudo said what people need to understand is that ACEs isn't a completely bad thing.
"People think that ACEs is some kind of death sentence or it means you're irreparably damaged and what we see is ACEs leaves it mark, but ACEs can actually make you more empathic, more attuned to yourself when you have to learn what causes you to react. It makes you more conscious and self-aware. When you work on excavating the sources of your problems, you're stronger for it," she said. "There are so many resources that are now available, we hope this movement continues where we become more aware of the effects of ACEs around us. We become more accepting and kinder toward ourselves and others."
MEDIA CONTACT: Sara Plummer | Communications Coordinator | 918-561-1282 | sara.plummer@okstate.edu