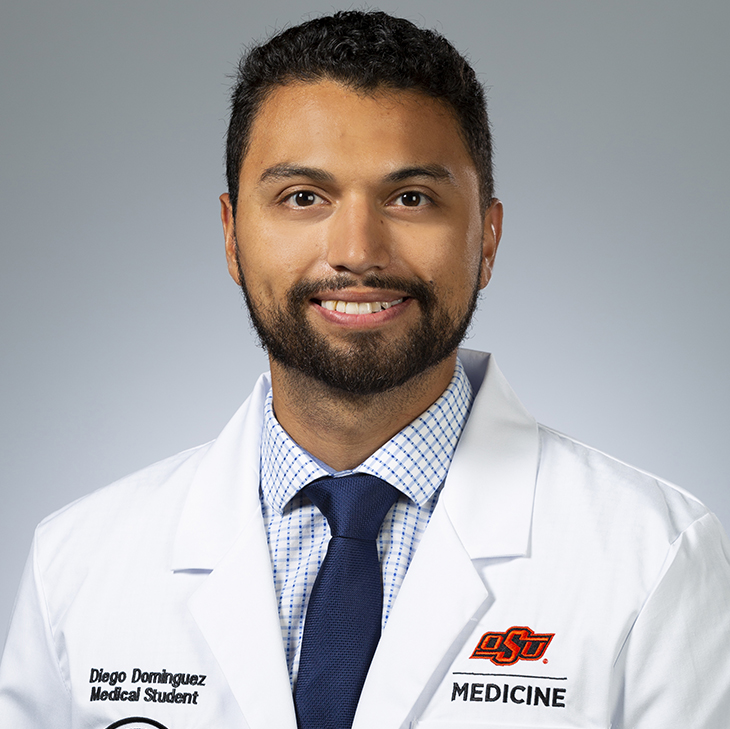 We Are OSU-CHS: Diego Dominguez
Wednesday, December 16, 2020
Shortly after moving to the United States from El Salvador, 12-year-old Diego Dominguez needed to see a doctor, but language was a barrier.
"I did not understand any of the questions the doctor asked me. I could not explain my symptoms in a different language, and unlike the patients at the clinic, I did not have anybody to translate for me. Eventually I gave up and told the doctor I was fine," recalls Dominguez, who is now a first-year medical student at OSU College of Osteopathic Medicine in Tulsa. "
When he left the doctor's office, Dominguez said he was full of emotions because a language barrier had stopped him from getting adequate health care.
"My vision is that one day patients will be able to converse easily with a physician and no little boy will ever again face telling a doctor he is fine rather than painstakingly try to answer questions he cannot understand," he said.
That experience and others opened Dominguez's eyes to issues present in his community. When he was applying to medical schools, it was important to him to find a school that would give him the skills needed to reach out to assist the underserved in his community.
"OSU College of Osteopathic Medicine's commitment to serve the underserved communities solidified my decision. I firmly believe that OSU-COM will enhance my ability to treat patients from various cultural backgrounds and socioeconomic statuses," he said. "This school will teach me how to treat patients as a whole and not just a system of symptoms and diseases."
Encouraging diversity in education and moving it forward is especially important in medical school because of the historical underrepresentation of women and people of color in both the medical field and other STEM careers, Dominguez said.
"Diversity in medical school leads to a medical staff more representative of patients in their care while also leading to the more equitable treatment of those patients and ultimately better health outcomes for all communities," he said.
MEDIA CONTACT: Sara Plummer | Communications Coordinator | 918-561-1282 | sara.plummer@okstate.edu