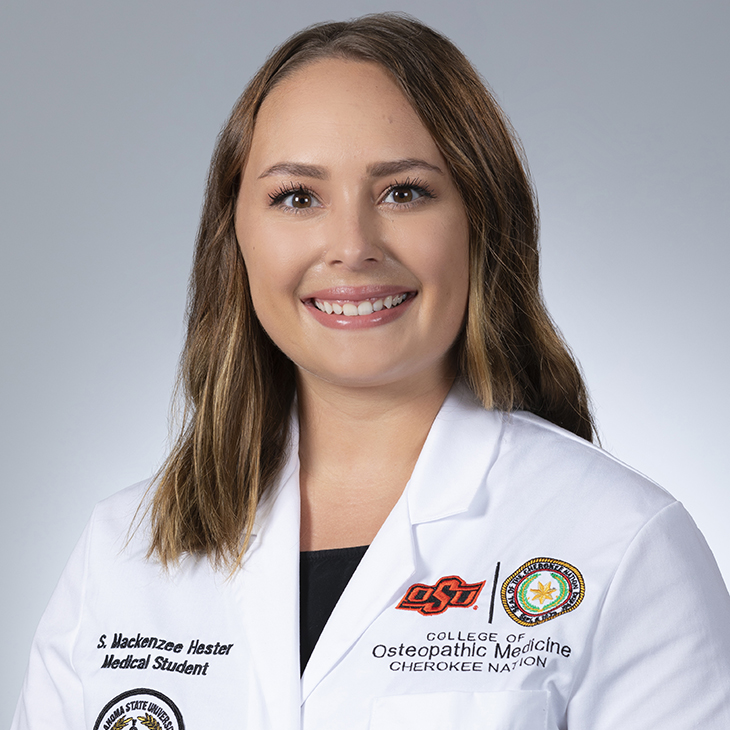 We Are OSU-CHS: Mackenzee Hester
Wednesday, December 16, 2020
Mackenzee Hester always knew she wanted to devote herself to a profession where she could help people, but after shadowing a D.O., she knew a career as a physician is what she wanted to pursue.
"I feel passionately about making sure patients from all walks of life have access to the health care they need and look forward to devoting my career to make it possible," said Hester, a first-year medical student and a member of the first class of the OSU College of Osteopathic Medicine at the Cherokee Nation in Tahlequah.
Hester said she's very excited to part of the inaugural class at the first tribally affiliated medical school in the country.
"I am so thankful that OSUCOM at the Cherokee Nation chose and entrusted me to represent them at this new teaching site. Being part of the first class, I feel that we have the special opportunity to lay the foundation for the future of the OSU College of Osteopathic Medicine at the Cherokee Nation," she said. "I look forward to the ways that we can work to both help the community and learn from the Cherokee Nation while getting an amazing education."
Hester is also proud of her Choctaw Nation heritage.
"Attending a tribally affiliated medical school makes me even more excited both about attending OSU COM at the Cherokee Nation and about the future of Native American health," she said. "With the health disparities that Native Americans currently face, the school's mission is so important to not only the community of Tahlequah, but communities across our state. I am looking forward to representing both the Cherokee Nation and my Choctaw tribe as I start on my journey to becoming a physician."
Learning with people of other ethnicities and backgrounds is crucial for medical students' education in order provide the best patient care when they become physicians, Hester said.
"Diversity is important in medical school because diverse medical schools produce diverse physicians with the ability to better treat patients from all walks of life," she said. "It teaches empathy, cultural awareness and it inspires and shows our youth of all backgrounds that they can belong in medical school too."
MEDIA CONTACT: Sara Plummer | Communications Coordinator | 918-561-1282 | sara.plummer@okstate.edu