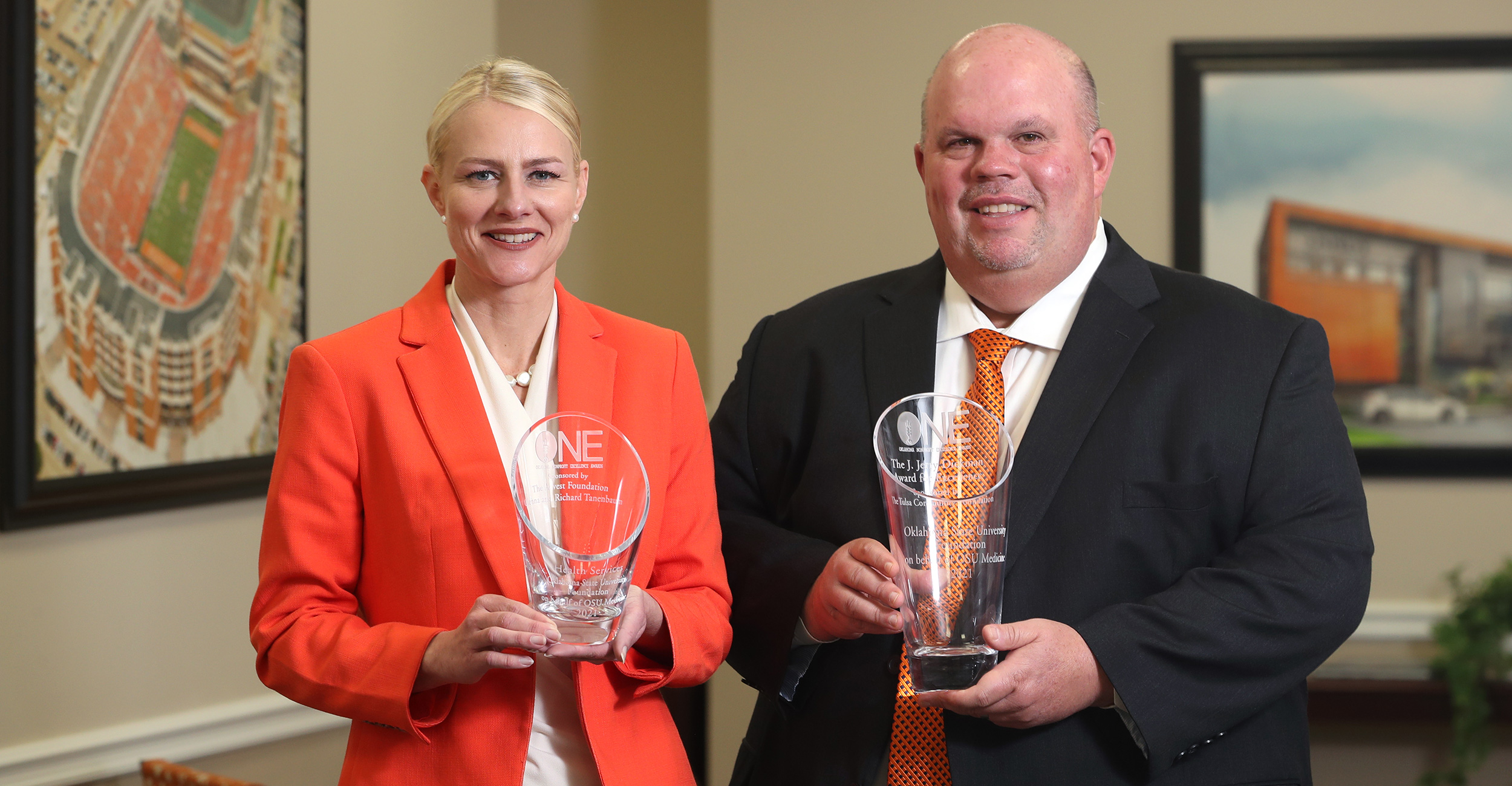 OSU-CHS named Nonprofit of Excellence at ONE Awards
Friday, April 30, 2021
Media Contact: Sara Plummer | Communications Coordinator | 918-561-1282 | sara.plummer@okstate.edu
OSU Center for Health Sciences was named the overall winner of the 2021 ONE Awards presented by the Oklahoma Center for Nonprofits at a ceremony on April 23 at Southern Hills Country Club in Tulsa.
The event honored 21 nonprofits from throughout the state for superior leadership and exceptional service to their constituents and communities.
OSU Center for Health Sciences was nominated for its response and aid to the State of Oklahoma as COVID-19 began spreading throughout the state. OSU-CHS, an academic health center, received a grand prize of $10,000, sponsored by the Tulsa Community Foundation.
"We are honored to have been named the 2021 Nonprofit of Excellence. This is especially meaningful for our physicians, faculty and staff for their heroic response as COVID-19 spread across our state. Their work to expand the state's testing capacity in the early months of the pandemic became instrumental to Oklahoma's response," said Dr. Kayse Shrum, president of OSU-CHS, dean of the OSU College of Osteopathic Medicine and President Designee of OSU.
The ONE Awards honors a total of 21 organizations in seven categories: arts and humanities, community, education, health services, transformation, self-sufficiency and youth development. In total, this year's finalists received $125,000 to recognize the impact of their charitable work throughout the state. As of 2020, the OKCNP ONE Awards has given nearly $2 million to more than 200 Oklahoma nonprofits.
The finalists were chosen by the ONE Awards Selection Commission, a group of prestigious community leaders from across Oklahoma. The Commission, chaired by Phil Lakin, Jr., includes Kathie Coyle, Lisa Greenlee, Kim Henry, David Hogan, Courtney Knoblock, Will Merrick, Sarah Roberts, Meg Salyer, Wendi Schuur and Mary Kate Wilson.
"ONE Award recipients are selected for their excellence in all areas, from impact and service delivery to clients, to reputation, to internal management and efficiencies," Lakin said.