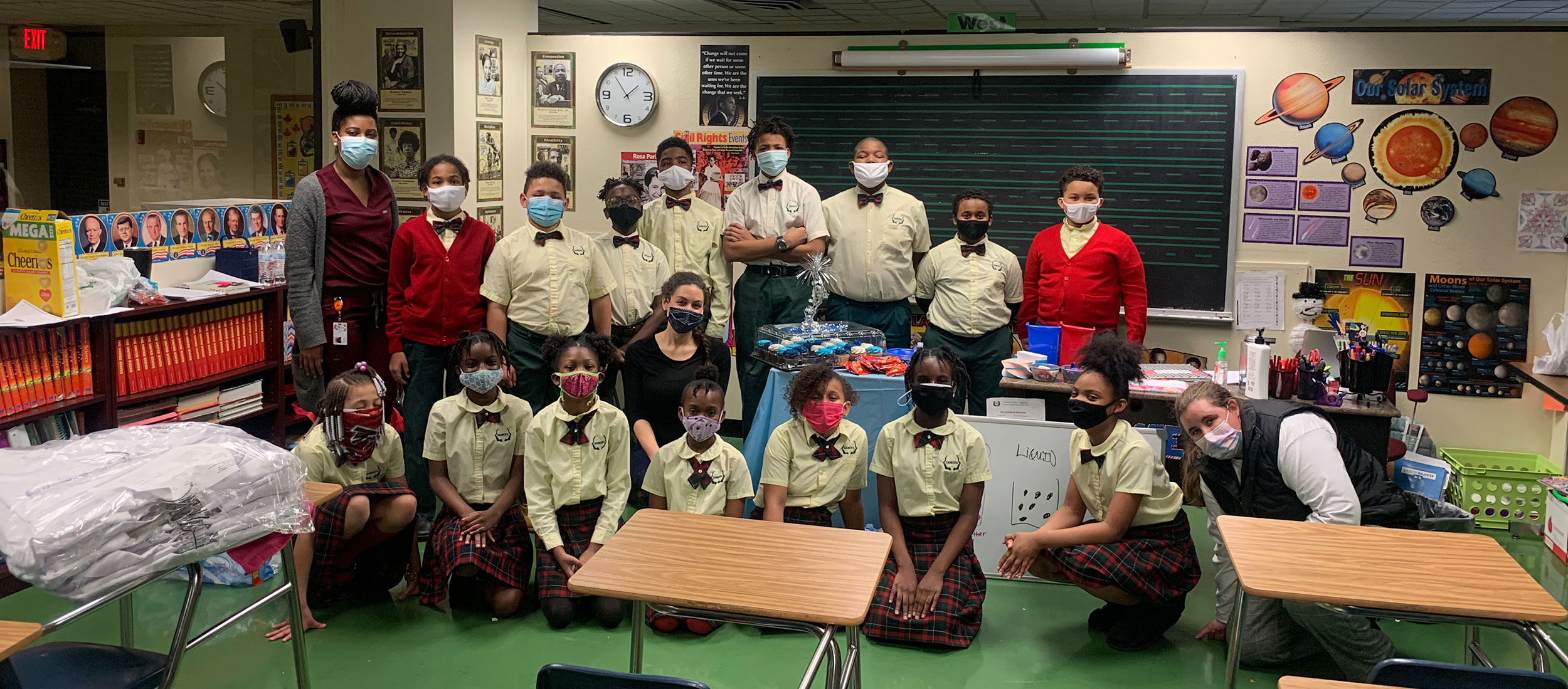 Schweitzer Fellows, OSU med students work to introduce health careers to north Tulsa elementary students
Friday, November 19, 2021
Media Contact: Sara Plummer | Communications Coordinator | 918-561-1282 | sara.plummer@okstate.edu
Growing up in north Tulsa, Erin Jackson didn't visit a Black physician until she was a young adult.
"It wasn't until college that I personally experienced and saw for myself a physician who looked like me," said Jackson, a third-year medical student at the OSU College of Osteopathic Medicine. "I believe that representation matters, and I always had the vision to create a platform and opportunity for youth from north Tulsa to experience something that I did not."
Jackson and fellow OSU third-year medical student Alyssa Lindsey, chosen as 2020-21 Albert Schweitzer Fellows, partnered to develop and implement a Health Science Pipeline Project at Sankofa School of Creative and Performing Arts, a charter school in downtown Tulsa.
"Diversity in the health science profession is critical toward ensuring that access to health resources and quality of care is provided to patients from various socio-economic, cultural and ethnic backgrounds," Lindsey said. "Research shows that health care professionals from underrepresented communities are likely to return to underserved areas and practice medicine."
Through their program, Lindsey and Jackson provided weekly hands-on STEM activities, mentorship and guidance, as well as early exposure to health sciences through guest speakers.
"Before our project, there were programs for middle and high school students, but none for elementary students within the north Tulsa community. Research shows that the earlier youth are exposed to an activity of interest, the more likely they are to pursue that activity long-term," Jackson said.
Another challenge the pair faced was implementing their program during the COVID-19 pandemic.
"I could not have imagined the project to have turned out any better, especially in the midst of a pandemic. At the start of our project, many sessions with the students were held virtually, which wasn't a part of the initial plan," Lindsey said. "However, those sessions turned out to be a valuable part of the experience for the students. We were able to have several guest speakers that we may not have been able to have if we just met in person, and we did our best to connect with each student on the virtual platform during that time."
Jackson said she's proud of what they accomplished and grateful for the help and support of the Schweitzer Foundation, the Sankofa School, their academic advisor, and the other Fellows in the program.
"We impacted the lives of 28 students on a weekly basis, navigated the project through a pandemic, in addition to being full-time medical students, so I think it went amazingly well. The load was heavy, but we made it through."
- Erin Jackson, third-year OSU College of Osteopathic Medicine student
Both said the highlight of the year-long fellowship was when the students completed the program and had their own White Coat Ceremony in April.
"My favorite part of our project was getting to see the kids excited and inspired by science. I loved seeing the growth that took place in many of our students," Lindsey said.
Jackson agreed.
"I thoroughly enjoyed teaching and helping the students with the weekly STEM lessons and projects," she said. "The White Coat Ceremony was probably the most memorable to me. The students worked so hard and to honor them and reflect on their hard work was an amazing experience."