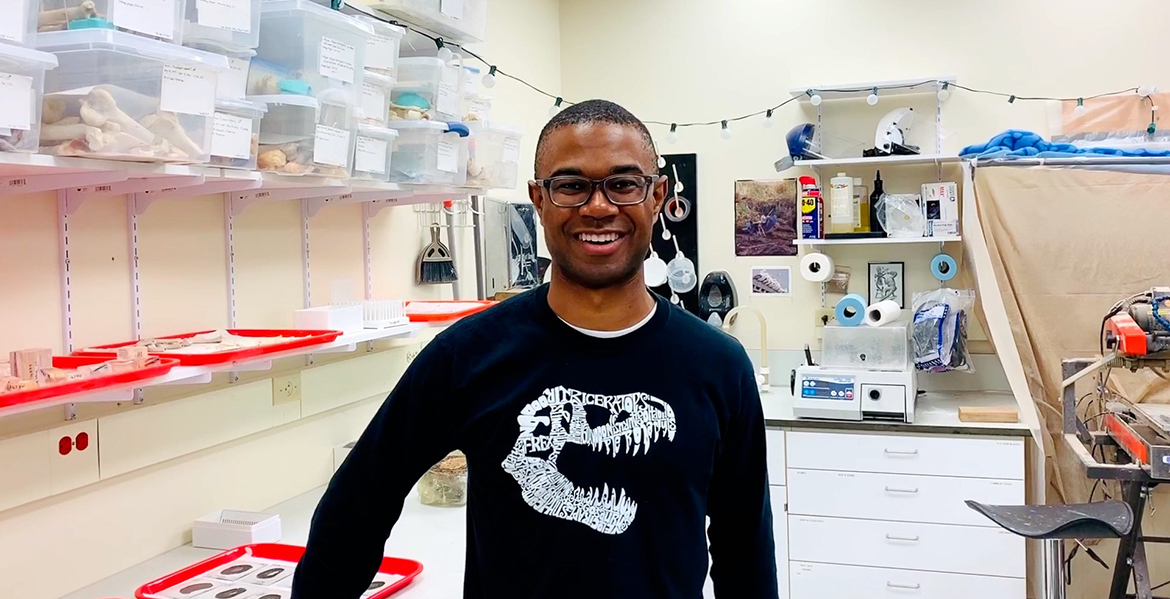 We Are OSU-CHS: Evan Johnson-Ransom
Thursday, January 14, 2021
A lot of kids love dinosaurs, but there are a special few who's passion for the prehistoric continues growing and they pursue an education and career in the field of paleontology.
That was the case for Evan Johnson-Ransom, a graduate student in OSU Center for Health Sciences Anatomy and Vertebrate Paleontology program.
Johnson-Ransom grew up in Chicago and was interested in dinosaurs throughout his childhood with support from his mother and grandmother who gave him dinosaur books, toys and videos.
"From there I became engrossed in anything dinosaur-related. In one of my books, I saw the mentioning of the world paleontologist, a scientist who studies dinosaurs and prehistoric life," he said. "As I got older, I continued to increase my knowledge by reading books about dinosaurs and paleontology, watching dinosaur documentaries and visiting museums like the Field Museum of Natural History in Chicago."
He even served as a volunteer docent for the Field Museum's Evolving Planet and Sue the Tyrannosaurus exhibits while he was working on his undergraduate degree from DePaul University.
Johnson-Ransom decided to get his master's degree from OSU-CHS because he wanted to study under Dr. Eric Snivley, who had recently joined the faculty.
"I looked up the program and the faculty at OSU and I thought to myself that this would be an excellent program for aspiring paleontology students. I have gained a lot of experience and managed to learn a lot from OSU's faculty and curriculum," he said.
Growing up, Johnson-Ransom didn't see a lot of paleontologists that looked like him.
"When I was younger, I thought to myself that I would be the first black paleontologist because through the documentaries I watched, all the paleontologists were white men," he said.
It wasn't until Johnson-Ransom attended a Society of Vertebrate Paleontology conference that he met a group of paleontologists who were also people of color from underrepresented groups.
"The people of color I have met in paleontology have insightful projects that I became a part of, and I consider them not only valuable collaborators, but close friends," he said.
"I feel working with people of different ethnicities and backgrounds has given me more insight in the professional world and different perspectives on how to view research."
- Evan Johnson-Ransom
Johnson-Ransom said having diversity in higher education and in STEM fields gives students affirmation that they can achieve their career goals as well as role models to aspire to.
"When I looked at paleontology and only saw white men I never felt deterred by my race, because my love and interest in paleontology outweighed that. I realize this is not the situation with all children of color. That is why it felt good giving talks about Sue the T-Rex and leading tours at the Field Museum with Chicago Public School students," he said.
Recently he spoke virtually with 4th and 5th grade students from Tulsa Public Schools about the field of paleontology and he even demonstrated some of his dinosaur sound impressions.
"After my presentation I was told some of the students said they want to be paleontologists," he said. "Children of color are interested in STEM, but they need to see other people of color as a form of confirmation and assurance that they can be a scientist."
MEDIA CONTACT: Sara Plummer | Communications Coordinator | 918-561-1282 | sara.plummer@okstate.edu