OSU-CHS hosts North Hall ribbon-cutting, celebrates med school 50th anniversary
Friday, July 29, 2022
Media Contact: Sara Plummer | Communications Coordinator | 918-561-1282 | sara.plummer@okstate.edu
OSU Center for Health Sciences commemorated the opening of the campus' newest building North Hall with a ribbon-cutting ceremony, as well as celebrated the 50th anniversary of the OSU College of Osteopathic Medicine during an event Thursday, July 28, in the lobby of the new facility.
The 120,000-square-foot North Hall building is home to the new Office of the Chief Medical Examiner in Tulsa as well new anatomy and neuroanatomy labs, three classrooms, 65 graduate program student study carrels, 21 conference and meeting rooms and department and administrative office spaces.
"All of us are so very grateful for the culture we have in the Cowboy family, and part of that culture is not going at it alone. We believe in collaboration and partnership, and it's our valued partners who helped us get here today," said OSU-CHS President Johnny Stephens. "This building represents the growth both in our Physician Assistant program and in our graduate programs at OSU-CHS. New facilities like this help us attract and educate the state's best and brightest students and gives us room to grow in the future."
Working with state legislators including Sen. Roger Thompson and Rep. Kevin Wallace helped secure a portion of the funding for the facility that more than doubles the square footage of the Medical Examiner's office in Tulsa and greatly increases the size of the anatomy lab and offers a dedicated neuroanatomy lab for medical, physician assistant and graduate program students.
"I appreciate my good friends at OSU and the Medical Examiner's office coming together to work on a plan for a space that meets the critical needs of such an important function of state government," Thompson said. "I also appreciate OSU's leadership in the health care realm in the state and am always very supportive of President Kayse Shrum and Dr. Stephens' vision. I have no doubt that many more great things are to come from this campus and am grateful for OSU's many prosperous partnerships with the State of Oklahoma."
Wallace recalled a few years ago when OSU and the Office of the Chief Medical Examiner brought forward a plan for a joint space that would not only meet the needs and accreditation requirements of the Medical Examiner's office, but would also allow more lab and educational space for OSU to continue training the state's next generation of doctors.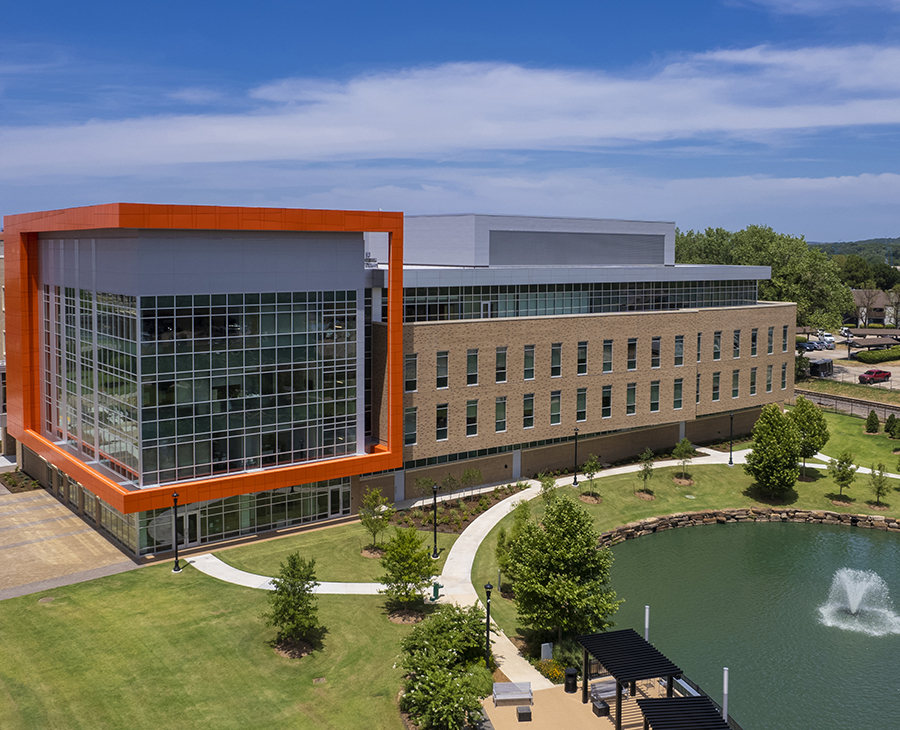 "It was easy to be supportive of the joint effort and I know I speak for my colleagues in the House of Representatives when I say we are appreciative of the collaboration among the two entities to make this state-of-the-art facility a reality for the state," Wallace said.
Dr. Eric Pfiefer, chief medical examiner, said nestled in the heart of North Hall is an advanced and unparalleled facility.
"In my position, I've seen medical examiner's offices across the country, and this one is without equal," Pfeifer said, and the same could be said for OSU-CHS' lab spaces. "What's going to come out of this school will rock the medical world."
The North Hall project started when Shrum was still president of OSU-CHS and dean of the medical school, and it's just the latest example of collaboration and partnership, which has become a hallmark of the institution in its 50-year history.
"At OSU we are proud of the partnerships that we have forged with public, private and philanthropic entities across our great state," Shrum said. "It's also a wonderful day to mark the 50th anniversary of our College of Osteopathic Medicine and to consider the impact a facility like this will have on our mission of preparing the next generation of physicians and health care professionals to serve Oklahoma."
Several notable alumni also attended the event and spoke of their ongoing relationship with the school including Dr. Trudy Milner, who graduated from OSU-COM in 1988 and now serves on the OSU/A&M Board of Regents.
"I started my journey to become a physician in 1984. I had been working as a nurse and had two young daughters, so I was not the typical medical student," Milner said. "And while the progress all around us at OSU-CHS is truly something to behold, I can tell you the quality of education goes back to day one at this medical school. I have always been so proud to call myself an alumna of OSU's College of Osteopathic Medicine."
Dr. Dennis Blankenship graduated from OSU-COM in 2001 and now serves as the interim dean of his alma mater.
"When I set out to be a physician, my dream was to return to my hometown and practice primary care. During my journey, I fell in love with emergency medicine and my path changed as I found a new passion in teaching," Blankenship said. "I began training students and residents in emergency medicine and that continues to be one of the best parts of my job today. I'm so proud of our college and our students and graduates."
Stephens said it's hard to believe that it's been 50 years since the college of established to train physicians for rural and underserved Oklahoma.
"I am proud to say we are fulfilling this mission every day with over 3,800 alumni and more than 800 doctors practicing across the state," he said. "As we celebrate 50 years of our College of Osteopathic Medicine on our campus, we look forward to continuing our mission to educate primary care physicians for rural and underserved Oklahoma."