Med student takes oath at Navy commissioning ceremony on OSU-CHS campus
Friday, April 22, 2022
Media Contact: Sara Plummer | Communications Coordinator | 918-581-1282 | sara.plummer@okstate.edu
Rileigh Ricken has lived in Colorado, Japan, New York, Nevada and currently calls Oklahoma home — at least for now— as she attends medical school at OSU College of Osteopathic Medicine.
After her graduation and completing her residency, she will likely move somewhere closer to one of the coasts as she begins her service with the U.S. Navy.
Ricken, a first-year medical student, was commissioned and sworn into the Navy as an ensign on April 15 at Cowboy Park on the OSU Center for Health Sciences campus. She was administered the Oath of Office by Dr. Stacy Chronister, an OSU-COM alumna, clinical assistant professor and former lieutenant commander in the Navy.
"It was very surreal. Dr. Chronister administered the oath and then she smiled real big at me and hugged me and then it all hit me," Ricken said.
That small, short ceremony was the culmination of years of hard work, paperwork and patience.
"I started this process four years ago. Now I will not only get to practice medicine, but I also get to serve my country as well," she said.
Ricken first became interested in serving in the military when she was part of her high school's Navy ROTC program in Fallon, Nevada, where the Naval Air Station was based.
"I really enjoyed it. I always had the military in the back of my head," she said, but she knew her first career choice was medicine. "I always wanted to go to medical school, and I'm super interested in surgery. I grew up watching 'Grey's Anatomy' with my mom. My cousin was a paramedic so I would always ask questions. I just had a science and medicine brain, I always knew that was my path."
I started this process four years ago. Now I will not only get to practice medicine, but I also get to serve my country as well.
— Rileigh Ricken, OSU-COM medical student and Navy Ensign
After high school, Ricken played softball at Southwestern Oklahoma State University in Weatherford and graduated with a bachelor's in athletic training and a minor in sports medicine. When she graduated in 2018 she started looking for a medical Navy recruiter who could help her combine her interest in the military with her passion for medicine.
Ricken applied to OSU-COM and was accepted into the bridge program in 2020 and then started medical school in 2021. At the same time, she was applying to the Navy's Health Professions Scholarship Program to receive a full scholarship for medical school and be an officer in the U.S. Navy Medical Corps.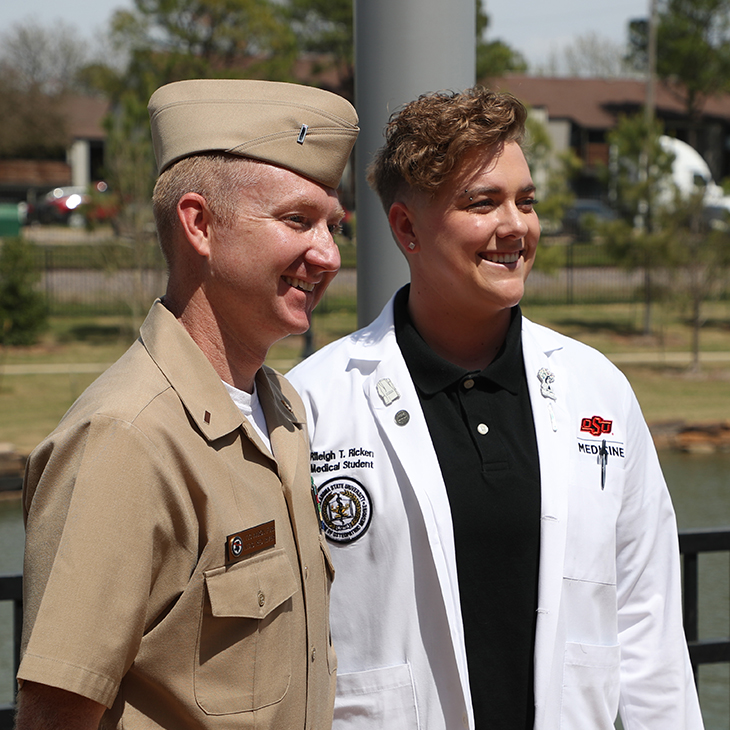 "It's a long process," she said, and after several stops and starts, Ricken found out she had received the scholarship from her recruiter in the middle of studying for a test in February.
"It was awesome! I know that 98 percent of medical students don't go into the military, and they are able to pay for school, but it's still a huge burden to have. To know it's taken care of is a huge weight off of me," she said.
Chronister went down a similar path, receiving a HPSP scholarship for medical school and then serving as a physician during her residency and beyond in the U.S. Navy before returning to OSU-COM to teach.
"Sept. 11 was shortly before I started medical school. It was important for me to serve my country alongside so many people my age," she said. "I loved that I was able to go to medical school and still serve the country I love."
Chronister said she was honored to be a part of Ricken's commissioning ceremony and see her at the beginning of this journey.
"There are a lot of moments that are important to me when I think about my Navy career, but commissioning a new officer is one of the biggest honors," she said. "To know the adventures Rileigh has in front of her and what a great career she is going to have is inspiring and reminds me of how proud I am to have served."