Tulsa World: Commitment to rural, underserved areas earns OSU College of Osteopathic Medicine top spot in rankings
Monday, July 17, 2023
Media Contact: Tim Stanley | Tulsa World Staff Writer | 918-561-1282 | tim.stanley@tulsaworld.com
Figuring out what she wanted to be when she grew up was not easy.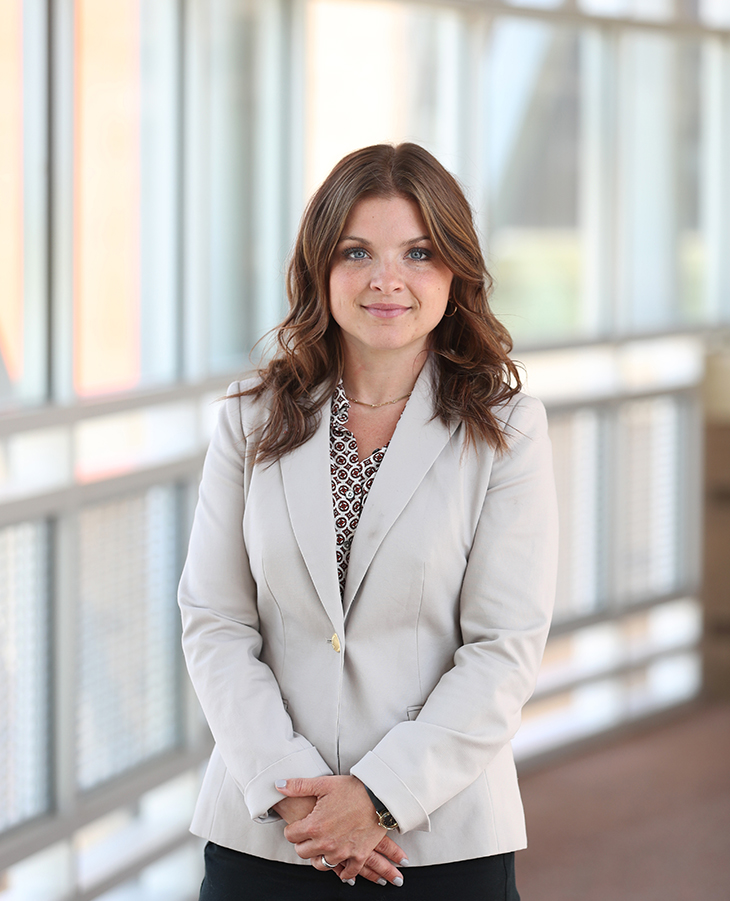 But for Ashton Clayborn, at least one thing was never in doubt:
"I loved the community and lifestyle and knew that I would continue to live in a rural location no matter where the future took me," said Clayborn, who grew up in Porum, where her parents were public school teachers.
It was the influence of her family physician — whose example as a dedicated small-town doctor inspired her — that later on helped her figure out the "what," Clayborn said.
Her decision to pursue medicine then led her to Tulsa and the Oklahoma State University College of Osteopathic Medicine.
Today, almost 10 years later, Clayborn practices at the Choctaw Nation Health Care Center in Talihina, where she's a great example of something her alma mater is among the very best at: placing doctors in rural and underserved areas.
Around 50% of the local medical school's graduates practice in HPSAs, defined as areas or population groups, both rural and urban, that are experiencing a scarcity of health professionals.
The school also scored high in graduates practicing in rural areas, where it ranked No. 10.
For OSU officials, the rankings are a welcome affirmation. Educating and training doctors to serve in rural and underserved areas has been a core mission of the college, part of the OSU Center for Health Sciences in Tulsa, for 50 years.
"The rankings are a testament to the mission," said OSU-CHS President Johnny Stephens. "I'm so proud of our institution, our graduates, our faculty and staff for their unwavering commitment. OSU-COM emphasizes innovation and passion for community, and that helps produce graduates eager to work in these medical deserts."
According to the National Rural Health Association, the doctor-patient ratio for rural areas is 39.8 physicians per 100,000 people. That compares to 53.3 physicians per 100,000 in urban settings. That uneven distribution matters greatly when it comes to health, officials say.
Clayborn, who also works with recent medical school graduates as director of the Choctaw Nation Family Medicine Residency Program, said recruiting physicians to more rural areas can be difficult, especially with most medical schools and graduate programs located in urban areas.
But at the OSU College of Osteopathic Medicine, "although the campus was in Tulsa, I always felt as if my goal to get back to rural Oklahoma was supported and encouraged from the start," she said.
Dennis Blankenship, OSU-COM dean, said many of the school's graduates are like Clayborn: They come from rural areas or small towns, and want to go back.
"We believe in empowering those living in rural and underserved areas who may have dreams of becoming a doctor or a passion for serving others," he said. "Recruiting future physicians from small towns and communities in Oklahoma means there's a greater chance they return to their hometowns and rural communities to practice medicine where they are needed most."
Clayborn sees that need firsthand in Talihina.
Patients face many disparities that affect their health, including limited access to healthy food and limited transportation, she said. The distance to health care facilities alone can increase the risk in emergency situations.
A strength, not a hindrance
Rural and small town providers played a special role traditionally, and Clayborn recognized that while growing up in Porum, which has a population of around 600.
"In places as rural as my hometown, it's necessary to be comfortable providing care for all ages. Our family physician not only did this but grew to know families in a manner unique to small towns," she said, adding that the doctor's example inspired her career path.
Many of the resident physicians in the Choctaw Nation program come from similar settings prior to their medical training, Clayborn said.
"But we also have those who are new to rural living and learn to love both it and the patients they serve over the course of their training," she said.
As a result, many of them remain in the Choctaw health system or at least in the same geographic area upon completion of their residencies.
Clayborn said students from educational backgrounds similar to hers — from small, rural public schools — often don't look at medical school as a possibility.
She hopes to see that change.
"I would just say to them: Know that (at OSU-COM) you will be well supported and that your background will be seen as a strength, not a hindrance," she said. "Don't limit yourself simply because it isn't common to become a doctor where you grew up."
Experiencing a rural setting is also good for medical students who come from urban areas, Clayborn said.
"If you have never lived rurally or considered rural practice, take an opportunity early in your training to experience a community like ours," she said. "You might be surprised and develop a love for rural living. And you'll at least come away with a better understanding of the disparities affecting underserved populations when they seek your care in the future."
Original story reprinted with permission from the Tulsa World.