The College of Human Sciences has named its 2020 Seniors of Distinction. These students have demonstrated exceptional qualities of leadership, academic excellence and community service throughout their time at Oklahoma State University.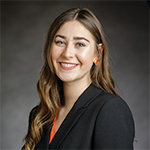 Aelee Armstrong, a human development and family science major from Nacogdoches, Texas, is passionate about supporting individuals with intellectual and developmental disabilities and their families. Her leadership in projects supporting Wings of Hope and the 1 is 2 Many campaign helped her Greek organization earn the Outstanding Community Service Award while she served as vice president of philanthropy. Armstrong also volunteers as the book club co-facilitator in the REAL community club, an inclusive gathering for individuals with intellectual and developmental disabilities, and has gained hands-on work experience as a caregiver at an assisted living facility and as a camp counselor. After graduating, she plans to become an occupational therapist and open a community care center for children with intellectual and developmental disabilities and their families. Armstrong's parents are Neill and Jody Armstrong.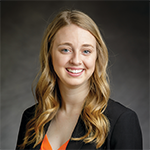 Bailey Bruner, of Elk City, Okla., is graduating in nutritional sciences with an option in allied health. She works at University Health Services, is a member of four honor societies and mentors freshmen as a Human Sciences Ambassador. Her extensive community service ranges from elementary student tutoring to Christmas toy drives and stems from her Greek and Student Council leadership positions. As a Freshman Research Scholar, Bailey's research poster describing her study of dietary contributions to osteoporosis earned the Human Sciences Undergraduate Scholars Forum Faculty Choice Award. She is also involved in her major's department leadership committees, studied food culture abroad in Italy, and was a committee member for both Harvest Carnival and Campus Life. Bailey says, "Serving the Cowboy Community has by far been my favorite thing to do while being at OSU. Serving is so much more than showing up and completing a task, but more about building relationships and leaving a lasting impact." Her parents are Rob and Shanna Bruner.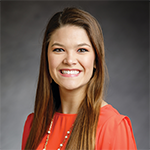 Jill Cope, a design, housing and merchandising senior from Azle, Texas, is graduating with an option in fashion design and production. From studying abroad at London's Regents University to helping found the Stillwater lifestyle magazine ModMuze, Cope believes her time at OSU has been "about learning who I am and what my role in this world is." Her experiences include serving as Front of House Producer for her department's student-led fashion show Euphoria, visiting Target headquarters, and interning with McCubbin Hosiery, where one of her designs is set to be adopted in the product line. The Biomimicry Land Institute named her Floral Coral clothing designs the Most Marketable Collection in the Sustainable Design contest, and she placed first in the OSU Department of Design, Housing and Merchandising "Minute to Win It" video contest. Cope is also involved in Greek life and participated in the YMA Fashion Scholarship Fund case study to design clothing for South African markets. Her parents are Ty and Kayla Cope.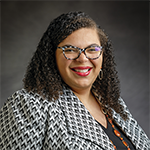 Kaitlyn Kirksey, of Stillwater, Okla., is graduating with a major in human development and family science with an option in family and consumer sciences education. Her passion lies in Cooperative Extension and teaching. She is Student Body President, involved in Greek life and a campus tour guide. Meanwhile, Kirksey continuously finds ways to give back to the OSU Cowboy community through Cooperative Extension activities ranging from hosting poverty simulations to filming professional dress videos. She also speaks at numerous events across campus and mentors freshmen students interested in family and consumer sciences education. As a certified FOCUS trainer, Kirksey also traveled across the U.S. delivering leadership workshops. Now, she is excited to begin teaching students of her own, "to prepare my students for life and to provide an environment in which they have the opportunity to thrive not only academically but personally as well." Kirksey's parents are Jason and Kim Kirksey.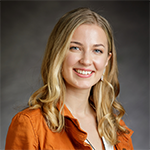 Kate Korneva, of Tulsa, Okla., is a design, housing and merchandising major with an option in interior design. She is a student council representative for American Society of Interior Designers and provides tours of the Department of Design, Housing and Merchandising Mixed Reality Lab. Her development of the adaptive kitchen cabinet with OSU engineering students won the CEAT Innovative Design Award, and she was named the People's Choice Research Winner at the Coalition for Advancing Digital Research and Education (CADRE) for her research with an OSU professor using virtual reality to design retail store layout. Internships with three interior design firms, a study abroad trip studying sustainable Parisian designs, and a class project working with Stillwater's LIFE Center have given Korneva real-world experience. She is also president of the International Facility Management Association (IFMA) student chapter and is the Student Ambassador of The Hospitality Industry Network (NEWH) student chapter. Korneva's parents are Josef and Natasha Shohat.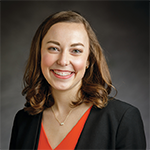 Keely Ratcliff, of Amber, Okla., is a nutritional sciences major with an option in allied health. Her passion for sports nutrition has grown as a student worker for OSU Sports Nutrition. Ratcliff facilitates for the President's Leadership Council and works with the OSU Student Foundation. She is a member of the Human Sciences Student Council, is active in Greek leadership and maintains an organization she founded in high school, Costumes for Africa. Ratcliff was a Collegiate 4-H member for three years and recently retired from her position as Pre-Physician Assistant Club vice president. On any given week, you may find her leading community outreach ranging from sandwich sales to benefit the Africa Hope Center to mentoring elementary students and leading a high school Bible study. Her father and several grandparents and great-grandparents are OSU alumni, and after graduating Ratcliff hopes to continue her time at OSU in the physician assistant program. Her parents are David and Kami Ratcliff.
"We are proudly committed to preparing and developing professionals who facilitate life-long learning and positively impact the world around them," said Dr. Stephan Wilson, dean of the OSU College of Human Sciences. "These students have gone above and beyond during their time at OSU, and no matter the circumstances going on around us, we value their contributions and celebrate their success and achievements. I know they will continue to do great things in their careers and within their communities."
MEDIA CONTACT: Brittany Bowman | College of Human Sciences | 405.744.9347 | brittany.bowman@okstate.edu