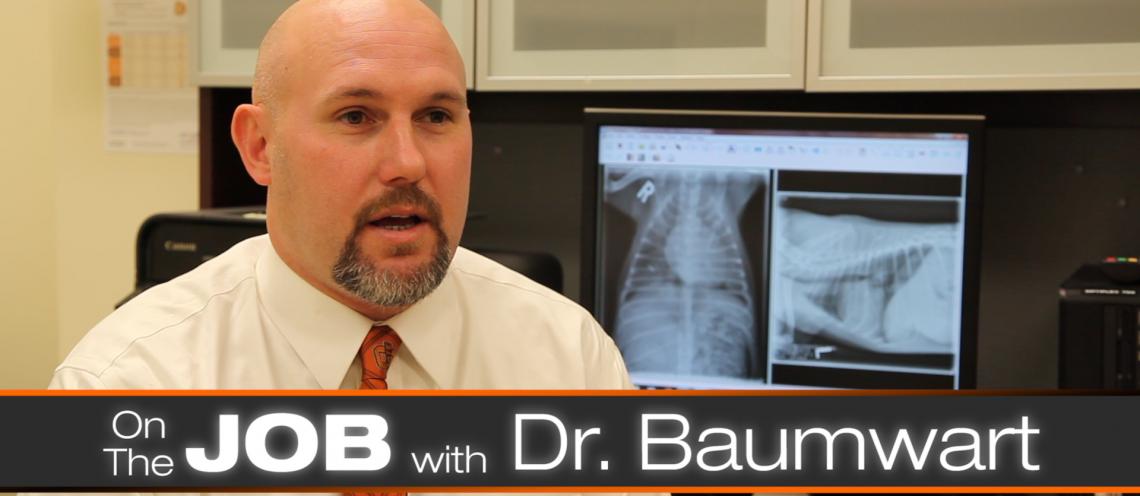 On the Job with a CVHS Veterinary Cardiologist
Friday, February 13, 2015
Watch the full interview on OState TV
Cats and dogs, like humans, can get heart disease. Some breeds are more likely than others to develop heart problems.
The Veterinary Medical Hospital at Oklahoma State University's Center for Veterinary Health Sciences has a board certified veterinary cardiologist on staff—Dr. Ryan Baumwart—to help owners treat heart disease in their pets. According to Baumwart, the hospital sees approximately four to five primary cardiology cases a day.
"When people ask me what I do for a living, they are sometimes surprised to learn I am a veterinary cardiologist," Baumwart says. "Many don't even know that there is such a thing. A typical referral to the hospital's cardiology section entails a review of the patient's history—what tests have been done on the animal, what has been discovered, the medications prescribed to the pet and what has worked or hasn't worked, which can be very helpful. Then I'll examine the patient. Usually, we will do a cardiac ultrasound of the heart (echocardiogram) to help figure out what is going on with the heart."
Like human medicine, a cardiology exam at the veterinarian can involve chest radiographs or x-rays and electrocardiograms (EKG or ECG).
"Sometimes there are electrical problems of the heart. We'll attach the patient to EKGs to help determine what those problems are. The majority of the time, an ultrasound will tell us what is going on structurally with the heart. Then we try to tailor a therapy to make the animal feel better.
"In some instances, unfortunately, there is nothing that can be done for the pet if we are dealing with things like cancer. Usually a medical option or a surgical option can help improve the patient's overall health."
Baumwart explains that most dogs will develop heart disease at some point in their life. In some cases it comes on sooner rather than later and needs to be addressed to maintain the pet's quality of life.
"Doberman pinchers are one of the breeds that are pre-disposed to heart disease. More than 50 percent of Dobermans get a dilated cardiomyopathy of their heart where their muscle fails. It's a genic problem.
"Cavaliers are the poster child for having a valve problem with 100 percent of that breed affected. It's just a matter of when they get it. We see some Cavaliers that get it at 2 or 3 years of age. Most of the time in other breeds of dogs if we are going to see problems, we don't see it until 10 or 12 years of age.
"All dogs get some degree of heart disease. As the dog ages, the valves thicken and that can lead to some leakage of the heart valves. Fortunately, they all don't have problems because of this. It's kind of like arthritis in older pets.
Baumwart comes from a long line of OSU veterinarians.
"I grew up in a family of veterinarians. My father is a veterinarian in western Oklahoma and my brother and sister have also followed in his footsteps. I grew up around it and loved it. I couldn't think of anything better to do than veterinary medicine.
"The reason I chose veterinary cardiology was early in my vet school career the heart was difficult. It wasn't the easiest thing to understand. I think that's what kind of drew me to it. Then I did an off-campus rotation in Los Angeles where I was able to be around cardiology. It was a high-paced practice. We saw a lot of cases including some famous people's dogs, which made it even more fun. Then during my internship, I was around some excellent cardiologists that further solidified going into cardiology."
Baumwart earned his DVM degree from Oklahoma State in 2002. He then went on to complete a rotating internship at Ohio State University.
"I was fortunate enough to then stay at Ohio for my residency in cardiology. It was a four year program which I completed and then passed my board certification for cardiology."
Dr. Baumwart is one of 28 board certified specialists on staff at Oklahoma State's Veterinary Medical Hospital. These veterinarians are experts in their field ranging from cardiology to ophthalmology, to surgery to internal medicine and more. And being at OSU, Baumwart has not only access to his colleague's expertise but he also has access to specialized equipment.
"While a large number of veterinarians have an ultrasound in their practice, it does take a specialized ultrasound to do hearts well," explains Baumwart. "One ultrasound is not equal to another. The more you pay, the better the image often times. We have a high quality ultrasound and the capability to do in-hospital ECGs or electrocardiograms. At the hospital, we also have the technology to put a monitor on the patient and read it for 24 or even 48 hours. Then using a special computer program, we can look at the information and analyze it to get a better idea of what is happening in the patient's heart.
"I enjoy being back here at the University and the variety of animals we see. I recently came out of private practice where we saw a lot of cats and dogs. They get a lot of heart disease. Here we treat not only dogs and cats—which I love—but we see the occasional iguana, horse or cow.
"The thing I enjoy the most about cardiology is the surgical side of things and doing some of the interventional surgery procedures. For example, putting a pace maker in a dog that is passing out. The dog goes from passing out ten times a day to not passing out at all. It's very rewarding."
It's during some of those surgeries that Baumwart will rely on specialized x-rays that are basically a recording device.
"It's an x-ray that gives us real-time images as opposed to static images. This technology allows me to be able to place wires and catheters into the heart and see where they are going. We recently had two challenging cases where I thought I was in one side of the heart and I ended up being on the other side of the heart—not that it hurt the dog. It was just one of my more challenging moments. I may not deal with these big pieces of equipment on a daily basis, but it's very helpful in treating our cardiac patients."
---
For more information on services available at OSU's Veterinary Medical Hospital, visit www.cvhs.okstate.edu or call (405) 744-7000.