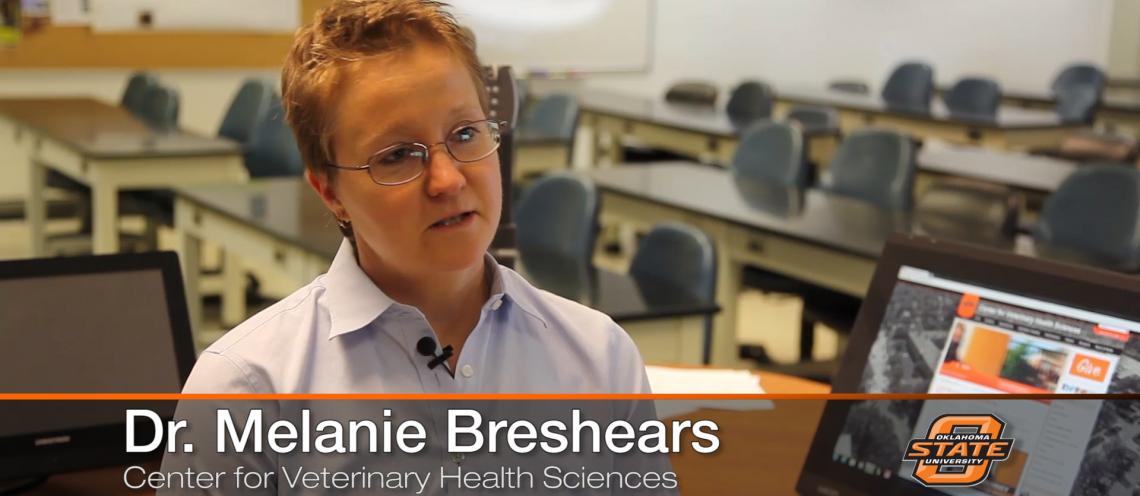 On the Job with Dr. Breshears
Thursday, May 21, 2015
2014 Regents Distinguished Teacher
It's easy to understand why Dr. Melanie Breshears received the 2014 Regents Distinguished Teaching Award. She loves her subject matter, the students, and being at her alma mater.
Breshears is an associate professor in anatomic pathology at Oklahoma State's Center for Veterinary Health Sciences. Originally from Mustang, Okla., she came to OSU to earn her undergraduate degree and never left earning both her DVM and PhD degrees and completing a residency in anatomic pathology. A Diplomate of the American College of Veterinary Pathology, she has been on faculty since 2003.
"I teach parts of veterinary histology and a few lectures in the general pathology course in addition to general pathology labs for first year veterinary students," said Breshears. "I also teach gastrointestinal pathology and an elective that's called Case Studies in Systemic Pathology to the third years. Then I teach necropsy rotation to fourth year veterinary students.
"What I like most about teaching is seeing the light bulb come on when students finally gain that understanding of a complex process. One of the biggest challenges in teaching veterinary students today is just the abundance of information. So, it's the job of the instructor to select what's most important for students to know. You can't know everything, so it's my job as a teacher to teach them the most important information so that they can then go forth as a professional and continue to learn throughout their career."
And her students believe she is doing just that. When asked what words best describe Dr. Breshears, Alex Simpson, third year veterinary student said, 'Intelligent, optimistic, driven and respectful.'
"She presents her material in a concise manner," Simpson said. "She uses crazy pictures or funny word pronunciation to get the material she believes is most important into your mind. I've also learned from her that even though you may be a distinguished practitioner or prominent researcher, there is no reason to act above others wanting to obtain the knowledge you behold. She will sit down at any moment, no matter her task at hand, and help you with any question you may have; she's very approachable."
Breshears also finds her subject matter extremely interesting.
"What makes pathology the most fun is you never know what you are going to find," she continued. "It's (pathology) always challenging. It's really never dull or boring and when you get that final answer, that's rewarding.
"One of the most interesting pathology cases that I remember was a 6 month old foal that had salmonella infection in the intestine or enteric salmonellosis. Because of that, it acquired a respiratory fungal infection and then also some problems with the distal limbs—sort of a distal gangrenous necrosis. It was a really complex case. It was very interesting because for each of the lesions you could find descriptions in text books, find clinical examples or reported cases of the many disease processes in this one foal. And what made it even more of a favorite case for me is that I got to work with a student so she could present the case and then we also were able to publish it. It was a really interesting case to work up and it had a cool teaching aspect, too."
"Melanie is most deserving of this recognition," stated James Meinkoth, DVM, PhD, DACVP (Clinical Pathology), professor and interim department head for the Department of Veterinary Pathobiology. "She is a dedicated and versatile educator teaching future veterinarians and mentoring anatomic pathology residents. Melanie has earned multiple teaching awards including the Zoetis (Pfizer/Norden) Distinguished Veterinary Teacher Award (2011), the center's First Year Class Teaching Award (2012) and now the Regents Distinguished Teaching Award."
"I feel very honored to have been chosen as a recipient of the Regents Distinguished Teaching Award," Breshears said. "But I think what makes it most meaningful is that some of my teaching heroes also received this award so it's nice to be following in their footsteps."
And for prospective students considering Oklahoma's veterinary college, Breshears had this to say about her personal experience.
"I think part of the reason that I enjoy teaching so much is that I really loved vet school," she said. "I loved the experience of it, just the learning and the environment. The class becomes sort of an extended family and you get one-on-one time with professors. You get to know the people. It's just a friendly, supportive place to go through veterinary college. And now, being on faculty here the best part of my job is interacting with students and colleagues. That's what I think makes the Center for Veterinary Health Sciences a strong veterinary program.