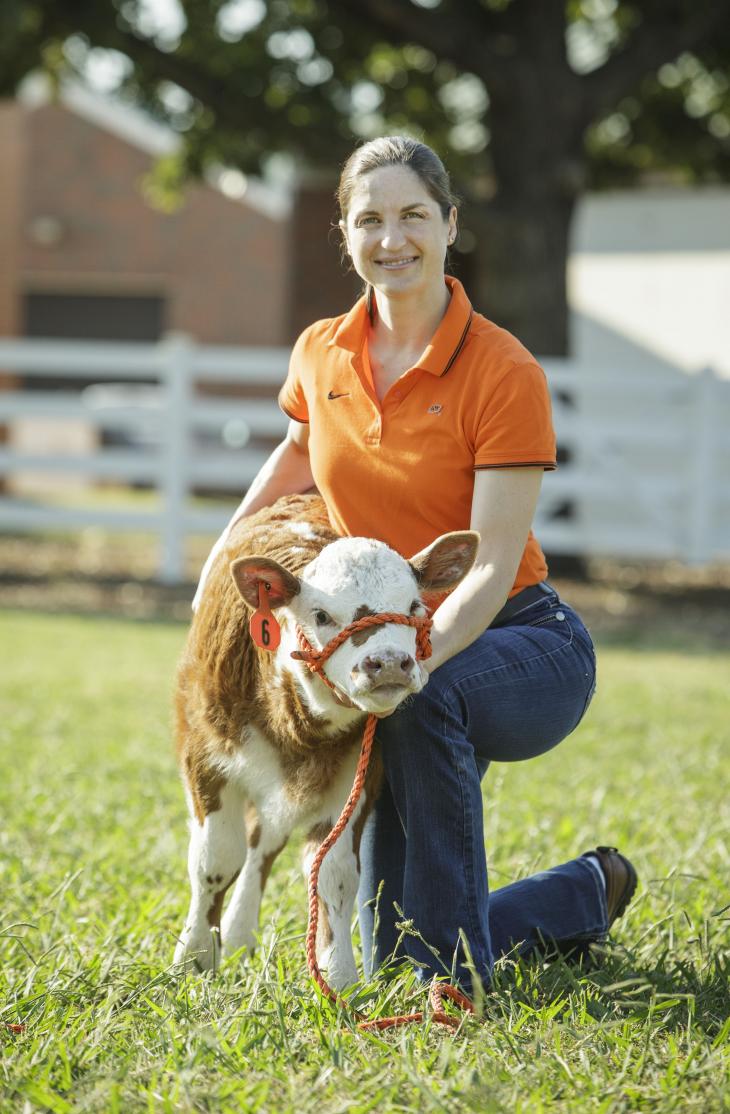 Keeping America's Food Supply Healthy
Wednesday, March 18, 2015
Veterinary Viewpoints
March 18 is National Agriculture Day. Oklahoma State's Veterinary Medical Hospital has been serving food animal owners since 1948. Today, the hospital sees 1,100 to 1,200 food animal cases a year treating a variety of animals such as cattle, sheep, goats, llamas and alpacas, and swine.
The food animal medicine and surgery service is staffed with board certified specialists trained in internal medicine and surgery, licensed animal health technicians, post-graduate veterinary residents, interns, and senior veterinary students. Routine appointments are taken Monday through Friday with 24 hour emergency care available including holidays.
"The food animal service is supported by board certified specialists in other areas of the hospital such as anesthesiology, surgery, ophthalmology, cardiology, radiology, and pathology," says Dr. Melanie Boileau, associate professor and food animal medicine and surgery section chief. "All the members of our team utilize state of the art diagnostic and therapeutic modalities to deliver the highest possible standard of compassionate care to injured or ill cattle, sheep, goats, camelids, and pigs.
"The most common ailments we treat are lameness, pneumonias, dystocia or difficult birthing, diarrhea, fractures, urinary stones, and abscesses."
To keep your herd healthy, Dr. Boileau offers these tips.
"Ensure proper nutrition. This depends on the animal species and their stage of production. Is the animal pregnant or nursing? Is it a growing animal? Is it an actively breeding male? In general, these animals are going to have higher nutritional demands. You need to evaluate energy, protein, vitamin and mineral status so the quality and quantity of feed offered is very important.
"I'm a big fan of access to minerals – salt mineral blocks or loose minerals. Cattle are all about licking salt blocks. They can get their mineral that way or it can be incorporated into their feed. Camelids and sheep and goats are more likely to consume loose salt-based mineral.
"Access to fresh water at all times is also important. If the water is not accessible or iced over and the animals cannot drink, that can lead to a lot of medical issues.
"Most of the food animal species in Oklahoma utilize pastures. You want to keep an acceptable stocking density with respect to the animal species whether it's cattle, sheep or goats and the grass available on pasture. Ideally you want to have shelter or a way for them to get away from the elements if at all possible. Producers with animals that are using nutrients to stay warm or cool are not getting their best return on feed dollars.
"A preventative and control program should include proper management and vaccination programs customized to the farm. In cattle the respiratory vaccines, lepto, black leg, and tetanus vaccines are very important. Similarly, in small ruminants, tetanus and overeating disease vaccine (CDT) are essential. Control of internal and external parasites is a must. Consultation with your veterinarian is important to determine your vaccination and parasite control program.
"As far as management, if you have a sick animal, isolate it from the rest of the herd. Avoid using your calving pen or kidding pen for sick animals.
"And finally, monitor herds daily, if possible, for obvious signs of illness. Are they coming to eat? Are they bright and alert? The quicker you can recognize a problem and contact your veterinarian, the more likely that we can diagnose it and treat accordingly. This increases the likelihood of having a better prognosis and response to treatment."
Diagnostic and treatment procedures can be tailored to suit owner needs ranging from practical and frugal for commercial production animals to as detailed and intensive as need be for valuable seed stock or companion livestock.
"Animal owners, we are here to help you," adds Boileau. "We provide 24 hour care and emergency service. We have knowledgeable, highly trained individuals here who are committed to patient care. We also train veterinary students so there will be an entire team to treat your animals."
Dr. Boileau earned her DVM degree from Montreal University Veterinary College and later a MS degree from Oklahoma State University. She completed an internship and residency at OSU from 2001 to 2004. In 2005, she joined the faculty at OSU's Veterinary Medical Hospital. She is also a Diplomate of the American College of Veterinary Internal Medicine—Large Animal.
by Elisabeth J. Giedt, DVM
---
Veterinary Viewpoints is provided by the faculty of the OSU Veterinary Medical Hospital. Certified by the American Animal Hospital Association, the hospital is open to the public providing routine and specialized care for all species and 24-hour emergency care, 365 days a year.