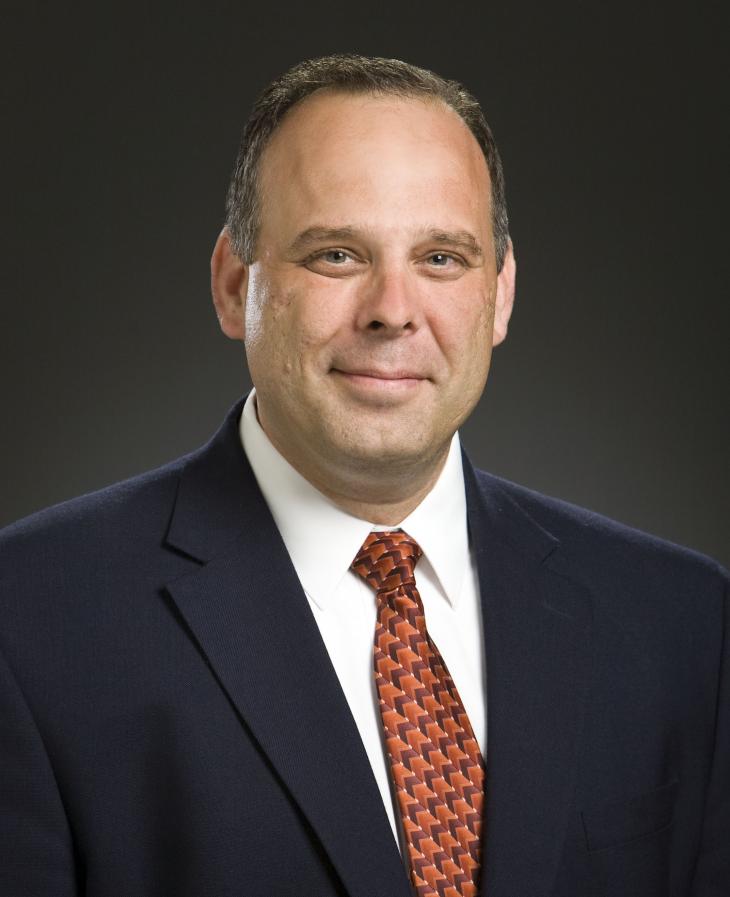 Ritchey's Vision
Thursday, November 12, 2015
Dr. Jerry Ritchey grew up in Tulsa, Oklahoma and earned his DVM degree from Oklahoma State University in 1991. He joined the faculty in 1997 and was recently appointed as head of the Department of Veterinary Pathobiology.
Ritchey discovered his passion at the early age of 12 or 13 while working as a kennel boy for Dr. John Gage in Tulsa.
"I was just fascinated by what he did, how he did it, his professionalism and the variety of patients seen," Ritchey said. "I was always interested in science, so it was a good fit."
Growing up in an Oklahoma State family, there was never a question as to where Ritchey would go to school; his sole application was to OSU.
"Oklahoma State had a fantastic reputation for generating excellent veterinary practitioners," Ritchey noted. "I was laser focused on coming to Oklahoma State, doing my undergrad and then getting into veterinary school."
Plans changed for Ritchey, as they often do, when he discovered the many options in veterinary medicine including clinical specialists, research, federal and state government positions and even the armed forces. In the end, it was the pathologists here at Oklahoma State that left the biggest impression on a determined vet student.
"Drs. Roger Panciera, Tony Confer, Derek Mosier, Sherry Morgan and Chuck Qualls – they were the pathology team when I was a student here and they were just phenomenal," Ritchey said. "I worked for the department the summers after my freshmen and sophomore years. I never had a job where I couldn't wait to get there in the morning and didn't want to leave at night. I thought that I would love to work in this field and make a career as a veterinary pathologist."
Ritchey teaches several courses at the veterinary center for the undergraduate and graduate programs. For the undergraduates, he teaches inflammation and wound repair as part of the general pathology curriculum, cardiac pathology to the juniors and gives a guest lecture in toxicology (ethylene glycol toxicity). Ritchey is the instructor of inflammation and wound repair in the graduate program, as well as a graduate level immunology course. As a pathologist, Ritchey takes part in educating the next generation's pathologists.
"When I put on my veterinarian hat and attend as a pathologist at the Oklahoma Animal Disease Diagnostic Laboratory, I teach the senior students who rotate through as part of their diagnostic rotation. Of course, we all have teaching responsibilities for the anatomic pathology residents as we teach them how to become pathologists."
Ritchey enjoys teaching and encouraging his students.
"The veterinary students are so smart. They are the cream of the crop; they competed to get in here. You have to be on your "A" game, so it keeps me sharp," Ritchey said.
"What I like the most about it is when I feel like I have encouraged them and have been a mentor to them and have helped them become better than they thought that they could be."
Ritchey also does research and loves the mystery it brings.
"In research, there is a question or a hypothesis. You don't know how it's going to turn out. You do the studies and you get an answer. I just like that mystery, that excitement, the surprise of it all," Ritchey explained.
As the department head, Ritchey has plans to move the department forward. His plan comes in two phases, which he has termed 'acute' and 'chronic.'
"In the acute phase are some issues that I consider maintenance items for the department to take care of related to our evaluations and appraisals, improving our department communication, updating our web page and our individual faculty pages," Ritchey explained.
The 'chronic' phase comes to focus on the future of the department.
"Looking down the road, a chronic issue is that we need a departmental strategic plan," he said. "The reason this is really important for us right now is we have several faculty who have given decades of service in teaching and research to our department and to the college. I would estimate in the next five years, we're going to have several retirements. We need to circle our wagons now before this occurs so that we can do some planning and figure out how we are going to fill these huge shoes and what programs do we have that we want to bolster or shore up or improve. Or are there new programmatic areas that we may think we want to carve a niche out for ourselves to be successful.
"That will be my role as department head to make sure that this strategic plan isn't just put on a shelf, that it is actually followed, looked at and evaluated as we move forward as a department."
Things have certainly changed since the 13-year-old boy decided to become a veterinarian, but Ritchey's desire to help others has not. When asked what he wants to be remembered for, it wasn't an accomplishment he mentioned, but how he impacted those around him for the better.
"I would just like to be remembered as being a good mentor. As a husband, father, or as a faculty member here guiding and directing students, residents and young faculty, I just always want to feel that I made other people better and challenged them."