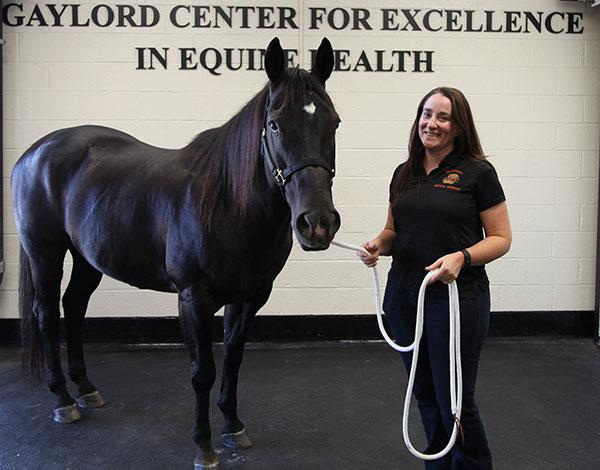 Behind the Scenes with Bullet
Friday, October 21, 2016
Here comes Bullet rings out loud and clear during Oklahoma State University home football games but the mascot really doesn't need an introduction. He is a well-recognized and much adored part of OSU athletics. But what happens behind the scenes when Bullet isn't galloping around Lewis Field at Boone Pickens Stadium?
Dr. Lyndi Gilliam, equine medicine specialist at Oklahoma State University's Center for Veterinary Health Sciences, watches over Bullet year-round. Before games, during autograph sessions, in the tunnel while he waits for the team to score, and in his stall during half-time this dedicated veterinarian is by Bullet's side.
"So this is my 11th season to take care of Bullet," explains Gilliam. "I think my biggest challenge on game day is to try to see the world through Bullet's eyes to make sure that everything is safe for him from my perspective. I realize that he is a crowd thriller but my job is more to look at it from a logistical standpoint."
During the season and the off-season, Gilliam and other veterinary specialists at Oklahoma State's Veterinary Medical Hospital work with Bullet's caretakers, Ty and Jennifer Cunningham, to keep Bullet healthy and ready to perform.
"Oklahoma State University is the only place that Bullet receives veterinary care," says Ty. "He's been coming here the entire time Oklahoma State has owned him and he's been the Oklahoma State University mascot. Having a veterinarian with us at all times on the field eases our mind as well as athletics'. In case something was to happen, we have professional help at all times to be able to take care of Bullet and to ensure his safety as well as everybody that is on the field."
"The athletic department has done a really good job of providing a facility for Bullet that is really horse friendly," continues Gilliam. "He actually has his own stall under the stadium. Just like the football players go back to their locker room, he has his quiet place to go and take a breather in between halves. They have also financially supported equipment for him—emergency equipment so if we were to ever have an emergency, we are fully equipped to take care of him at the stadium."
Gilliam and Cunningham agree the risk is minimal when Bullet is on the field.
"He's an awesome horse. He puts up with a lot," adds Gilliam. "For a horse, it's a foreign situation for him to be in and he just embraces it. The risk would be if he got scared of something that was unfamiliar. I like to think that he likes me and maybe he takes some comfort in having the same people there with him every game. Ty and Jennifer have been there with him every game and I'm one more familiar face to maybe make him feel comfortable on and off the field."
But there are more people looking out for Bullet besides his caretakers and veterinarian.
"There are several mechanisms in place should Bullet and his rider become separated," states Gilliam. "Members of the Spirit Rider Team are positioned throughout the field. If you'll pay attention on game day, you'll see that as he runs through the band, they are positioned to make sure that if anything went wrong, one of them could quickly get to him. So anytime he's on the field, they are sort of his posse of people looking out after him."
OSU Athletics and fans at Oklahoma State University can take pride in knowing that Bullet is well cared for and that he has an entire team watching out for his wellbeing during every home football game and in the off season.
For more information on the services offered by OSU's Veterinary Medical Hospital, visit OSU Veterinary Medical Hospital webpage.